Getting Started On Google Product Listing Ads
Create Best Seller Ad Groups On Product Listing Ads

How To Create A Best Seller Ad Group For Your Product Listing Ads
1. Identify Best Sellers In Google Analytics
Use your analytics program to find out what your  best selling products are for your best seller ad group. If you'd like a crash course in a free Analytics platform, check out our Google Analytics Ecommerce Guide. If you need help finding your best sellers, feel free to contact us through the form to the right of this page and we'll help you within 24 hours.
2. Add an AdWords Label for best sellers
Once you have identified what your best sellers are, you can create a best seller ad group for your Product Listing Ads campaign.
If you can modify your Google Shopping product feed, you can add an AdWords Label for these specific products like in the example below:

In the above screenshot, we used the term "Best" to identify the best selling items within the Google Shopping product feed.
3. Create a Best Seller Ad Group
Once you've added those labels to your feed (in the example above we use the term "Best") you'll want to create a new ad group in your existing Google Shopping Product Listing Ads campaign using that AdWords label.
To do this, create a new ad group:

Then set up the best seller Ad Group like the following example:
You'll need to title the ad group (something which reminds you that its associated with your best sellers).
Add a promotion (you can change this later).
Deselect the All Products auto target box.You NEED to do this if you want this ad group to represent the product labeled with the Ad Group label for your best sellers.
Set a default bid to set up the ad group.
"The advantage of having a Best Seller ad group is simple. Your best sellers convert great for you site wide, the theory is that if you get more traffic to these listings they will continue to convert well for you. When you have a popular item within your inventory, you want as many customers who are looking for that item to see that you have it available. Creating a best seller ad group and bidding aggressively gives you that opportunity. Without creating this specific ad group you would simply have to add bids for these products at the ID level or increase bids on ALL products which can have inverse side effects. Having your own separate ad group will also now allow you to see and evaluate how your 'Best Sellers' fair within the Google Shopping space."

Chapters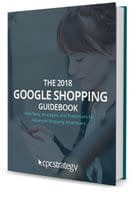 New Google Shopping Guide: 2018 Edition