Common Mistakes On Product Listing Ads
Product Listing Ads Bidding Competition

To me, Google Shopping management is sort of like being around small children. You need to be watching them all the time, actively reacting and anticipating their actions.
How to Deal with Cost Per Click (CPC) Bidding Competition
PLA bidding has completely overhauled merchants' strategies for managing Google Shopping. However, more seller control also means more competition in many cases.
It's important to realize that your traffic could decrease at any moment if a big retailer sets a large All Products bid and has a lot of the same products you have.
Merchant Actions: You need to be diligent and check your campaigns multiple times a week at the minimum.

DO NOT leave a PLA campaign running without checking on it at least 1-2 times a week.  This is especially important if you are bidding high, and or wish to rank in those top positions.

"As with any channel, it isn't very often that you can take the 'set it, and forget it' approach and have positive results. Checking on your campaign regularly allows you to familiarize yourself with your account as it matures. It also allows you to spot any positive or negative trends which need to be addressed.
All too often, I have seen neglected accounts produce a negative ROI. After a couple weeks of TLC, we have been able to revitalize those campaigns and keep those running smoothly. All it takes is a little dedication, desire, and know how to pop in and check on your account. It's better to take the extra 5 minutes every 2-3 days to check on your account than to neglect it and find yourself pulling out your hair for hours trying to revitalize a campaign that has been neglected for several weeks or months."
Have you been neglecting your account?  Not quite able to pull it out from the mud?  See what we can do to help.

Chapters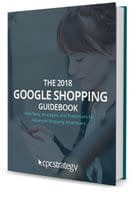 New Google Shopping Guide: 2018 Edition