There are
over four million apps available
between the Google Play & the Apple App Stores today, making mobile app marketing essential if you want to get ahead of the competition and grow your daily active users (DAU) in 2019.
Here are four essential mobile app marketing strategies to help you build visibility, engagement, and conversions with your mobile app in 2019.
What Is Mobile App Marketing?
Mobile app marketing is in-app advertising that drives awareness, installs, and daily active user (DAU) growth and user retention.
In today's crowded app market mobile app marketing has become essential for getting your application in front of your target audience to drive downloads, active users, and in-app conversions for your business.
Open up the Google Play or Apple App Store and you'll see why — there are a countless number of competitor apps competing for visibility.
4 Mobile App Advertising Strategies & Tips for 2019
1. Optimize Your App Store Page (ASO)
Think of the store page for your app as one of the few opportunities you have to boost your SEO within the Apple App and Google Play Stores.
An optimized, keyword rich description of your app and its features is essential to gaining top search result rankings.
"The more engaging and optimized app store page you have, the more downloads your app will receive. The more downloads, the higher your app will rank within the Google Play and Apple App stores."
– Joe Douress, Senior Manager, SEO at Tinuiti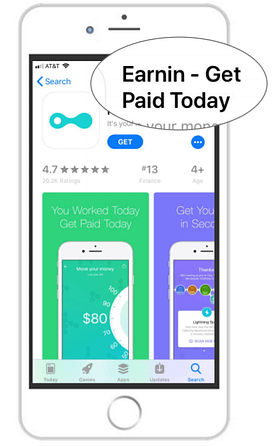 You can optimize your app store page by:
Choosing keywords that best describe your app's features

Use keyword tools such as KeywordTool.io, SearchMan
Use as many keywords in first 252 characters of app description
Reviewing competitors' apps for ideas
Using as many screenshots that are allowed within each app store

Format video previews for each type of device (not just the newest iPhone)
Allowing users to rate or review your app directly within in-app interface
2. Use Paid Channels for Mobile User Acquisition
If your app isn't ranking in the top ten for your target keywords, then you're going to need some help driving traffic to get users to download your app.
And by help, we mean using paid advertising channels to drive app visibility and downloads.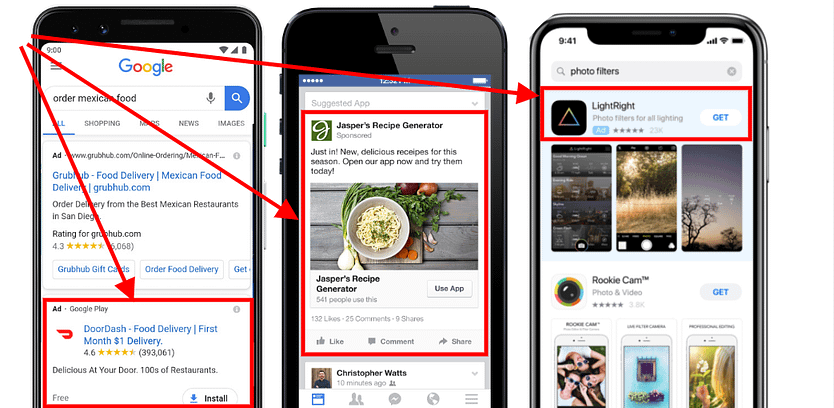 The most popular channels for driving new user acquisition are:
Google and Apple app marketing campaigns allow you to reach users based on search intent, whereas Facebook's App Install ads allow you to target audiences based on their behaviors and interests.
Make sure to make use of exclusion lists to reduce wasted spend when using these app advertising campaigns to make the best use of your marketing dollars.
It's also a best practice to promote your app's download page on iOS and Google Play across your web properties and social pages so users can find your app easily regardless of what channel they're on.
3. Reduce Mobile App Ad Fraud 
Fraud is rampant in the app marketing space, and it can cost you big if you aren't careful.
According to a 2018 report by eMarketer, mobile app firm AppsFlyer found that app install fraud had tripled within a 12-month time frame.
"Fraudsters have become so sophisticated that they can essentially generate as much fraud as they want by faking installs," said Shachar Guz, product manager at AppsFlyer. "They have learned how to hack exposed software development kits [SDKs] and manipulate the system by mimicking real user behavior."
So how can you make sure you aren't wasting ad dollars by falling victim to app ad fraudsters?
The key is to find and use a mobile measurement partner (MMP) that you can trust.
A mobile measurement partner (MMP) is platform or third-party company that allows you to measure attribution for your app goals, such as installs, user activities, in-app conversions, etc.
Work with your MMP to make sure that you are targeting the right audiences, paying for real users, and keeping track of downstream metrics to verify so you can understand how your mobile app advertising campaigns are performing.
4. Measure More Than Just Installs
Too often mobile app marketers get distracted by app installs and forget that the true value of driving in-app activity and daily active user (DAU) growth.
While user installs are nice to look at, they won't count for much if the users themselves aren't engaging with your app and contributing to your business goals.
The solution to this is to make sure you have a strategy that goes beyond just installs and use post-install event tracking so you can measure in-app activity such as signups, first orders, repeat purchasers and more.
In-app event tracking will enable you to then optimize toward real users that are making purchases or conversions to increase lifetime value (LTV) and make the best use of your app marketing dollars.
Final Takeaways
Have clear goals for your app marketing strategy
Optimize your app store page for greater visibility and keyword ranking
Use paid channels on Google, Facebook, and Apple to drive traffic to your app page
Fight app fraud by using an MMP that you can trust and tracking downstream metrics
Measure more than just installs with post-install event tracking
Want to learn more?
Apple Search Ads: What App Marketers Should Know
Case Study: How Mobile App Install Ads Drove 18X More Free Trials & 94% Lower CPA for Panna Cooking
Google Analytics For Firebase: What App Advertisers Need To Know