Online sales grew by nearly 35% in the CPG industry last year, highlighting a fast-growing segment in an otherwise slow-growth industry.
Once bolstered by scale, CPG giants have been slow to adapt to changes in consumer behavior, emerging channels, and the advent of smaller, customer-centric digital brands that are carving out their own share of the $2 trillion industry.
Direct-to-consumer CPG brands like Dollar Shave Club — whose online sales doubled Gillette's in just three years — are turning the traditional CPG growth model on its head.
Here's a look at some of the major trends and shifts that continue to disrupt the CPG industry in 2019 and beyond.
1. Consumers Are Purchasing Groceries and CPG Products Online More Than Ever
Nearly half of US consumers are purchasing groceries online, marking an enormous increase from just a few years ago, according to research by the Food Marketing Institute.
The same study projects that online grocery sales will make up 20% of all grocery sales, becoming a $100b market by 2022.
In many markets the online model, more accurately the online plus offline model, has the potential to offer better value to shoppers — on price, convenience, and choice.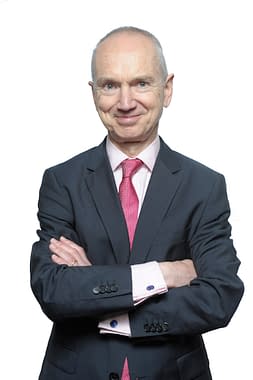 -Peter Freedman, Managing Director at The Consumer Goods Forum
"That said, it's not totally clear that these advantages will persist for all time – the intensity of competition today gives shoppers benefits like 2-hour lead times and free delivery."
Freedman warns that the costs of omnichannel models — having a presence both online and offline — may actually lead to rising costs.
"Some of the hidden costs of omnichannel models – e.g. environmental impacts, fewer or less well-paid jobs – may ultimately have to be paid for by us, the shoppers."
2. Amazon & Ecommerce Putting Pressure on Supermarket Giants
Amazon's acquisition of Whole Foods last year signaled that the ecommerce wave is here and already making inroads into what some deem the final frontier for ecommerce disruption: groceries.
Amazon Fresh, which now offers same-day delivery options (1-2 hours) in a growing number cities, became Amazon's fastest-growing category this year as sales surged by 40%.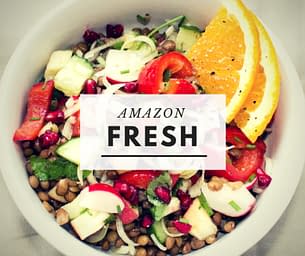 Another survey by Coresight research found that 59.5% of US internet users had bought groceries from Amazon in the last year.
The growth of the Amazon Fresh and Amazon Pantry categories have compelled grocery giants Walmart and Target to speed up their own initiatives to open up their grocery aisles to online shoppers.
Walmart plans to expand its grocery delivery business to over 1,600 stores by year's end, while Target plans to include all product categories with same-day delivery.
Like many other retailers positioned in Amazon's orbit, the ecommerce giant is pressuring supermarket giants to optimize their brick-and-mortar locations for curbside pickup and faster delivery times.
3. An Omnichannel Future
Not everyone is convinced that Amazon and Whole Foods is as large a catalyst that some believe.
That's because the multichannel business strategy has become a shift larger than Amazon itself.
"I'm not sure that Amazon/Whole Foods was as new or disruptive as some people think," says Freedman.
The underlying omnichannel trends have been around for several years – i.e. exploiting both online and offline channels to give shoppers a better service than either can give on its own. For example, Alibaba set up Hema in 2015.
Smaller brands have also honed in on the online and in-store model by establishing partnerships with major chains.
Some brands that began as ecommerce companies, such as Honest Company, have seen success with moving in-store by scoring distribution partnerships with major retailers, such as Walmart and Target.
Dream Water is another direct-to-consumer success story — with their products now on the shelves of Walmart, CVS, and Walgreens.
"Indeed, there seems to be increasing alignment on what that future looks like: some variant of bricks & mortar and digital that is a bit different depending on each local market."
Adopting an omnichannel strategy may sound enticing, but the reality for many companies is that it is difficult to pull off, says Freedman.
"But the real challenge, whether you start as a digital or physical retailer is how quickly you get can get to that vision while still making money in the process."
4. Smaller Brands With Digital Channels Are Carving Out Their Share
Although Amazon may be the giant leading the ecommerce push into consumer packaged goods, there are thousands of smaller companies that are collectively carving out their own share of the $600b+ market.
These new brands are entering markets dominated by big-box retailers and selling similar products in a way that addresses the exact pain points of their niche target market. They've given a fresh take on an old product and can project themselves as something new and worth trying.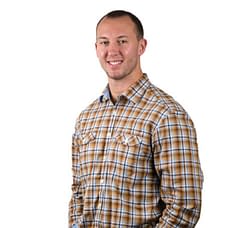 -Ben Whitrock, Senior Retail Search Manager at CPC Strategy
The largest food and beverage companies saw their share of the brick-and-mortar market decrease from 33% to 31% at $233b since 2013.
That market share is shifting to about 16,000 "smaller manufacturers" that have comparably less revenue but together combine for $145b in annual sales — and have increased their share of the market from 17% to 19% in the same 5-year period.
Armed with first-party customer data and full control over the digital experience, these challenger brands have disrupted everything from vitamins to pet food, to razors and baby care products.
The trove of data gathered from digital channels is used to optimize all aspects of the brand, from marketing to product design.
There's a wealth of data available to brands who leverage online marketing channels to understand the behavior and engagement level of the typical user on site and the relative cost of driving a purchase or a site visit. My advice would be to make full use of that data.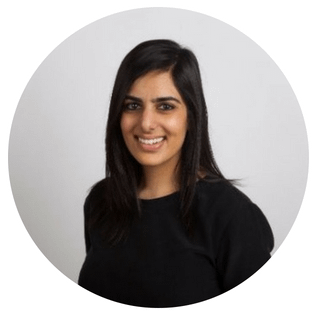 -Anu Verma, Head of Marketing at Care/of.
5. Meal Kits and Subscription Models See Explosive Growth
Within the growing segment of direct-to-consumer brands disrupting the CPG industry is a smaller segment that features a subscription model.
While only 16 percent of consumers purchase products through subscriptions, over one-third plan to in the future.
According to a study by McKinsey, subscription ecommerce brands like Dollar Shave Club and Blue Apron are experiencing enormous growth.
The subscription ecommerce market has grown by more than 100 percent a year over the past five years. The largest such retailers generated more than $2.6 billion in sales in 2016, up from a mere $57.0 million in 2011.
These brands have replaced the store experience with a digital one that offers more convenience and value for the customer.
Tired of hunting down vitamins in the overcrowded supplements aisle?
Care/of delivers a curated selection of vitamins tailored to your needs — right to your door.
Scouring through the meat and poultry section to find the best quality?
There's Butcher Box — a monthly subscription of fresh meat products.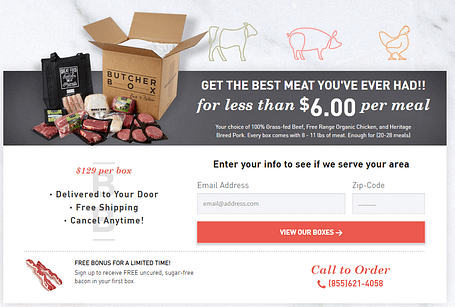 Need a healthy meal replacement? There's Soylent.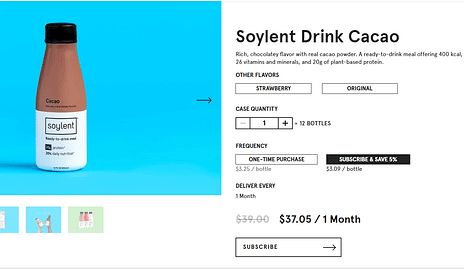 You get the idea.
Customers that purchase CPG products make repeat purchases, making many of these brands a perfect fit for the subscription model.
6. More Mergers & Acquisitions as CPG Giants Find Their Footing
Food and beverage giants aren't going to idle by as smaller challenger brands eat into their market share.
They are developing direct-to-consumer channels of their own, and in many cases, going on shopping sprees.
It's true — mergers and acquisitions are at a 15-year high in the CPG industry.
"Global M&A activity among the world's top 50 CPG companies jumped 45% to a 15-year high of 60 deals last year," states a report by OC&C Strategy Consultants.
CPG heavyweights understand that industry growth is concentrated online, which is why they are either adopting the strategies of smaller DTC brands or outright buying them altogether.
Unilever, for example, purchased Dollar Shave Club and Sunbasket, a competitor to Soylent in the meal kit market, within the last few years.
"Global retail chains were very popular some years ago and then went out of fashion as the challenges of taking a successful retail format from one country to another became more evident," explains Freedman.
"The recent wave of acquisitions and partnerships illustrates a new approach to globalization, bringing together offline and online across different geographic regions."
7. A Greater Focus On Authenticity and Brand Values
It's no secret that in today's crowded marketplace, a brand's authenticity is more important than ever.
"Millennials and Generation Z are very concerned about issues that, incidentally the Consumer Goods Forum focuses on – that is the future of the planet and the people on it," says Freedman.
The Honest Company made a name for itself by promoting natural, sustainable ingredients in its baby products.
Seventh Generation emphasizes plant-based ingredients and recyclable packaging.
Perky Jerky's founder, Brian Levin, advocates for disability awareness and donates a portion of sales revenue to Down Syndrome and Muscular Dystrophy research.
"Many simply will not buy brands or shop in retailers that don't in some way provide real leadership on issues like environmental sustainability, human rights, and health," explains Freedman.