In January 2017, Instagram Stories Advertising was launched as a new way to place full size, targeted ads on Instagram for businesses.
These ads are designed to be displayed between other Instagram Stories for a more immersive viewing experience where the ads become part of a viewer's Feed.
So far, 30 global brands including Capital One, Nike, and Airbnb have tested Instagram Stories Ads and the results they report are impressive.
How Instagram Stories Works
Instagram Stories Ads allow businesses to create picture or short video ads either on Facebook or Instagram and capture their target audience who viewed the ads on their Facebook or Instagram Feed.
Instagram Stories Ads can only be published to Instagram Stories, but similar other posts on Instagram, they can be shared to Facebook Feed as well. If you haven't already, you'll need to connect your Facebook account to your Instagram account via the Instagram app or website.
Instagram Stories Ads features the same measurement tools as Facebook and Instagram Feeds and allows ads to be published relatively quickly. Using these tools, businesses can be confident which ads are most effective and how they can reach a wider audience for greater exposure.
Update May 2017: New objectives are now available, giving businesses the ability to purchase ads in Instagram Stories across additional objectives—Video Views, Traffic (formerly known as Website Clicks), Conversions and Mobile App Install.
How to Create Ads in Instagram Stories and Facebook
Getting started with Instagram Stories is a user-friendly process and can help save time while also reaching a wide audience. Let's walk through the basic steps and learn some useful tips and tricks.
There are two ways to post an ad in Instagram Stories. You can either use Facebook to create the ads that run on Instagram Stories or you can use Instagram directly.
Creating Instagram Stories Ads in Facebook
For Facebook, you can upload a photo or video and use Power Editor, Ads Manager, or the API to run the ads on Instagram Stories.
Here are the steps to using the ad manager on Facebook:
1. Go to Ads Manager page on Facebook.
2. Click Create an Ad. At this point you will be asked to select an objective for your campaign. Currently only the "Reach" objective will allow Instagram Stories ad placements but Facebook will be updating this soon to include other objectives.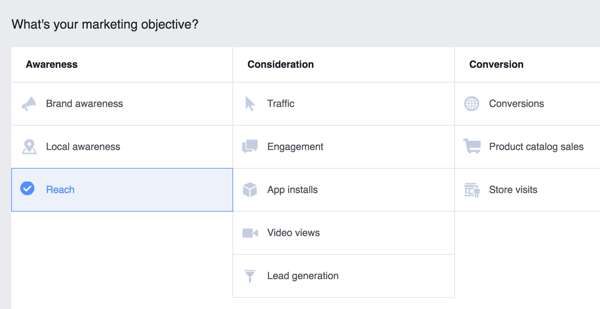 3. Select the Reach objective. You will also be able to name your campaign at this time.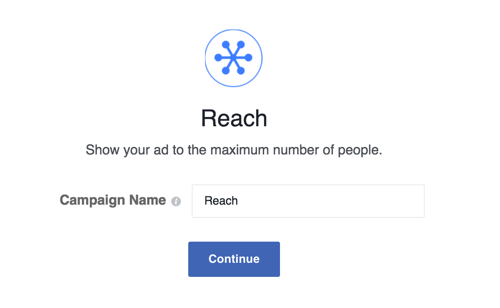 4. In the Ad Set section, click Placements.
5. Select Edit Placements, select the option for Instagram placement, and then also select Stories.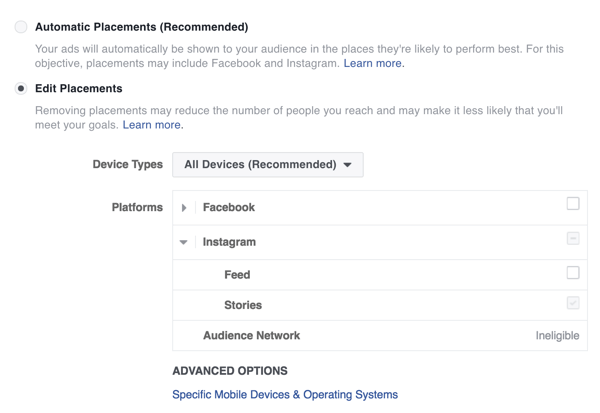 6. Complete the remaining steps to continue building your ad campaign.
7. Once ready, click Review Changes to publish changes you have incorporated.
Note: When you create an Instagram Stories ad here on Facebook it can only be run on Instagram Stories. However, if you create the ad on Instagram Stories Ads you can then share it to Facebook after it has been published to Instagram Stories.
At this point you will be able to set up your budget and scheduling, and then design your first ad.
Here's how:
8. Choose the ad format. You can choose from a single image or a single video.

9. Upload your image or video file. Be sure that the image or video meets the recommended specifications. If you selected a single image you will be able to browse library and navigate to that image to upload it.
If you selected a video, you will have the option to choose a preview image once it is finished uploading.

After your media is uploaded, you can decide what you would like to track in your campaign or add tags to your campaign. Then it's ready to launch.
Creating an Instagram Stories ad from the Instagram App:
1. To start, tap the plus sign in the upper left corner.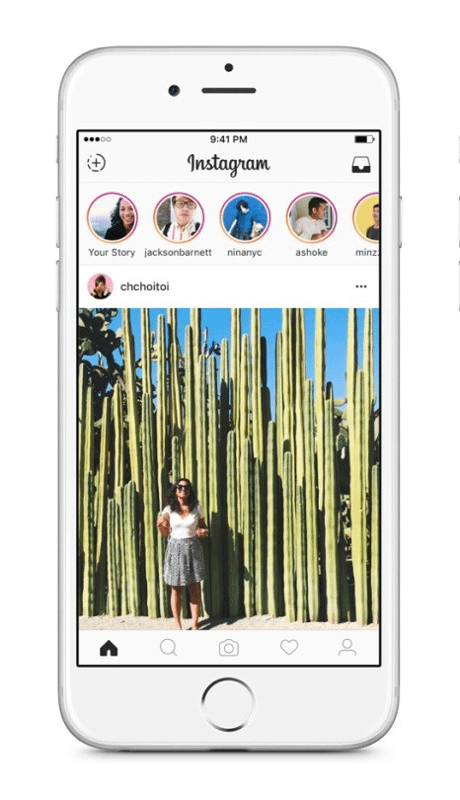 2. To take your photo, tap the round button at the bottom, or take a video by pressing down on this button for up to 10 seconds.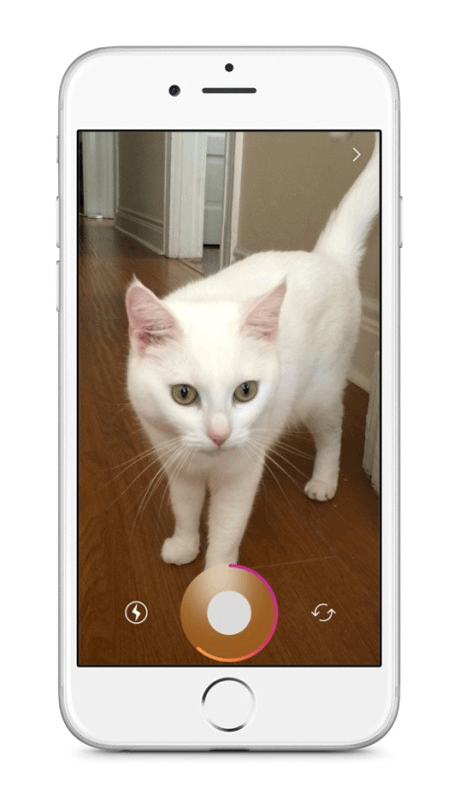 Want to post a photo already on your phone? No problem! Just swipe down to see the recent images on your camera.
Note: The thunderbolt on the bottom left turns on the flash, while the two arrows on the bottom right change the camera view so that it either points towards or away from you.
3. Go ahead and select one of the three pen options, add doodles to your photo, add an emoji using your keyboard, or swipe to the right to select one of the color filters.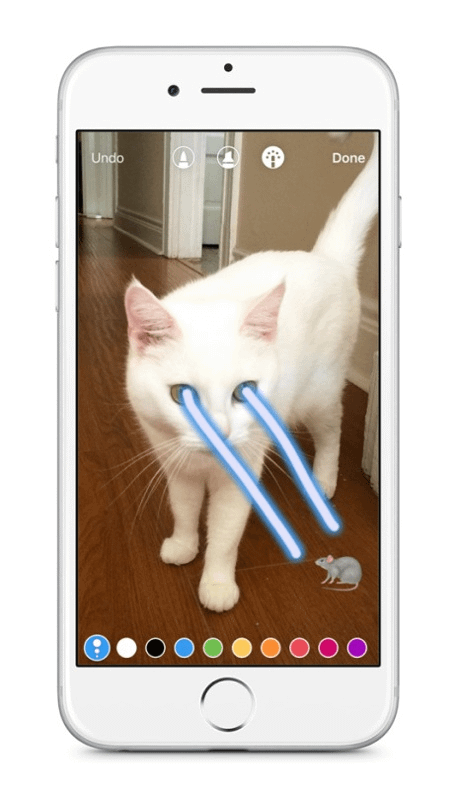 Note: To use more colors just press and hold down on one of the colors you see at the bottom of the screen and you can open a more advanced set of color options that looks like this:

4. When you're done, tap the checkmark icon to share. It's that easy! Your story will appear at the top of your friends' feeds and will also be visible on your profile page, which you can view by tapping your profile picture.
Specifications for Building an Instagram Stories Ads
As easy as it can be to create an ad using Instagram Stories there are some key specifications that you'll want to be sure to adhere to. Images that you would like to post, as well as videos, need to be portrait, and 9:16 or taller with a minimum of 600 pixels in width.
This is the first time that Instagram Stories is allowing full screen ads that are 9:16 on their platform and more features are expected to make a debut in upcoming months. A great example is a Link or Call to Action button that is rumored to be coming soon!
Other aspects of the format to keep in mind:
– Single images or videos
– Videos cannot be longer than 15 seconds and should be in the .MOV, .MP4, or .GIF format
– Videos can be up to 2.3 GB in size, and the resolution at least 720p
– No standalone text such as titles, messages, descriptions, captions, etc.
You'll want to be sure to use high quality images that have simple but powerful text on them.
These images should grab a user's attention immediately and let them know what your business is about and what you do.
Instagram Stories Specs – Cheat Sheet
Feel free to share this cheat sheet with your friends or repost on your own blog.
How Businesses are Embracing Ephemeral Content, Both Organically and Through This New Ad Format
Instagram Stories for business is a Snapchat competitor with slightly different features. One key difference is that Instagram Stories is already paired with Facebook while offering very similar metrics for both so that business owners are able to optimize their ads on both platforms for maximum total reach.
While Instagram Stories ads can only be published on Instagram Stories, they can also be shared on Facebook's' Feed.
Instagram Stories Ads also has a big advantage as part of the Facebook/Instagram umbrella which allows for easier and quicker adoption for users and businesses, as well as an established captive audience that can be targeted in a completely customizable way.
At 300 million daily active users, Instagram has around twice the users that Snapchat has, which means a whole lot more exposure and reach potential with each ad. Current trends favor quick advertisements that capture the viewer's attention and convey a message in a short period of time without the viewer becoming aware that they are being advertised to.
Instagram Stories ads fully embrace this trend while also taking advantage of an already captive audience that is eager to view fresh content from both friends and their favorite brands.
Instagram Stories Ads also allow a business to advertise inexpensively while remaining nimble and able to change their marketing content at a moment's notice should they need or decide to. Instagram Stories Ads also allows businesses to engage a unique audience that they would be unable to find so easily somewhere else, and increase their brand awareness.
It also allows businesses to stay current and relevant in their audience's' lives with well-timed postings of ads that play off of current events, trends, and fads.
Instagram Stories Ads: Expert Insight
"When it comes to advertising within Instagram Stories, for retail brands I think the primary limitation will be the creative. Your creative should be 'thoughful' because people are very much in a 'browsing friends and family' content mindset," Sarah Rogers Manager, Performance Social at CPC Strategy said.
"Snapchat already does this really well in their own space but those ads are typically produced with high level creative."
"Historically, what we've seen is that it takes users a little while to warm up to the new ad placements (in terms of ecommerce). Instagram is still a fairly new ad platform in relation to Facebook. Placing new ad options on an already newer ad platform might take a little while to catch on."