Props to our SEO & Analytics guru David Weichel for finding this, this is in the Google Shopping tab. See anything different?: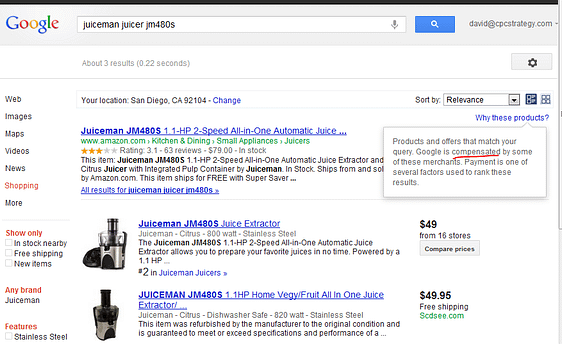 David threw in a bit of analysis as well: "Wow First time I've seen a straight up organic listing show up in a Sponsored Ads section of Google Shopping.  This is in the shopping tab…"
Upon a little more team investigation we found out that David actually unearthed this a while ago, not sure why we never shared it. There are literally thousands of Google Shopping emails we've all been sifting through lately.
It's new to most though so I thought I'd share. Google trying to put an organic listing above the shopping results is pretty weird.
This could be good news to SEOs though…it seems Google is just pulling the first organic result and putting it at the top of the Google Shopping tab…