Consumer Features On Product Listing Ads
Product Listing Ads Personalized Search

Product Listing Ads User Features
When Google began switching over to the revamped Google Shopping, they created shopping guides, which was a really neat step towards a more fluid shopping experience. Since then, Google has been steadily making Google Shopping more visually appealing and organized towards user needs with the new Google Shopping Homepage and similar changes. Here's a peek at the Google Shopping homepage: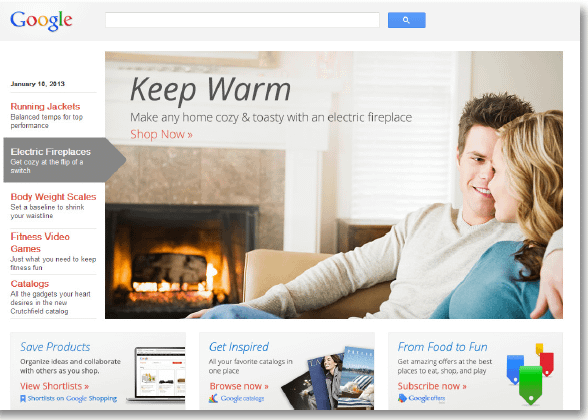 More recently, Google announced 360 degree product image detail and shortlists, as well as other Shopping features such as extended catalogs. New shopping features designed to make the Holiday a bit less stressful for online shoppers.
Google Catalogs
Google Shopping Catalogs are pretty schnazzy looking for shoppers, and are a great option for users who are more comfortable browsing a magazine instead of search listings. Learn more about Google Catalogs here. The Google Shopping homepage also calls out catalogs in 3 different places (not including the slider), more than anything else on the page: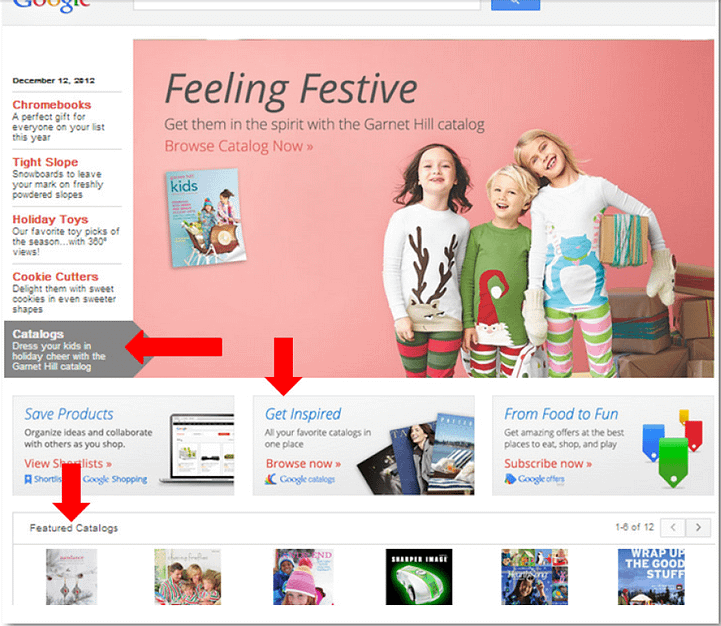 What this means for merchants:
Google Catalogs are subject to Google approval for merchants, but it's definitely something which you should look into. Learn how to sign up here. Catalogs are really intuitive for shoppers, and they link out to your site for pricing and additional product information.
360 Degree Images On Google Shopping
360 degree view images are only available for certain featured toys at the moment as part of Google's 'Holiday Toy Collection' suggestions for shoppers. But I would anticipate Google will expand this feature over time. 360 images give the shopper the option to view an item from all angles: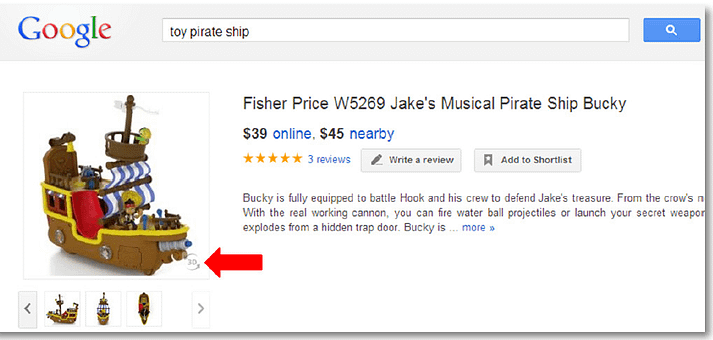 This feature is difficult to highlight in a screenshot, but users are able to see a continuous rotating product image just by moving the mouse: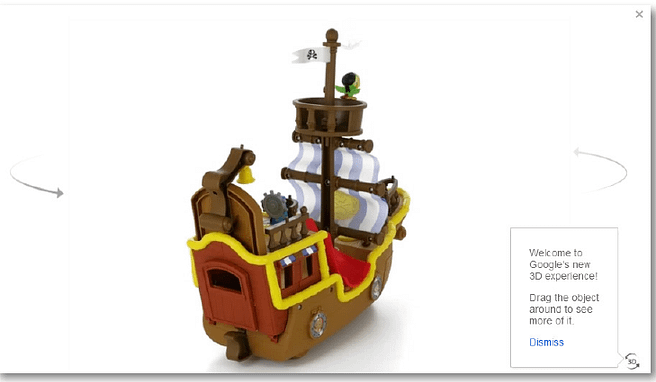 This is a convenient feature which doesn't require shoppers to manually select multiple item views to get a holistic product image. As an online shopper myself, I have to acknowledge it's a small change that makes a big difference.
Shortlists
I wasn't overly enthused with Shortlists when I first saw the option since it appeared to be very similar to the Amazon 'wishlist' feature. Now, however, I would argue it rivals Amazon with its usability. What's neat about Shortlists is that online shoppers can create multiple shopping lists: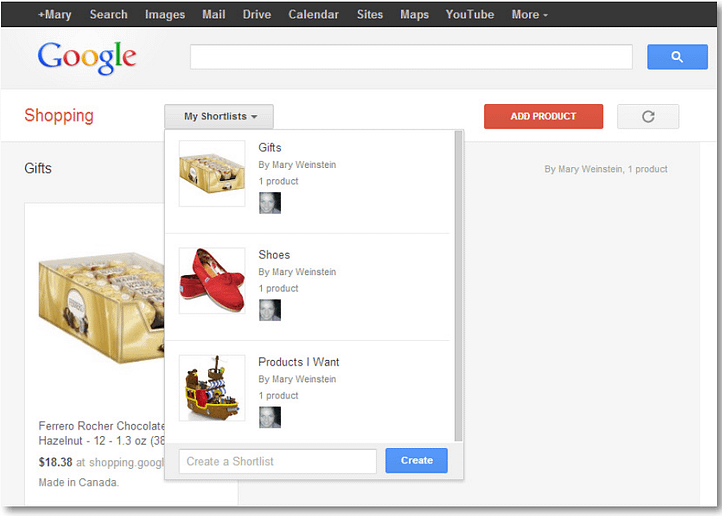 There are also additional useful features associated with Shortlists that help individual shoppers organize, such as notes for lists:
And sharing features, so online shoppers can collaboratively purchase or get feedback from others on what to buy: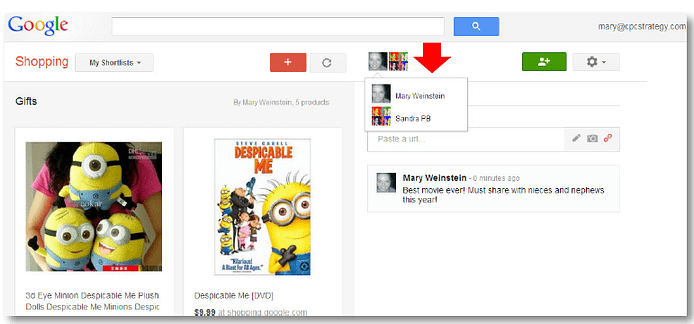 What this means for merchants:
The wishlist feature has been available on Amazon for quite some time, helping shoppers organize and encouraging purchases.
Google Shopping Sorting Features
Shoppers who don't want to use Shortlists can still narrow down searches with Google Shopping's numerous and product-specific search options. Note: This option is only on the Shopping tab. Google Shoppers have the option to sort by shipping, category, price, brand, store, or gender (depending on the item):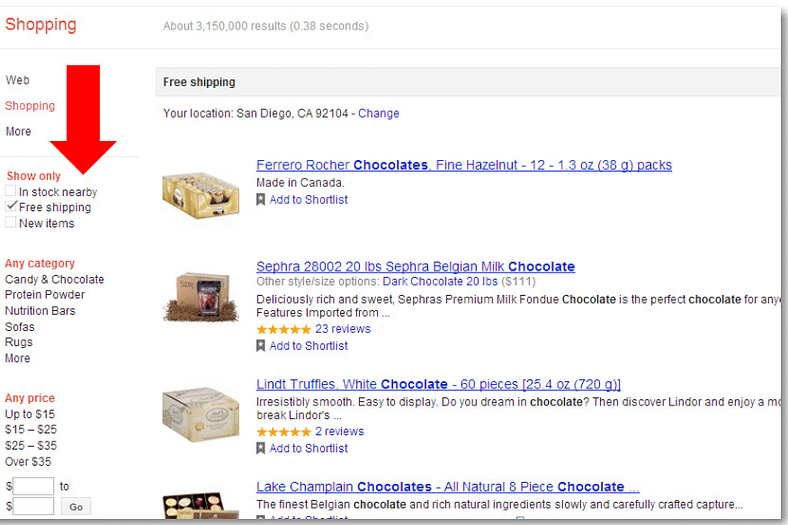 It is also possible to select multiple search filters, which is something thatshoppers formerly had to do through the search bar by refining search terms.
In this same search, I can decide if I want items from a certain brand, Google Category, under a certain price, or with free shipping without needing to search through multiple pages (see highlighted red search selections on the left side of the screenshot below):
What this means for merchants:
Shoppers can sort by free shipping and by the lowest price more effectively on Google Shopping. If you have free shipping, this is one of several seller features shoppers are sorting by, and these features will help you convert. Search filters also vary and get more detailed depending on a shoppers query, which is another nice feature for Google consumers. If a user is shopping for women's shoes, for example, they have sorting options which aren't available with other queries but are designed to help them narrow down choices based on the product: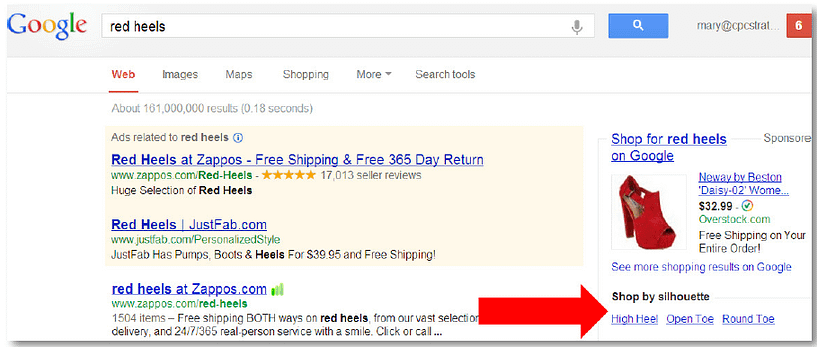 Add to that the security associated with shopping from Google Trusted Merchants, the fluidity of Google Checkout and Google Wallet, and you've got a bright and shiny, user friendly shopping engine.
Note: Online shoppers are looking for easy, safe, and fast ways to purchase online. You'll see this type of advice over and over again in landing page optimization tutorials and payment page optimizations: reassure the shopper while making the purchase process as painless and fast as possible. Google allows consumers to purchase safely, quickly, and without any worries about fraud. In our technology-centric, and for lack of a better term, impatient culture, shopping features which remove barriers like Amazon's one-click ordering and Google Wallet does are extremely user friendly and are going to help you convert better. When I shop on Amazon, I choose items which will ship for free with my Prime membership 9/10 times. I will even pay a little more if I know the purchase process will be quicker. Merchants who are part of Google Wallet are highlighted on comparison pages:

Since the checkout process will be less painful, shoppers who use Google Wallet will be more inclined to purchase from you. Sign up with Google Wallet.
What this means for merchants:
Ecommerce is always moving towards faster, easier ways to purchase with an emphasis on a fast and fluid user experience. You're going to want to have these options open to your customers because other merchants will, and shoppers will choose the easy route almost every time. Another thing to keep in mind with Google Wallet are mobile purchases. People love their phones, and nowadays iPads are also entering that romance. Purchases made on these devices are on the rise, so you need to be at the forefront of website optimizations and features which let shoppers purchase online from these devices fast, securely, and easily. Features like Google Wallet allow online shoppers to purchase via those devices with peace of mind.
Personalized Search On Google Shopping
Personalized Search results with Google+ were introduced for Google Search in January (2012), with Google+ results, profiles, people and pages in search. It was made to transform "Google into a search engine that understands not only content, but also people and relationships…" It doesn't seem like a big leap to see these features migrating over to Google Shopping, much as paid advertising became a larger part of Google Search and later Google Product Search as Google Shopping.
Its a bit more difficult to quantify the benefits of social media compared to something like Google Wallet, but it's definitely gaining similar momentum and should be given attention.

‎


Chapters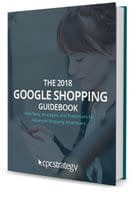 New Google Shopping Guide: 2018 Edition