The Product Listing Ads Guide For Agencies
Product Listing Ads Extensions

Create An Extenstion For Product Listing Ads
When initially setting up your PLA campaign, you will need to choose an extension for your Google Merchant login. Oftentimes pre-existing extensions have filters associated with them, and can be changed by other users (who presumably set them up).
To avoid these issues down the road, create a new extension with the Google Merchant login ID for your account.
1) Create a new extension with the Google Merchant login ID for your account.
To create a new extension, select 'create a new extension' under the Ad extensions header on the Campaign Settings page when setting up your campaign. This is at the bottom of the Campaign settings page:
Use A Pre-Existing Extension With Associated Filters
If you are managing a PLA campaign which is already associated with an existing extension, validation issues and other problems are often a result of that extension having filters enabled.

"We recommend creating a new extension every time to limit the issues that could occur. Having multiple extensions will not hurt your campaign (only make the drop down menu look a bit messy). Better safe than sorry."

1) Check and see if there are any filters associated with the GML extension for your PLA campaign, and remove those which exist or create a new extension as outlined in the above bullet.
To see if you have any filters associated with your campaign, look under the Filter Tab:
Don't worry about losing any product performance history with this change, as removing a filter (or creating a new Ad Extension for your account) won't wipe out any former data and won't hurt your campaigns relevancy.

Chapters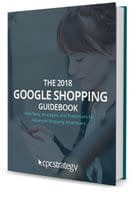 New Google Shopping Guide: 2018 Edition