Product Listing Ads Best Practices
Data Feed Changes

Making Changes to Your Google Shopping Data Feed
Merchants who can change their data feeds have a serious leg up with Google Shopping right out of the gate. One of the best ways to create and segment PLA ad groups is by using the AdWords column in the feed. If you are a seller with the ability to change your feed, you have quite a few options to build out your PLA campaign.

"Having more control over your feed allows you to manipulate the products and bids based directly on the performance metrics you receive back from Google."
To create ad groups which validate with the AdWords label column, you'll need to add this column to your existing data feed.
Following which your column headers should look something like this:
Merchant Actions: One of the best ways to create and segment PLA ad groups is by using the AdWords column in the feed.
Ad Groups You Can Create with the AdWords Label Column for Product Listing Ads
If you can't change your feed you're missing out on these Ad Group options: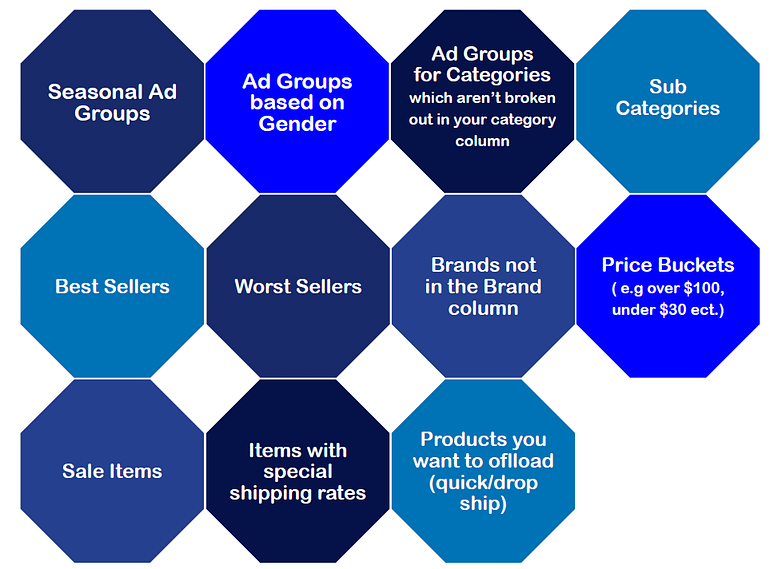 "If you don't have the regular ability to manipulate the feed, the 'Worst Sellers' or items you want to 'suppress' could continue to stay live. This ultimately hurts your COS on Google Shopping. The ability to manipulate the feed will also allow you to essentially bid lower on those 'problem' products rather than just cutting them off of the engine completely. We still want products on the comparison pages of Google Shopping if possible, we just don't think they deserve to have a high CPC. Feed manipulation allows you to achieve this."
"Being able to change your feed information opens up a whole new bag of tricks for your Google PLA campaign. Unlocking the ability to have Ad Groups on 'Best Sellers', 'Clearance Items', 'Price Buckets', etc. will allow you suppress bids on 'problem' products without pulling them from the channel completely. It gives you almost total and complete freedom to get as creative as you want with your PLA strategy. I like to akin it to this: not customizing and manipulating your data feed is equal to using Adobe Photoshop program ONLY to re-size all of your photos.
Sure, it will get the job done without any issues however you have the ability to touch up and customize your photos as much as you want using Photoshop, why not take advantage and create a spectacular end product? For some merchants, not creating these custom Ad Groups will work fine. You will still be able to create Ad Groups and custom bids based on brand and product type but you will also severely limit yourself when you want to get more granular with your strategy."

Chapters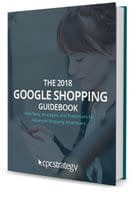 New Google Shopping Guide: 2018 Edition