Common Mistakes On Product Listing Ads
Reporting Errors

Incorrect Revenue Reporting on Google Shopping
**CLICK HERE FOR THE UPDATED VERSION OF THIS POST** Be sure you are not double reporting revenue on Google Shopping. If you have Analytics revenue importing into AdWords in addition to AdWords revenue tracking, the total revenue displayed in AdWords will reflect the sum of the two, thus doubling your reported revenue.

Merchant Actions: If you are looking at AdWords only when viewing revenue, make sure you take a peek at Analytics to see if the revenue metrics are similar. You can also see where AdWords is getting its revenue numbers from under Tools & Analysis > conversions:

Merchant Actions: Temper your AdWords sales and revenue data by checking out those same numbers on Analytics. If one is significantly higher or lower than the other, you're tracking something incorrectly.
Another easy way to identify this error is that there should only ever be one 'Purchase/Sale' reporting category in AdWords (one source for order and revenue data).
Setting Too Low of a Daily Budget on Google Shopping
If you have a daily budget, remember that your Ads will not be shown once that budget is reached. If your budget is too low and you're bidding high, there is a large likelihood that your bids are coming down earlier in the day and that you are missing out on conversions.

Merchant Actions: Keep your COS goals in mind, and don't spend more than you can on Google Shopping, but set a high enough budget so that you won't be missing out on sales and revenue.   Don't be misguided by incorrect metrics. Reach out for our guidance below.

Chapters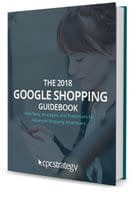 New Google Shopping Guide: 2018 Edition