Getting Started On Google Product Listing Ads
Product Listing Ads Setup

How To Set Up Your Google Merchant Center Account For Google Product Listing Ads (PLAs)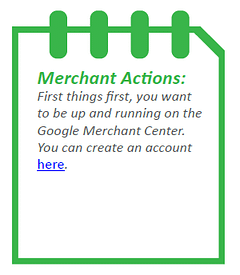 First things first, you want to be up and running on the Google Merchant Center. This is where you will be sending your feed which AdWords and PLAs draw product information from. If your feed is not being sent and processed correctly through merchant center, you will not be able to list products on Google Shopping. You'll also want to make sure your AdWords account and Product Listing Ads campaign are set up. Here is Google's explanation of how to create a new Product Listing Ads campaign:
Create A New Product Listing Ads Campaign
If you haven't already set up a Product Listing Ads Campaign, you can learn how to do so here. 1) Login to Adwords 2) Select the campaigns tab> +New campaign
3) Choose Search Network Only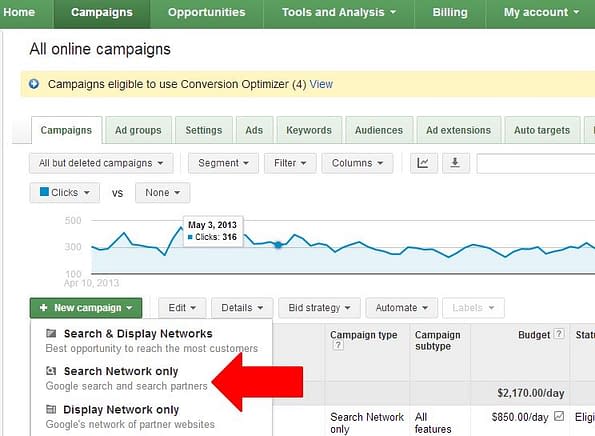 4) Choose Product Listing Ads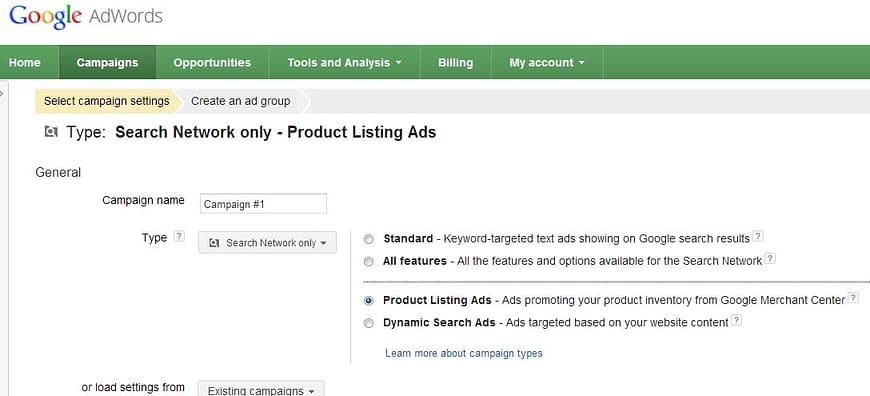 5) Select Networks, Devices, Location, Langauge (you'll likely want to leave all default)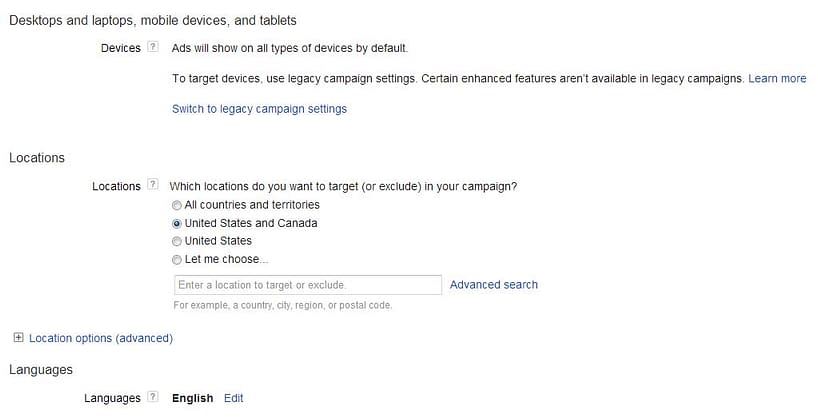 6) Set Bidding and budget Your bids and budget are going to vary.

7) Choose an extension for your Product Listing Ads account.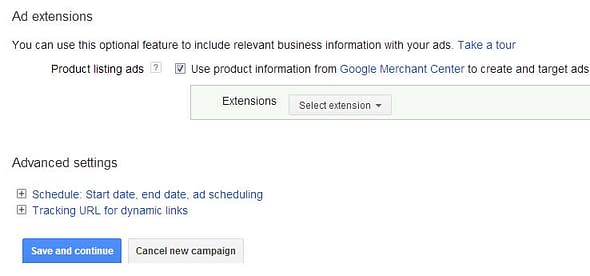 Remember to be careful if you choose an existing extension, and that your extension matches your Google Merchant Login.
Google Also walks you through these steps here:
Create An All Products Ad Group in your Google Shopping Campaign
Once you've set up your Product Listings Account, you'll want to start creating Ad groups and product targets. Make sure you have an ad group in your Google Shopping PLA campaign which encompasses all of your data feed (everything you sell/ are sending to Google). When you set up your first ad group in AdWords, Google has the All Products target automatically selected for you: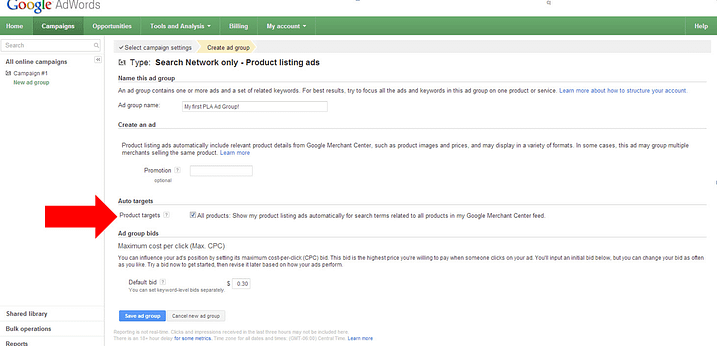 Why Is The Google Shopping All Products Ad Group Important?
The All Products ad group covers your whole feed, so make sure you not bidding to high or low for this ad group. The All Products bid has varying importance depending on the way you want to structure your campaign. If you follow our recommendation of starting broad with 3-5 ad groups plus your All Products ad group you will want a competitive bid (typically around $0.20 – $0.40) depending on your product mix, category, etc. This is important because most of your products will be located within your All Products ad group to start. Having a competitive All Products bid will allow these products to receive traffic. This will also help you collect performance data which can then be used to build out more specific ad groups for products which generate traffic or convert well. If you have already built out a more robust campaign (ad groups for product groupings such as brand, price or category) the All Products bid will likely be at the lower end of the above spectrum ( $0.20 – $0.40) due to the higher number of granular ad groups created. Remember, the All Products bid should ALWAYS be your lowest bid unless you have a suppressed products auto target running. If your All Products bid is higher than your more granular ad groups (e.g category, brand) then the traffic will be attributed to the All Products ad group, essentially outranking the more specific ad groups, which will get no traffic or data. Make sure you have a limited number of All Products ad groups (typically one), and also be sure you are bidding lower for your All Products ad group than other more specific ad groups. The All Products Ad Group is important because it acts as a 'catch all' for your Google Shopping campaigns. Without it you risk leaving some (or many) of your products out of the PLA ad rotation. But more importantly those products will not be available for search on the Google Shopping comparison pages which are located on the 'Shopping' tab. Regardless of bid, you want your products at least on the comparison pages for potential search queries. Any type of bid should qualify you for that area given your data is accurate and your products sku up with competitors.
The New Google Shopping Guide
Next-Level Implementations for Advertisers on Google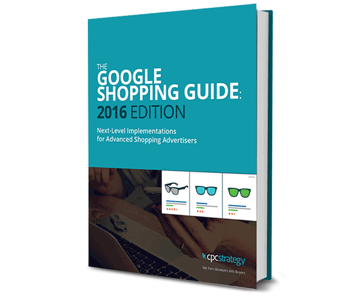 Chapters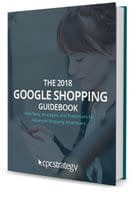 New Google Shopping Guide: 2018 Edition