Common Mistakes On Product Listing Ads
Product Listing Ads Support

Get the Most Out of AdWords Support for Product Listing Ads
PLAs are a new program, so merchants are largely uninformed and as a result, tend to encounter a lot of problems. In theory, this shouldn't be an issue since Google has a dedicated AdWords support team available through chat, email, or phone to help sellers troubleshoot and answer any questions. To contact AdWords support in the AdWords login, select Help to the far right of the Google AdWords tabs: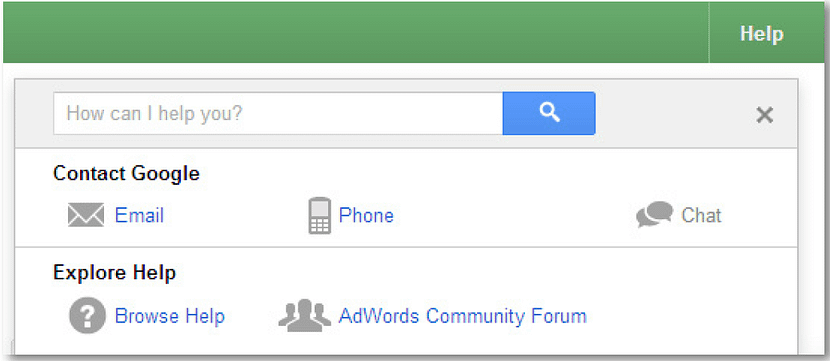 Note: Be aware that although AdWords support is friendly, it's not always particularly helpful.
Best Practices When Dealing With AdWords Support:

  DO NOT rely on AdWords support to help you manage or set up your campaign.
Identify your problem clearly.
If you are having issue with PLAs that you can't solve you'll probably need to contact support for help. If you do so, be sure to be very clear about your issue and go through common mistakes before you contact a rep.
Contact AdWords support over the phone.
This way you can walk through any solutions they might have, and make sure they aren't suggesting fixes which are not applicable. Troubleshooting issues via chat or email can be long.
Use Screenshots.
Sometimes it is helpful to email support if you need to point out something with images.

Merchant Actions: Use screenshots and accompanying explanations which are VERY clear and specific.   Here is a snippet from an email exchange I had with a very nice, but highly unaware AdWords representative. Although I very clearly outline the issues for the account, support incorrectly suggested multiple solutions which were not applicable: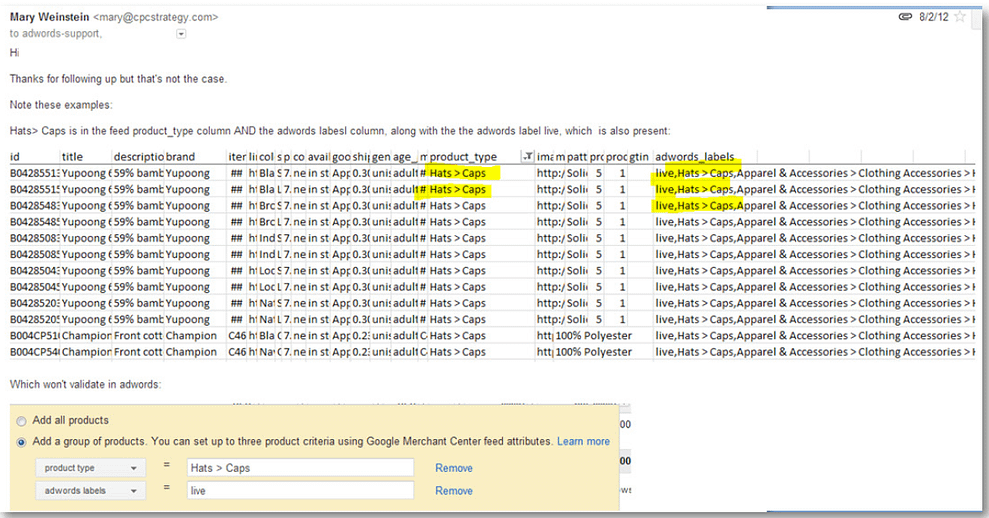 Eventually, I was able to determine the issue by continually pinging support AND sending them very clear emails with multiple images.
Have an idea of what's going on with your PLAs.
This ties back into understanding how to manage PLAs. If you don't know what you're doing and you contact AdWords support, they will likely confuse you more and or incorrectly identify your problem. Note: Know or have an understanding of what the problem is before you contact AdWords support.
Be pushy.
In general, support is fairly responsive, but if you pester them you're more likely to get an answer faster. It's probably not going to be a good idea to be mean about it, but polite persistence has done the trick for me. In that same email with support, here is an example of a reminder exchange I sent:

Also if your rep isn't able to help you, they can turf your issue to an ''expert'' and or elevate the severity of your issue. Is PLA Support not living up to their name?  We've been there and done that.  Reach out below for a helping hand.

Chapters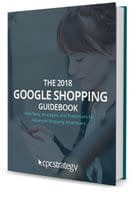 New Google Shopping Guide: 2018 Edition