Merchants Invited To Join Amazon Seller Fulfilled Prime
Amazon recently announced they will be extending their Prime privileges to merchants who store and ship their own inventory through the Amazon Seller Fulfilled Prime program. This is exciting news for both sellers and consumers invested in Amazon's widely successful free two-day shipping service.
We anticipate sellers who are accepted into this program will experience an increase in sales, typical for Prime eligible products.
The objective of the Amazon Seller Fulfilled Prime program is to provide "Prime" shipping privileges to Amazon sellers that have established their ability to ship merchant-fulfilled orders and meet Amazon's high performance levels (through FBA).
Sellers accepted by the program will be permitted to tag products with the coveted Prime eligible label and ship directly from their own fulfillment centers.
Although 2015 enrollment is closed, if sellers apply now and continue to meet the requirements, they will be able to launch with Amazon Seller Fulfilled Prime as early as January of 2016.
If they meet the program requirements (which we will outline below), they will also be notified via email and receive a webinar invitation to Seller Fulfilled Prime.
Pro-Tip: Watching the webinar is required before a seller's SKUs will display the Prime badge, so don't skip this important step in the enrollment process.
If a seller does not qualify, they will be notified via email along with guidance on how to make improvements so they can try to reapply for Seller Fulfilled Prime at a later date.
Below is a screenshot of the initial application: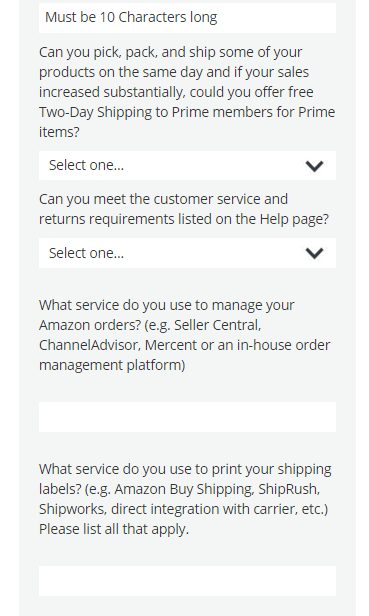 What is Amazon Fulfillment (FBA)?
Before we jump into an analysis of the Amazon Seller Fulfilled Prime program, it's important for sellers to understand the significance of Fulfillment by Amazon and how leveraging Prime can impact their sales performance.
Amazon has one of the most advanced fulfillment networks available in the world. Businesses can benefit from Fulfillment by Amazon (FBA) by storing their products in Amazon's fulfillment centers.
When retailers sell an item, Amazon will pick, pack, ship and provide customer service for the purchased product, including the dreaded returns. Amazon also helps businesses reach more customers than ever before.
In a 2014 survey, 71 percent of FBA respondents reported that their unit sales increased on Amazon.com more than 20 percent since joining FBA.

Fulfillment by Amazon is a strategic program that helps many third-party Marketplace sellers get ahead of their competitors.
With FBA, the seller is only required to label and ship units to an Amazon warehouse. This is done through Seller Central, where FBA inventory can be tracked and replenished by the seller.
Once Amazon receives and scans-in the units, those products are immediately available for sale. From there, Amazon handles storage, packaging, shipping, and customer service on behalf of the merchant.
FBA services tack on additional seller fees to the order – on top of the existing Marketplace referral charges.
What are the benefits of FBA?
Perhaps the most obvious beneficiaries of FBA are small business owners, who likely don't have efficient fulfillment systems in place and don't want to risk the potential negative effects that a poor customer experience could instigate.
Amazon is a favorable partner for businesses because:
FBA inventory's eligibility for Amazon Prime
Its hugely influential role on Buy Box ownership
The added safeguard for other significant Buy Box factors like Fulfillment Latency and Seller Rating
 There is a very strong correlation between FBA utilization and higher sales performance
Eligibility for Amazon Prime

There's no debate Amazon Prime members love free two-day shipping, while non-prime members get access to free shipping on orders over $35–which FBA products are all eligible for.
This is a big advantage Amazon sellers can leverage to their benefit. FBA helps improve performance-based metrics, increasing retailer's chances of winning the Buy Box.
Plus, when retailers register for an Amazon.com seller account, they will be able to access Amazon's marketplace in Canada, potentially reaching more customers.
"FBA is incredibly powerful because of how it can be wielded as a strategic sales lever just as much as a fulfillment solution for an online retailer's business," Pat Petriello, Senior Marketplace Strategist at CPC Strategy said.
"In addition to the benefits of getting in front of Prime customers and knowing your products are going to be shipped and delivered on time, FBA is the most potent lever a seller can deploy to help them win the coveted Buy Box."
"We've seen tremendous lifts in conversion when switching FBM product offerings to FBA and it has enabled merchants to increase their Buy Box share for competitive ASINs," he said.
Now that Amazon has extended benefits through their Seller Fulfilled Prime program, Amazon sellers will have access to the same privileges that FBA listings have for Buy Box eligibility.
Sellers will also be using the new API to postage their shipping through Amazon. This postage will qualify sellers for Amazon's negotiated rates and service levels including two-day shipping, delivery options on Sunday, and same-day delivery.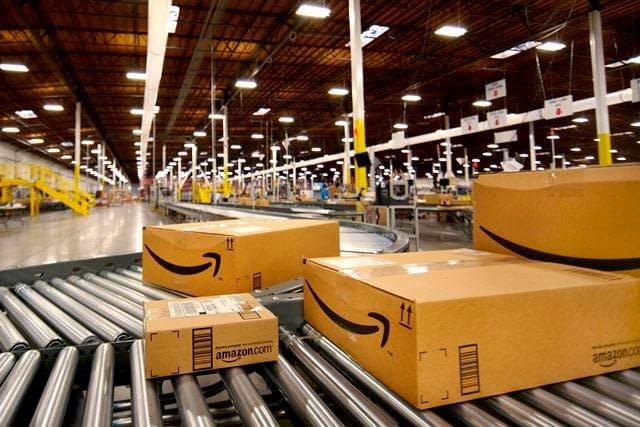 How will Amazon Seller Fulfilled Prime Impact Merchants?
1) Avoid Split Inventory: In addition to Prime eligibility and access to free two day shipping, one of the other major benefits to the implementation of this program is that it will help sellers avoid having to split up their inventory.
Previously, sellers had to select which items would be shipped to Amazon's Fulfillment Centers while the remaining products were distributed through the seller's website or other marketplaces.
This type of decision making was confusing to sellers – as it can be difficult to determine which products belong in FBA. Now sellers can avoid having to slice and dice their inventory among FBA and other channels (if they choose).
2) Easier Return Handling: Unfortunately, when it comes to returns – FBA sellers have encountered a number of problems. One of the most obvious issues is how to identify which units are linked to which product returns. This has led to an increase in customer fraud within FBA.
Now, through Amazon Seller Fulfillment Prime sellers can directly handle returns on Prime purchases – which we anticipate will make it easier for sellers to track and identify product returns.
3) Benefits Merchants with Large / Heavy Products: Previously, merchants had to pay a cost to ship their products from their own facility or location to an Amazon fulfillment center. Now, thanks to Seller Fulfilled Prime, merchants no longer have to pay the additional fee and can ship the product directly to their consumers.
This also benefits the customer. Because merchants are saving on the cost of shipping – they are able to provide the product to their customers for a cheaper price (or increase their margins).
4) Reduce Cost For Building New Amazon Fulfillment Centers
Amazon itself is likely to benefit from the program as well. By allowing sellers to handle their own shipments, this will reduce the need and costs associated with the build of new fulfillment centers.
According to reports, it's estimated each FBA building and the surrounding infrastructure can cost up to a billion dollars. Due to the popularity of Prime, for both the consumers and merchants, Amazon cannot build these centers fast enough to keep up with the demand.
By allowing merchants Prime eligibility through their own infrastructures – this helps to alleviate the pressure for Amazon to expand and invest in their own fulfillment warehouses.
Will Amazon Seller Fulfilled Prime Replace Brick and Mortar Retailers?
It's been said that the development of Amazon Seller Fulfilled Prime is another strategic move by Amazon to take down brick and mortars and continue to manifest Amazon's presence in the online market.
As more merchants sign on with Seller Fulfilled Prime – the ability to deliver products sooner (one hour delivery) becomes more feasible. It's safe to assume many sellers are going to take advantage of the opportunity to place a Prime label on their products, which will lead to an increase in sales.
As the program develops, the hope is that Amazon will be able to capitalize on warehouse space without having to rent, build or technically own any of it.
This alleviates the need for billions of investment by Amazon – saving the commerce giant tenfold long-term and making it unlikely that brick and mortars will be able to compete.
Program Requirements for Amazon Seller Fulfilled Prime
According to Amazon, to be eligible, sellers must satisfy the following criteria:
Account Type: Sellers must have an account with a professional selling plan, and the account must be active and in good standing.
Premium Shipping: Sellers must be enrolled in Premium Shipping (Same-Day Delivery, Two-Day Shipping, or both).
Pro-Tip: See Two-Day shipping requirements below & check your Premium Shipping Eligibility.
Premium Shipping Orders: Sellers must have fulfilled at least 30 Premium Shipping orders over the last 30 days.
Carrier Pickup Time: At least one of the approved Buy Shipping Service carriers (currently UPS, USPS, and FedEx) must pick up at the seller's location at or after 4:00 p.m. local time.
In addition, sellers must meet or exceed the following performance requirements:
Customer Feedback: 4.5 stars or higher
Performance metrics (for the trailing 30 days) that meet or exceed:
A valid tracking ID provided for at least 94% of Premium Shipping orders
An on-time delivery rate of at least 96% for Premium Shipping orders
A cancellation rate of less than 1% on Premium Shipping orders
Pro-Tip: Sellers whose performance metrics fall below required levels are no longer eligible for Seller Fulfilled Prime, but may continue selling those items on Amazon without Prime badging. Sellers whose metrics improve may be eligible to re-apply for Seller Fulfilled Prime.
Requirements for Two-Day Shipping
Two-Day Shipping is a fast Premium Shipping option only available to Amazon sellers that meet high delivery performance standards.
According to Amazon, to offer Two-Day Shipping sellers must:
Have been registered to sell on Amazon for at least 90 days.
Be able to provide a valid tracking ID from UPS, US Postal Service, Fedex, or OnTrac.
Meet performance metrics for tracking rate, on-time delivery score, and seller-initiated cancellation rate.
Have a minimum order threshold of at least 10 orders in the past 30 days across all shipping options.

The Two-Day Shipping option shows the buyer an estimated delivery date (EDD) that is two or three business days after the date of the order, regardless of your specified handling time (as seen below):
Orders placed before 2:00 p.m. ET/11:00 a.m. PT, Monday-Friday will show an EDD that is two business days after the order date.
Orders placed after 2:00 p.m. ET/11:00 a.m. PT, or on a weekend or holiday, will show an EDD that is three business days after the date of order.
Pro-Tip: If your current status is "not eligible" to offer Two-Day Shipping, it is because one or more performance metrics is below the required threshold. During this time you will not be eligible to offer Two-Day Shipping for a minimum of seven days. If at least seven days have passed and all requirements have been met, you will once again be eligible to offer Two-Day Shipping.
Additionally, according to Amazon only metrics for seller-fulfilled orders are displayed on the Premium Shipping Eligibility Tool and will be used to calculate your eligibility to offer Two-Day Shipping.
Metrics on the Premium Shipping Eligibility Tool may differ from Account Health because Account Health shows an aggregate of seller-fulfilled and Amazon-fulfilled metrics.
Pro-Tip: Performance metrics are typically calculated and recorded once a day. Metrics on recent orders may not be reflected on this page for at least 24 hours.
For more information, visit Qualify for Two-Day Shipping or email tara@cpcstrategy.com