Amazon Sponsored Brands Ads (formerly Headline Search Ads) are one of Amazon's flagship ad products that allow advertisers to feature brand creative and messaging to engage people at the beginning of their shopping journey.
Amazon has expanded the functionality of Sponsored Brands to include new targeting options, placements, as well as dynamic optimizations for ASINs that are displayed within the ad itself.
Here's how Sponsored Brands work, their new features, how to set them up, and seven ways to optimize your campaign performance.
Sponsored Brands Updates (2019)
Over the last year, we've seen Amazon make significant functionality updates to Sponsored Brands campaigns.
These updates include:
Additional placements alongside the bottom and sides of the search results page (August 2018)
Dynamic ASIN optimizations that display ASINs based on what Amazon predicts will lead to a conversion (August 2019)
Expanded targeting strategies to include negative keywords, category, and ASIN targeting (Ongoing)
Amazon Sponsored Brands: What the Data Tells Us
Amazon Sponsored Brands Growth in 2019
Advertiser investment in Sponsored Brands increased 19% year-over-year in Q3 2019, driven by a 16% increase in clicks and 3% increase in CPC.
This represents a steep step down from the 73% and 64% spend growth observed in the increases in both clicks and CPC down from the key advancements for Sponsored Brands in 2019, notably adding new-to-brand metrics in January to report on the share of conversions and sales attributed to customers who hadn't ordered from the brand on Amazon in the previous twelve months.
In May, Amazon added negative keywords (which had long existed for Sponsored Products) to weed out poorly-matched queries, though there are still no search query reports available for Sponsored Brands.
Over 60% of All Sponsored Brands Sales Come from New-to-Brand Customers
In Q3 2019, 61% of all Sponsored Brands sales were attributed to new-to-brand customers across Tinuiti Amazon advertisers. However, there is a wide range in these metrics by brand owing to the huge disparity among advertisers in terms of size, brand recognition, and how long each has sold on Amazon, among other
variables.
7 Ways To Boost Your Amazon Sponsored Brands Campaigns
1. Segment Branded vs. Non-branded Searches
One of the key strategies when using Amazon Headline Search Ads is to match keyword intent with the landing page that you are driving traffic to.
If someone searches "Burton snowboarding gear"―it makes sense to drive traffic to a Burton branded storefront page.
Judging by the search query, the shopper knows they want "Burton" branded gear, but they don't know exactly what type of gear they want.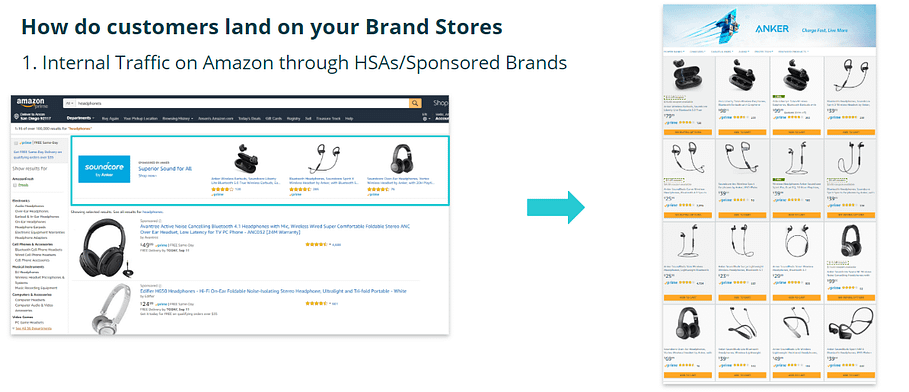 In contrast, a search for "Burton snowboarding boots" shows more specific intent.
For shoppers further down the funnel, with more specific search intent, you should send them to a customized URL that only shows them "Best Selling" Burton boots.
"If a shopper is looking for a specific product, make sure your Headline Search ad gets them to that product. If it's broad, it's best to get them to page with a greater selection to help them make their decision."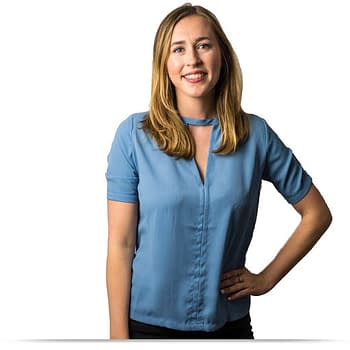 -Courtney Macfarlane, Senior Marketplace Channel Analyst at Tinuiti
The golden rule here is to reduce friction for your shoppers by putting the most relevant products in front of them based on their keywords.
"It's also a best practice to segment branded and non-branded keywords for more granular keyword data," says Macfarlane.
"Branded searches typically have a higher intent and lower ACoS. Mixing them with  non-branded campaigns may prevent you from seeing the true performance of your branded and non-branded campaigns."
2. Find the Right Keywords
Another way to optimize your Sponsored Brands ad campaigns is to harvest additional keywords from your auto campaigns and leverage keyword conversion data from your Sponsored Products campaigns.
Keyword Harvesting & the Amazon Search Term Report
Many advertisers will leverage auto campaign data but often fall into the trap of a "set-it-and-forget-it" mentality.
"It's a best practice to always have an auto Sponsored Products campaigns for keyword harvesting," says Macfarlane. "I take the winners from that auto campaign and move them into the manual SP and Sponsored Brands campaigns."
The difference between sponsored products and HSAs is that with sponsored products, you can see which search term produced your ad or led to conversion.