*This is a guest post from Rachel Go, who handles content and partnerships at Deliverr.
Walmart is one of the most exciting marketplaces today, with huge internal investment from Walmart and less seller competition than other online marketplaces. Plus, with a fast shipping program to rival Amazon Prime, Walmart is the perfect marketplace to drive conversions.

What is Walmart 2-day delivery?

Walmart 2-day delivery is a fast shipping program, formally known as Walmart TwoDay Delivery (previously, Free 2-day shipping). Similar to Amazon Prime, qualifying Walmart purchases get free 2-day delivery. 
Unlike Amazon Prime, Walmart customers don't have to pay a membership fee or spend a minimum amount to receive this benefit. Accordingly, customers are flocking to the marketplace in their droves. 

Why Walmart 2-day delivery gets conversions

It's not just customers who benefit from Walmart's fast shipping program. Walmart marketplace sellers qualifying for Walmart 2-day delivery badges are seeing a significant increase in conversion rates across the platform. Why is this happening?

1) Recognizable Walmart brand

Walmart is a household family name that customers trust, and that trust extends to their fast shipping promise. When buying a product that's needed by a certain date (think last-minute anniversary gifts or personal care items) customers know they can rely on Walmart and, accordingly, order from there. 
This is exactly what dental care seller Redfox Retail experienced when it used Deliverr to start selling with Walmart 2-day delivery tags. Within one week of activation, its sales increased by more than 300% thanks to the promise of quick and easy delivery – something that anyone running out of toothpaste can appreciate.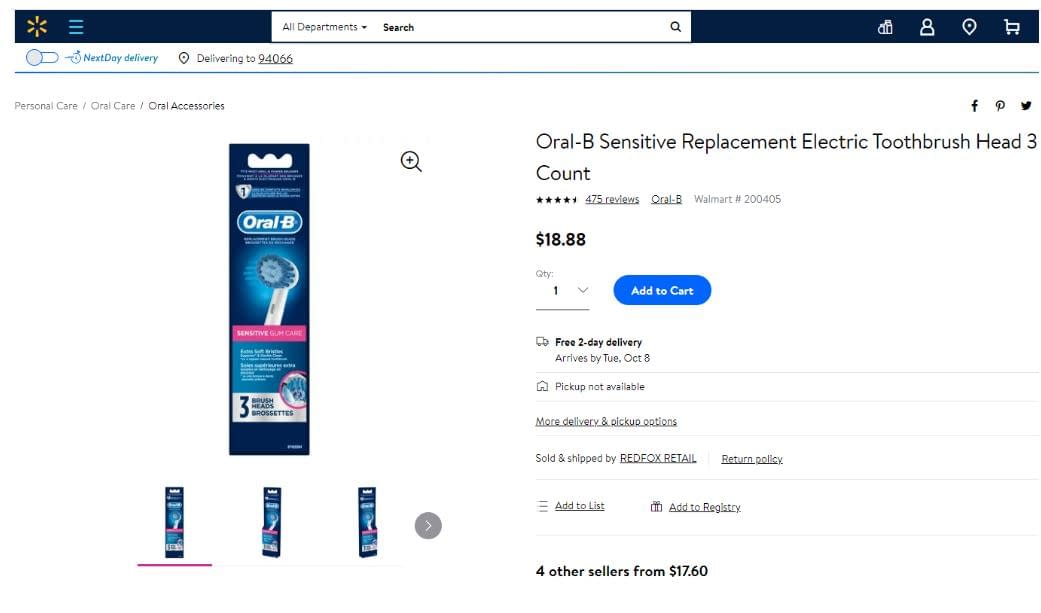 In the screenshot above, you can see that there are other cheaper options for this item, yet the Redfox Retail product won out, in part thanks to their fast shipping promise. This is going to tie into our next point.

2) Higher chance of winning the buy box

The buy box on Walmart operates in the same way as on Amazon. When multiple merchants sell the same SKU, one will win out and be presented to the customer first. This increases their chances of getting a conversion.
Winning the buy box on Walmart is also as difficult as on Amazon, unless you're a fast shipper. Walmart marketplace sellers have a greater chance of winning the buy box when their fulfillment method is reliable and promises speed, as shown by multiple Deliverr customers.
As with the Redfox Retail listing, a beauty care brand saw two of its listings win the Walmart buy box, despite being priced higher than the next seller, who wasn't fast shipping eligible. This gave the brand increased visibility and opportunities to sell, which in turn led to increased sales.  

3) Search prominence

According to HubSpot, 75% of internet users never scroll beyond the first page of search results, especially not when they've already found what they're looking for.
Walmart 2-day delivery enables you to reach today's impatient audience and increase customer numbers by appearing in free and fast shipping filtered search results. For example, Deliverr seller DRIVE Auto Products jumped to the top of search results after activating fast shipping tags.
Plus, with happy customers leaving happy reviews, you can extend your reach even further with customer satisfaction scores and recommendations.

4) Shoppers demand it

Fast shipping is not just nice to have anymore, your customers expect it. And happy customers drive results in a flywheel effect, creating a cycle of more visibility, purchases, and positive reviews that feed into each other.
Free and fast delivery is a huge customer pleaser, being the primary purchase driver for the majority of online shoppers.
Here's more evidence to support that;
How to get started with Walmart TwoDay Delivery

There are two ways to get started; Ship yourself, or ship third-party.

1. Ship yourself

To qualify for Walmart's fast shipping program using your internal fulfillment team and processes, you must meet the following eligibility requirements for 30-day performance.
Sold on Walmart Marketplace seller for at least 90 days or fulfilled 100+ orders

On-time shipping & delivery rate: >95%

Valid tracking rate: >95%

Cancellation rate: <1.5%

Offer a generous returns policy

To apply, sign in to Seller Central and head to Settings > Shipping > Request Access. Your speed metrics will be reviewed and, if acceptable, you'll receive an update within 48 hours. 
Once accepted, you need to configure your settings and items for free 2-day delivery, and then you need to deliver on-time, every time. 

2. Ship third-party

"When you choose our trusted partner Deliverr to fulfill on your behalf, you'll be approved for the Free 2-Day Shipping program regardless of your performance history." – Walmart TwoDay Delivery Program for Marketplace Sellers
To automatically qualify for Walmart TwoDay Delivery, you can use Deliverr to fulfill your orders. This is great if you cannot meet the eligibility requirements internally, want to unify your fulfillment process, or simply don't want the hassle.
To get started, sign up with Deliverr and connect your Seller Center account. Once accepted, you need to send your inventory to Deliverr, active your fast shipping tags, and then get selling.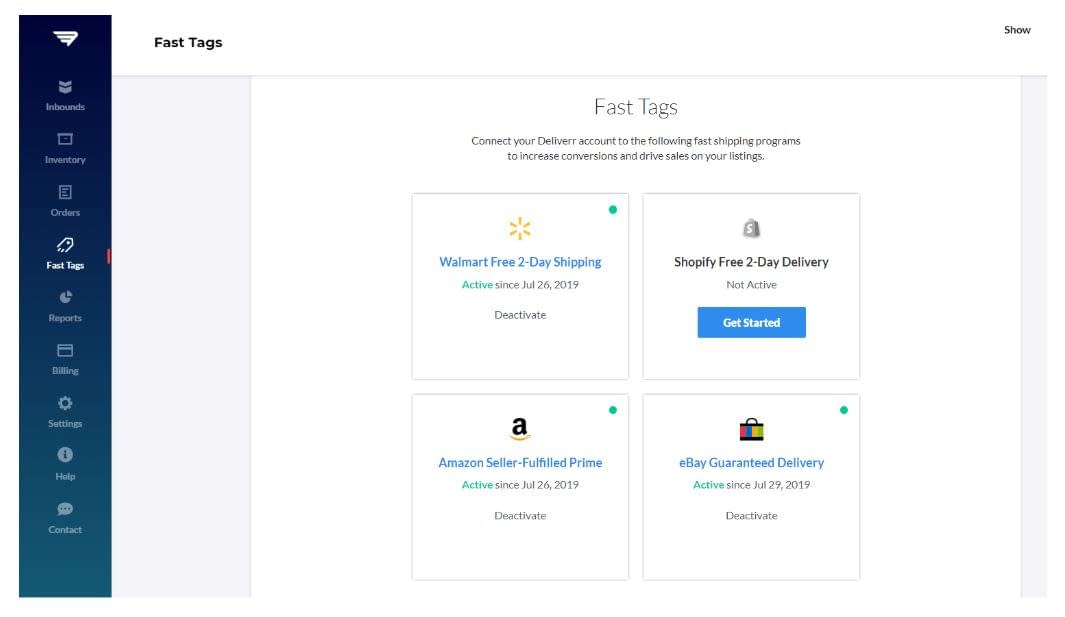 Summary

Walmart 2-day delivery is a fast shipping program that gives customers free and fast shipping and gives sellers visibility, customers, and conversions. All you need to do is decide how to get started. 
If you're not sure whether to stay with in-house fulfillment or switch to a Walmart approved fulfillment partner, we recommend:
Using a

fulfillment cost calculator

to calculate the best shipping method

Trial a few SKUs between outsourced and in-house fulfillment

Talk to other Walmart sellers about the successes and headaches they've found

About the Author
This is a guest post from Rachel Go, who handles content and partnerships at Deliverr. Deliverr provides fast and affordable fulfillment for your Shopify, Walmart, Amazon, and eBay stores, helping to boost sales through programs like 2-day delivery for Shopify, Walmart 2-day delivery, Seller Fulfilled Prime, and eBay Fast n' Free.
Deliverr's FBA-like multi-channel fulfillment comes with clear pricing, easy on-boarding and a hassle free experience so you can focus on growing your eCommerce business.