Knowing which traffic sources your visitors are coming from, which pages they engage with, and ultimately what leads to conversion are key insights offered by Google Analytics ecommerce tracking.
Once installed, you can access GA's robust set of reports to gather insight on how to optimize your ecommerce website and overall marketing strategy.
Here's a quick guide on why every retail website business should leverage Google Analytics, how to set up ecommerce tracking for your website, and how to use the variety of reports to your advantage.
"Analytics is absolutely the best place to see which landing pages are driving traffic, which ones are converting your visitors, and where visitors are getting stuck or leaving your site early."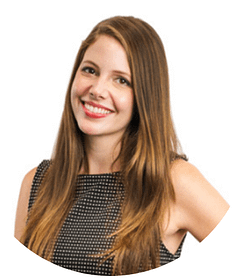 –Leanna Kelly, Growth Marketing Manager, Web & SEO at CPC Strategy
Why Your Ecommerce Business Needs Google Analytics
One of the most substantial advantages that ecommerce businesses have over brick and mortar stores is data.
The ability to track where your customers come from, what parts of your website they interact with (and for how long), and what they do before and after a purchase is critical information that can be used to improve the user experience and drive more revenue.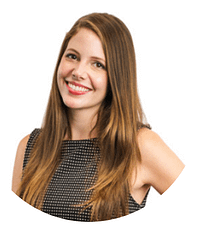 Google Analytics represents one of the most robust offerings for ecommerce tracking that can help businesses track sales data and correlate that data with website behaviors such as traffic sources, landing pages visited, time on site, and bounce rates.
"Every brand needs to take advantage of Google Analytics, not just as a source of lead data but also as a place to keep tabs on how well you're owning your presence on Google's search engine. This is especially important if you're investing in a content program to build organic terms related to your products."
Understanding where on your website customers spent (and didn't spend) time before and after making a purchase is invaluable information that can be leveraged to improve the user experience and ultimately your conversion rate and sales revenue.
The best part?
Google Analytics is completely free — anyone can install it onto their website by adding a small tracking code to each page of their website.
How To Set Up Google Analytics Ecommerce Tracking
Installing Google Analytics into your website for ecommerce tracking is quite easy, all it takes is your Google account (we don't recommend using a personal one) and some time to set up tracking code onto each page of your website.
1. Create a Google account for your business
Start off by heading over to the official Google Analytics page and set up a new account (if you already have one — skip to step two).
While setting up your account, you will be asked to add a website to track. Enter in the URL of your ecommerce website.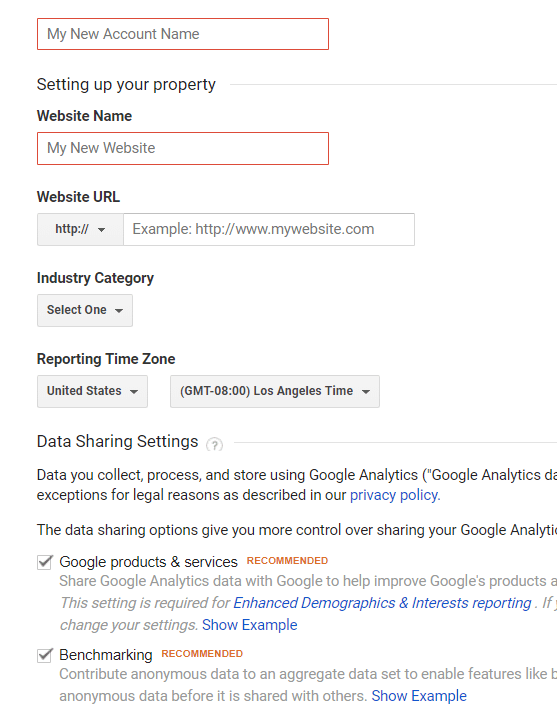 Once you've filled out your data sharing settings, click on Get Tracking ID.
2. Install your tracking code onto your ecommerce website
Once you've set up your account and received your tracking ID, it's time to install that tracking code onto your website so that you can collect ecommerce data have it sent to Analytics.
You can do this by copying and pasting the tracking code onto every page of your website using that you want to track user behavior using an HTML editor (hint: it should be every single page).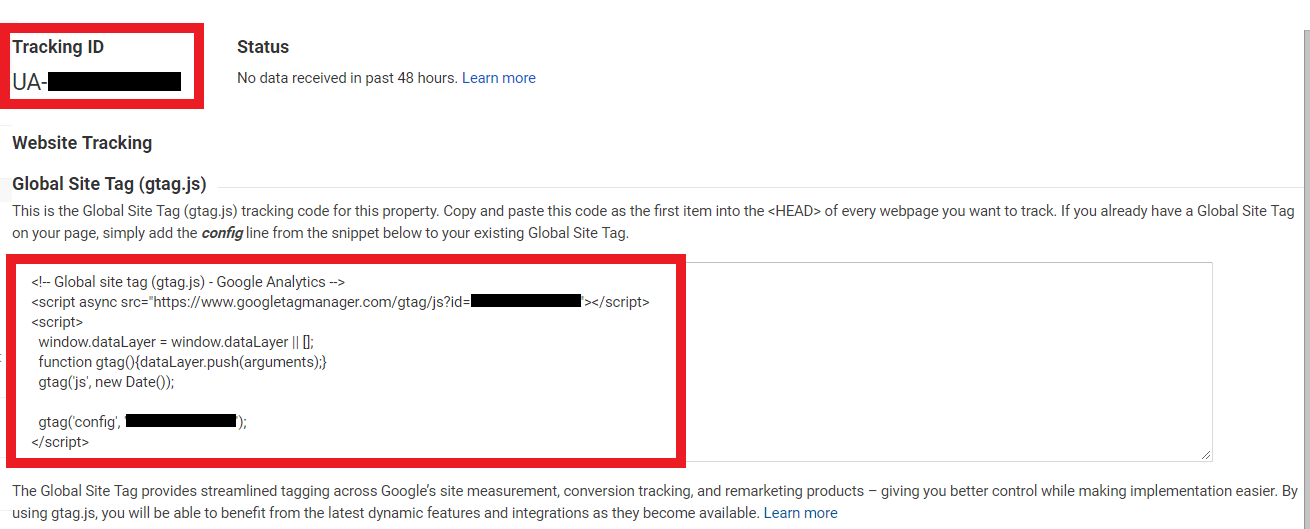 3. Set up goal tracking
Now that you have Analytics tracking code installed onto your ecommerce website, it's time to establish which goals and behaviors you want to track.
There are many different goals that you can set within Analytics, so things can get complicated.
Try to focus on what exactly you want to track on your website.
Here are a few examples of goals you can set for your  ecommerce website:
Conversions by traffic source
Revenue
Lead form subscriptions & email list subscriptions
Add to cart
Traffic from direct, organic, referral, social, and email sources
Bounce rate
Time on site
Returning visitors
Engagement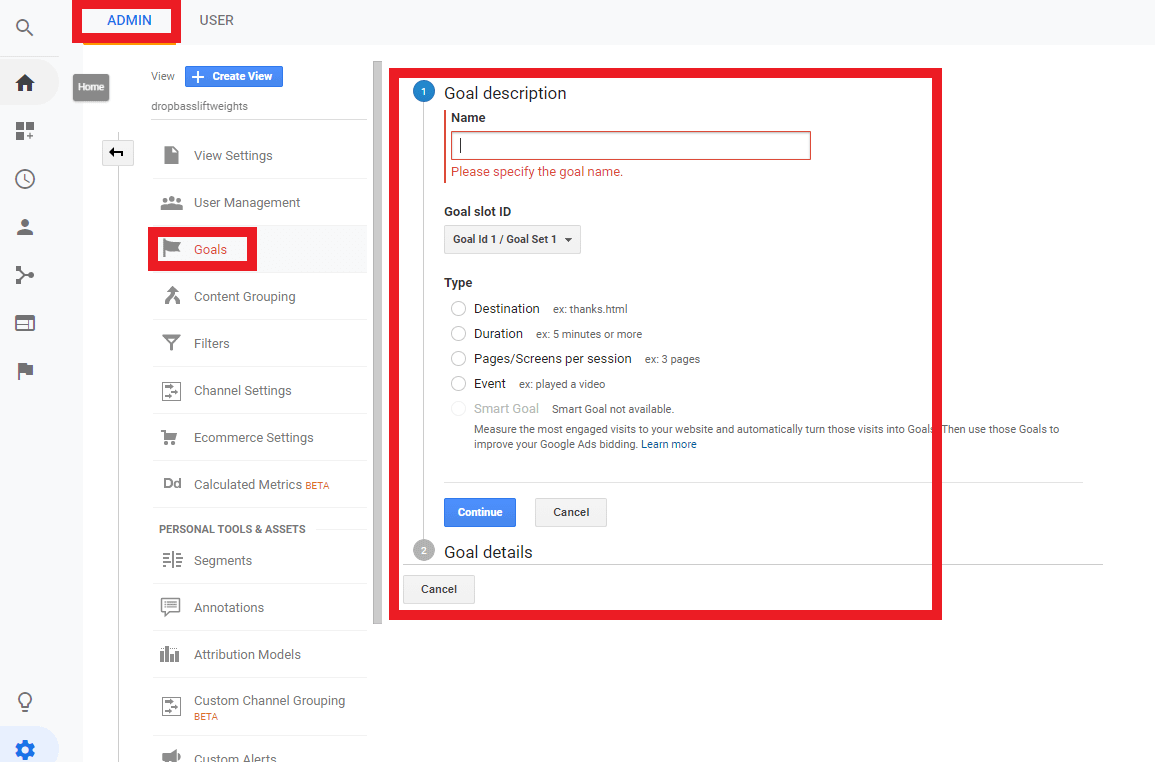 You can add these goals to your Analytics tracking by:
Selecting the Admin panel from the pinwheel in the bottom left.
Select Goals from the right column.
Fill out Goal description and Goal details.
Google Analytics Reporting
Once you've got your tracking code installed and goals established, it's time to access the robust reporting of Google Analytics to gain actionable insight into what's occurring on your website.
There are five categories of reports you can access from the left column of the main dashboard:
Real-Time – What's occurring on your website in real-time.
Audience – Reports on the audiences visiting your website.
Acquisition – Where and how traffic is arriving to your website.
Behavior – What your visitors are doing while spending time on your website.
Conversions – Information on sales and conversions occurring on your website.
Each of these categories expands into a more extnensive list of reports, each offering different insights.
It's easy to become overwhelmed with the amount of reporting available if you're new to Analytics.
Start with the Overview tab of each major report to get a quick assessment of your website's performance for traffic, conversions, and user behaviors.
It's recommended to familiarize yourself with each so that you can eventually have a tight understanding of:
How individual landing pages and blog content are performing
How visitors are finding your website — and on what devices
How visitors are becoming customers — where they spend their time before making a purchase
…and much more.
If you want more help on getting the most out of Analytics, Google has a free course for learning the ins and outs of the program here.
---
Want to learn more?
Google Tag Manager 101 for Retailers
How to Install the New Global Sitewide Tag on Google, Shopify, and More
What is Google Attribution & Is it a Big Deal for Advertisers?
How to Navigate Attribution Modeling in Google Analytics
New in Google Analytics: Add a Destination to The Audiences Report
The Q4 Google Analytics Report Every Ecommerce Retailer Needs