Thanks to our highly attentive Account Analyst team, it appears as if the Bid Simulator feature, which was rumored to be an eventual addition to the new Shopping Campaigns format, has finally rolled out.
The Bid Simulator feature estimates a product's impression volume for a given bid. Clicking on the tiny graph icon pops up this functionality:
Clicking through shows the impression estimates: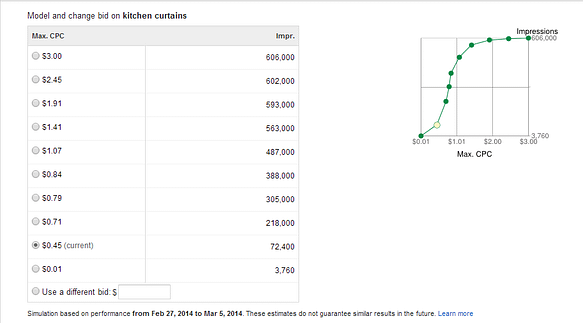 Whether these estimates are accurate is the real question. One of our Paid Search Specialists, Lewis Brannon, says that it's likely that these estimates are a bit inflated (by 10-20%) yet the impressions still provide valuable insight for advertisers to optimize bids.
The new feature is only available for Shopping Campaigns, the more user-friendly and insightful Product Listing Ad campaign format, and will likely not be made available for the old PLA format.