As an ecommerce giant, Amazon has an incredible wealth of first-party data about shoppers. Amazon DSP (demand-side platform) lets you leverage that data to build audiences and target Amazon shoppers based on their behavior and interests.
"Having the capability to retarget customers gives us the opportunity to target past shoppers and stay top of mind as well as prospect in an effort to gain new customers," Jordan Berry, Lead Marketplace Channel Analyst at Tinuiti said.



You can now use the Audience Builder on Amazon DSP to create retargeting audiences based on shoppers' interactions with different brands, products, and searches.
Here's how it works — and why it's a great feature for Amazon sellers and agencies.

What is Amazon DSP Audience Builder?

You can use the Audience Builder in Amazon DSP to create ASIN retargeting audiences. 
In the Audience Builder, you can build retargeting audiences based on:
Viewed products
Purchased products
Similar products
Product searches

Amazon DSP also allows you to create competitor audiences in the Audience Builder. This lets you build a list based on products outside of your own catalog.

How to use Audience Builder

1. Click on "Audiences" in the side navigation of your Amazon DSP account. 
2. Click "New audience" to create a new audience 
3. Select "Products" to build your audience based on their shopping interactions with certain ASINs. Click "Next".
4. Specify the ASINs that you'll use to create your audience:
You can add up to 1,000 ASINs.
Select which Amazon marketplace the products are sold on.
Click "Add".
Check the box next to the shopping interactions — viewed, purchased, similar views, or product searches — you would like to use to build your audience. Each checked box will create one audience.
 Name your audiences. Use consistent naming conventions that will be easy to remember and refer back to later on.
Click Create.

It can take up to 24 hours for your audiences to become available to use in DSP. After 24 hours, audiences will have a status of either Active or Failed.
Only audiences with an Active status can be applied to your Amazon Advertising campaigns in DSP.
You can also negatively target purchasers in the Audience Builder.
Within the line item, search for the segment that includes the purchase you want to negatively target, then check "Not" next to the segment name: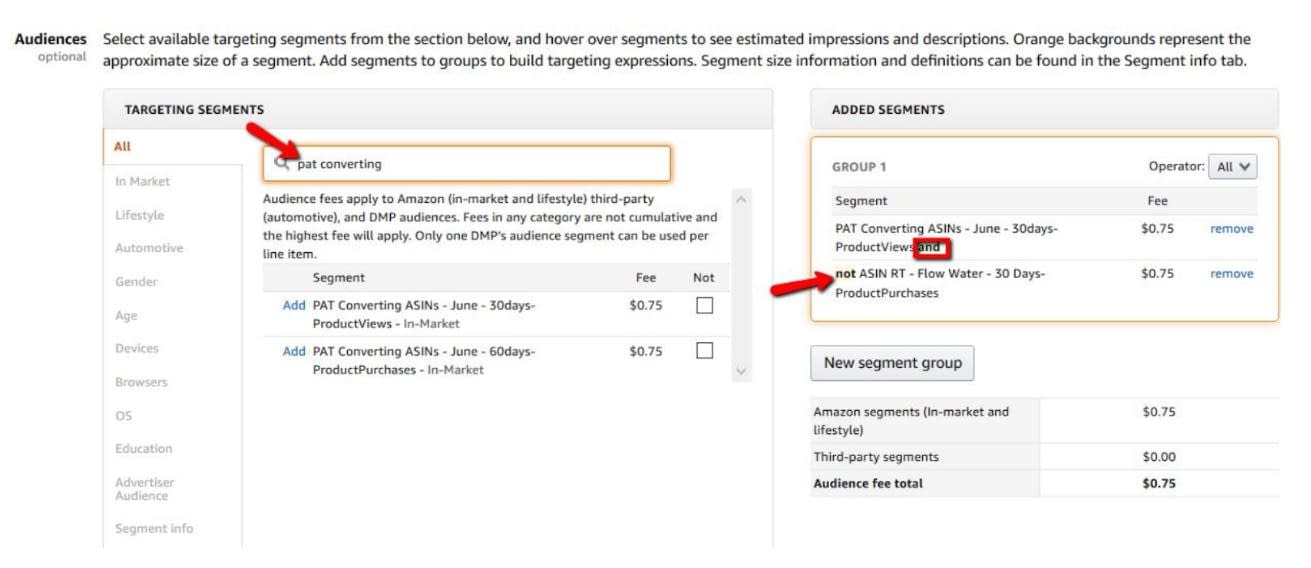 What are the benefits of competitor targeting?

Competitor targeting through Amazon DSP can be a great addition to your Amazon Advertising strategy. Amazon has seemingly endless data about shopper preferences and behavior; now, you can leverage that first-party data to get your products and store in front of the audience most likely to buy.
This strategy means that your market segments are no longer a "black box" — you can control the inputs into the segments and know exactly what you're basing your targeting on. 
You can also keep your brand and products top-of-mind while consumers look at products related to yours. In turn, this can increase conversions for your products. Done right, competitor targeting gives you the chance to gain market share from competitors. 
Competitor retargeting has limited scalability and is not dynamic; make sure you have other Amazon ad programs going at the same time.
To learn more about leveraging Amazon DSP and Ad Console as part of your integrated marketing strategy, click here. 

How to find competitor ASIN

Here are some strategies for finding data-driven competitor ASINs to target:
Use Brand Insights in Seller Central

Search term reports and ASINs from your PAT ads 

Market Basket Analysis or Alternative Purchase Reports in Vendor Central

You can also use more exploratory methods to find competitor ASINs to target. Let's say you sell coffee on Amazon.
Here's how you can find exploratory competitor ASINS to target:

1. Pull top converting ASINS for a particular non-branded keyword

For example, you would look at the non-branded keyword "coffee." Which ASINs convert the highest for that keyword? Target those as your competitor ASINs in the Audience Builder.

2. Target well-known brands in the category

When I think of coffee, Starbucks immediately comes to mind. You can create a retargeting audience based on shoppers who have viewed or purchased Starbucks ASINs, searched Starbucks product keywords, or bought similar products. This will help you get your product in front of Starbucks fans as a viable alternative.

3. Target complementary products

Besides the coffee itself, what else do coffee drinkers buy? You can target complementary products like a Keurig machine, french press, or drip coffee maker. 

4. Target ASINs with high star ratings

Look at the highest-rated products when you search "Coffee" on Amazon. Right now, that includes:
Cafe Bustelo Espresso Ground Coffee 10 oz Brick, Pack of 4

Jacobs Kronung Coffee, 17.6-Ounce Vacuum Packs (Pack of 3)

Half a Dozen Cans (6 Cans) of Coffee Du Monde – 15 oz. cans

Couple's Coffee Co. Ground Coffee, "Homebody", 12 oz

You can target these ASINs so that shoppers who have viewed or purchased these products see your ASIN next time they're shopping for coffee.
Are you using the Audience Builder for competitor ASIN retargeting? What are your best-performing audiences? Tell us about your experience in the comments below!