In today's digital landscape, influencer marketing is one of the most effective ways to reach your target audience—particularly if they're of a certain age and demo.
But though influencers have certainly taken hold in the last few years, bringing attention to everything from lifestyle brands to food, drink and new media, they're still a relatively new commodity – and that makes it hard for marketers to gauge the basic details of their arrangements.
Things like logistics (when and where they'll post), scale (how often to have them post) and, most importantly, payment (how to pay them and how much) pose a constant challenge to traditional marketers who just don't know how to fit this new model into their old ways of working.
Are you finding yourself in the same boat, looking to jump on the influencer marketing bandwagon but without the foundational knowledge to ensure your strategy's success?
Let's look at the most important question beginners have: how much do you pay them?
What Is an Influencer?
Influencers have always been a mainstay in marketing–from the many popular actors who portrayed the Marlboro Man to Steph Curry promoting Under Armour apparel, people like to buy products from popular figures they like and trust.
The rise of social media means that now it's not just the rich and famous who can promote products. Now anyone can build a fanbase on social media platforms and then use their position to market products for companies. Given that 70% of teenagers trust influencers over celebrities, it's safe to say that influencer marketing is only going to get bigger.
How Much Do Influencers Charge Per Post?
This is one of the most basic questions newbies have.
An influencer's social media post is essentially an ad placement, right? So, how much do influencers charge for that ad?
According to recent reports, on average influencers on the following platforms will charge:
Instagram Influencers: $1,000 per 100,000 followers
Snapchat Influencers: Starts at $500 per campaign in 24 hours
YouTube Influencers: Roughly $2,000 per 100,000 followers
As much as I wish the answer were a simple X amount of dollars per X amount posts, in most cases, this just isn't how it's done in influencer marketing.
Even if you can't afford Kim Kardashian, who reportedly charges over $250,000 for an Instagram photo, there's a lot of wiggle room when it comes to pricing depending on your objective.
Influencer pricing typically varies greatly and takes into account:
The number of followers and fans the influencer has

The amount of engagement their posts generally garner

The fit of the advertisement with their brand and following

The number of posts you want

The type of post (image, video, audio, etc.)

The amount of effort needed from the influencer (do you provide the image/video or do they?)

Where the ad will be promoted (will it just be on the influencer's account? Are you cross-posting it? Are you using it in other efforts?)
So, how much do influencers charge? It can be hard to say, but most influencers will set their own rates unless they use a platform like Tapinfluence or Revfluence that sets rates for them.
Regardless of what the rates are, however, it's important to look at them from a purely financial standpoint – just like you would an ad placement.
Ask yourself:
What's the potential ROI here?

What's the potential reach?

How valuable is their audience? Does it jive with your target customers?

Once you know the ROI, how does that compare to other marketing efforts? How much would it cost you to produce those same results in another way?
Don't be afraid to ask the influencer for their own metrics. What have they done for other brands and products? How many views, likes and comments did their past posts get? How many daily engaged followers do they have? What are the demographics of those followers?
When it comes to influencer marketing, it's important to data you need to fully evaluate the influencer and gauge their worth.
Micro, Power Middle, & Macro Influencers
Keep in mind when selecting who you want to work with that Influencers are usually placed into three categories based on audience size:
Micro influencers
Power middle influencers
Macro influencers
Micro influencers
Micro influencers offer the most authority in a specific and narrow audience niche. These influencers have a smaller, yet intensely dedicated follower amount of 10,000 people or less. Micro influencers are a hot commodity because they are more affordable have higher levels of engagement.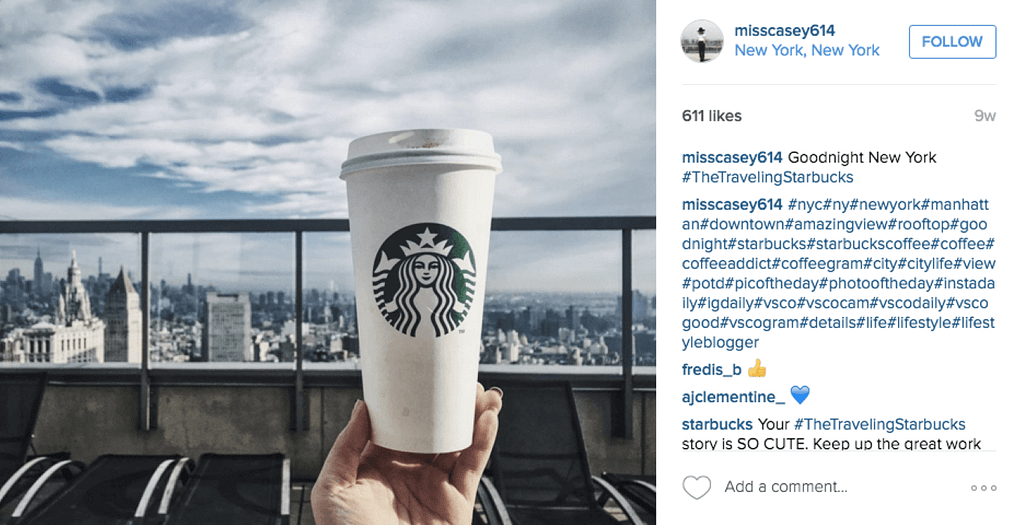 Power middle influencers
These influencers typically have an audience size ranging from 10,000-250,000 people. Power middle influencers likely already have experience working with a brand.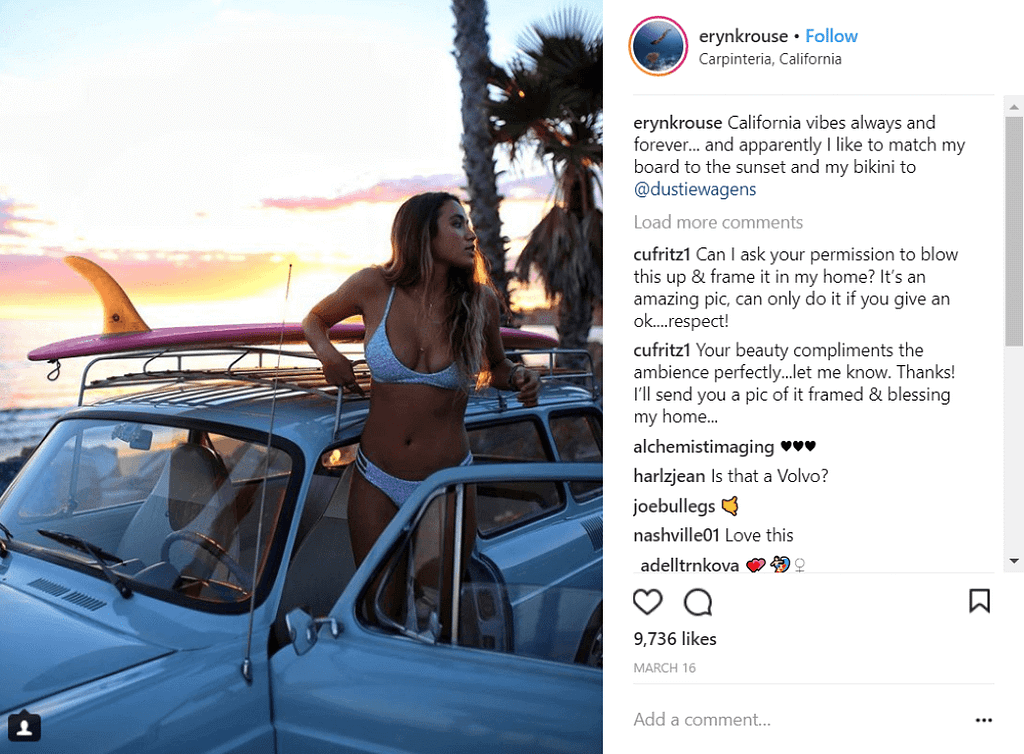 Macro influencers
Macro influencers are the big fish of the social media pond. These are the digital celebrities of Instagram, Facebook, Youtube, Twitter etc. Their follower and subscribers can number anywhere from 250,000 to over 1 million people.
The potential reach of macro influencers will dwarf that of micro and power middle influencers. However, that wide reach comes with a lower engagement rate and higher costs.
Want to find out how your Micro-Influencers compare to top dogs like Kendall Jenner, Jay Alvarrez, and Huda Kattan?
There's an Instagram influencer marketing tool provided by Influencer Marketing Hub, called "Micro-influencers vs Celebrities" that helps you measure the estimated cost per Instagram post, average engagement rate, and estimated media value per post for Instagram  Micro-influencers vs. Celebrities.
Free Influencer Marketing
How much do influencers charge per post? Some actually charge nothing at all.
If you're lucky enough to stumble on a fan of your brand who also has a robust social media following, you may be able to tempt them into a some sort of arrangement that gives them free product and you free publicity.
You can also utilize content that's already out there from existing fans by reposting, retweeting and sharing content on your own social media profiles. Keep in mind though, influencers are going to do their best work when they have something at stake.
At the very least, there should be some sort of incentive to keep them interested – exclusive or early access to new products, exposure for their own brands or just plain compensation.
Pro-Tip: You don't need the advertising budget of a Fortune 100 company to pull off a successful influencer program. In fact, 60% of influencer campaigns had a budget of $10k or less, according to a survey of 100 marketers conducted by Bloglovin'.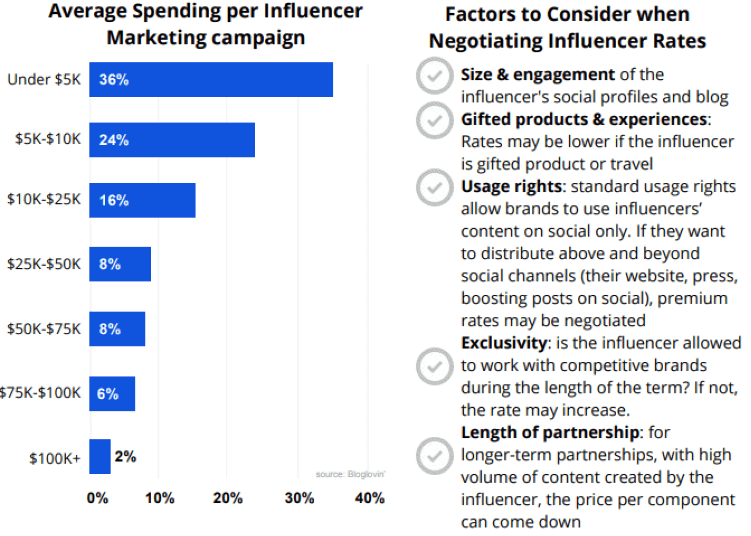 At the end of the day, you're likely best served by a combination of both these methods. Use free influencer marketing when and where you can, but be sure to incentivize the influencer to keep them on track. At the same time, pay established influencers to keep your products and services top of mind with your target audience.
And remember: no two influencers are created equal. Different Instagram influencer marketing strategies will work better for different Instagram influencers, and the same goes for other platforms.
Their pay will vary, as will their following, their social savvy and the power they hold for your brand. Evaluate each potential opportunity on its own, as you would a traditional ad placement, and use data to drive your decisions.
Want to learn more about how much influencers charge per post? Email tara@cpcstrategy.com.