This past year has marked the subtle yet strategic shift in the style of online advertising for social media and content publication sites, and it's only just beginning to turn heads. What we have is one of 2013's trendiest industry buzzwords: native advertising. Native ads are quickly becoming a more intriguing and utilized advertising channel with big brands, and (if past trends are any indication) smaller brands are likely to follow close behind.
It's becoming more clear now that native advertising is the next big thing. Perhaps more accurately, it's the current big thing going on in enterprise-level digital advertising.
Be sure to check out future installments to our native advertising series, including:
Let's take a look at a few prototypical native advertising examples from some of the more well-known industry publishers.
Native Advertising Examples
1. The Huffington Post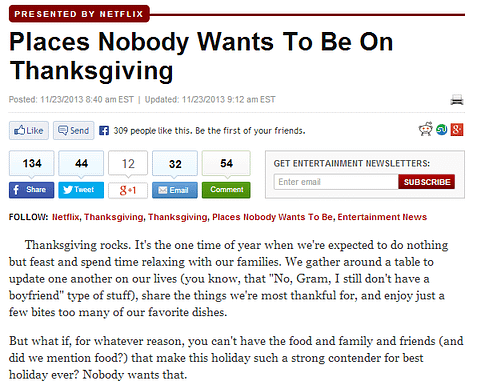 Native advertisements at The Huffington Post are unique for the fact that they possess their own partner studio which manages sponsored content creation with Huffington writers. This creates an ad experience that is almost impossible to detect if not for the "Sponsored Feature" label, or in this case, the "Presented By Netflix" label. This native advertisement example is a sponsored piece by Netflix created by The Huffington Post during Thanksgiving week.
The article is a collection of gifs that have nothing to do with Thanksgiving or even Netflix, but Netflix pushes the prospect of having a boring or unfortunate weekend and having Netflix come to the rescue. There are 2 links, one before the premium content and one at the end, that lead to a sign-up page for Netflix. From what we see here, native ads on The Huffington Post can get away with distinct and forward call to actions as long as the content of the article itself is not directly self-promoting.
2. Forbes BrandVoice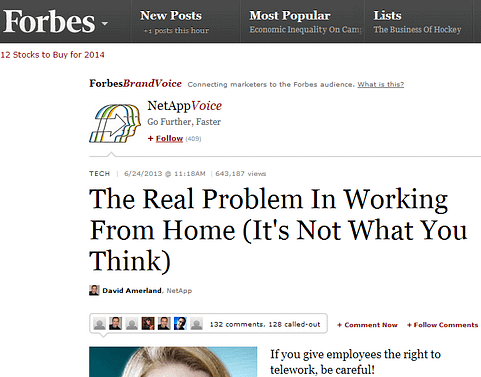 Forbes' BrandVoice is their rendition of a native advertising program that mixes in relevant articles written by paying partners. This article by NetApp was actually the most viewed sponsored article on the Forbes website in October, with 131,000 page views in that month and 625,000 page views in total (not to mention over 2500 social shares).
This is an interesting example for a number of reasons. First, it's part of the minority of sponsored content that's not by a nationally-recognized brand. NetAPP is actually a Fortune 500 company that works in computer storage and data management, so this example shows that even niche and "boring" industry companies can dive into native advertising. Additionally, at no point does NetApp link to their services page for the reader to sign up.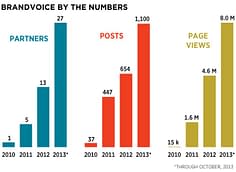 They're aware that someone reading an article on working from home is not qualified enough for their service, so the benefit to NetApp here is that they link to several other of their sponsored Forbes articles as well as articles on their own website. This increases brand awareness and established NetApp as an expert in the corporate business community.
Forbes' BrandVoice is definitely one of the more established and professional native advertising networks, with many of their sponsored articles going the course of providing information/utility over less-than-subtle self-promotion. If BrandVoice's growth chart is any indication, big brands are quickly catching on to an adopting native advertising practices.
3. Business Insider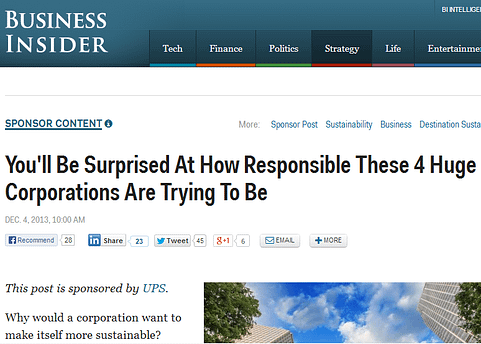 On Business Insider, native advertisements are facilitated through their Sponsor Posts program. Unlike The Huffington Post, Business Insider features sponsored content written exclusively by the advertiser. Like Forbes, Business Insider's sponsored articles are informative and often have little to no correlation with the advertising brand, and so many times the native ads here are simply geared towards branding.
In this example, UPS wrote an article on corporate responsibility, but this article features General Mills, Ikea, Bank of America, and Ford. Not once do they mention what UPS is doing on these grounds, and so their only call to action here is at the bottom:

This links to both UPS's page on sustainability as well as more UPS posts sponsored on Business Insider. The purpose here is clear, to paint UPS in a "greener" light by putting out a series of "Destination Sustainable" posts.
4. The Onion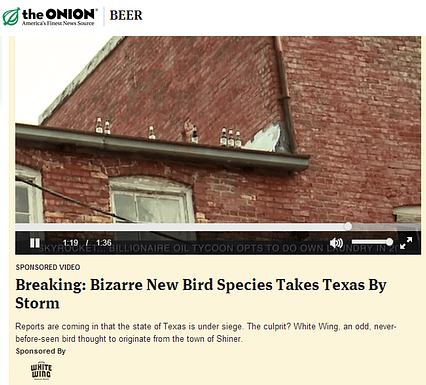 The Onion's native advertisement program follows a similar model as the Huffington Post, however, The Onion maintains editorial power over all of their paid content (called "Special Coverage"). In this example, we see a sponsored video (typical for The Onion's sponsored content) that promotes the Shiner Beer company's White Wing beer. The promotion comes in the form of a newscast of bizarre bird sightings, in which their beer is depicted as actual flying birds. While the sponsor's name still gets recognition, The Onion still controls its content, making the advertisement experience part of The Onion's clever and ironic entertainment.
You wont see typical and straightforward advertisements on The Onion, so consider them as a native advertising partner only if you have creative leeway with your brand.
5. YouTube
As one of the first social channels to get into native advertising, YouTube has proven to be one of the most deliberate and effective drivers of native ads. YouTube Promoted Videos is an advertising channel that shows ads alongside standard user-submitted videos in the SERP stream as well as the sidebar. YouTube advertising functions on a Cost per View (CPV) model, which typically means you'll be only charged if someone views 50% or more of your video, via the Google AdWords interface.
This example seems less "native" than previous examples because they're highlighted in yellow, but they present relevant content (I was looking for PS4 info, and Xbox of course wants to stick its foot out) in a familiar context (the stream of results for any standard YouTube query). Great native ads on YouTube (highlight videos, humorous clips, compilations, etc.) have a higher propensity to be shared, meaning more exposure for no extra cost.
6. Mashable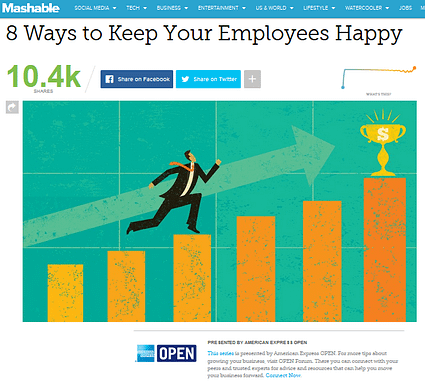 Mashable's Branded Content Sponsorships is their native advertising program, where sponsored content lives amongst the mass of their regularly produced articles. However, "Mashable's editorial team produces content presented by your brand," and their philosophy is that the best paid content  marketing strategy is typically long-term, so the branded content is usually produced as series.
This example, paid for by American Express, is part of their Inflection Points series, which outlines the growth of small businesses. Here, American Express is promoting their new OPEN forum, a help-network for small businesses.
While some content and social media sites offer a more fluid advertisement experience than others, the trend of incorporating native advertisement through subtle and content relative sponsored pieces is on the rise. From what I've seen, the trend, however, has not been adopted by smaller businesses, and this is most likely due to an issue of cost and content resources. Native ads are somewhat of luxury that only larger businesses can leverage, at least for now.
Stay tuned for more articles in our native advertising series, including:
Have you run into any awesome examples of native advertising?