Vimeo is a video hosting platform with videos from 175M+ creators and brands on their platform. In addition to hosting videos directly on their site, Vimeo offers an OTT platform.
OTT (over-the-top) is a term for TV and film content watched via streaming services rather than cable or satellite providers. Streaming video viewership now makes up 80% of all internet traffic, with an estimated 147 million US adults now accessing video streaming services.
In this post, we'll cover Vimeo's OTT platform, including how it works, the included features, and Vimeo OTT pricing.
What is Vimeo OTT?
Vimeo OTT allows brands and creators to launch their own white-label video subscription channels, where subscribers can access video content for free, as a rental, or for purchase. With Vimeo OTT, you can create a subscription video channel on any of the online streaming platforms, including:
iOS

Android

Roku

Amazon Fire

Apple TV

Android TV

Tizen

Xbox One
Vimeo OTT stats
In 2018, Vimeo reported that its white-label OTT platform had 3.6 million subscribers across hundreds of services, with more than half of users watching videos via Vimeo-powered apps.
The same report stated that 30-minute videos on the Vimeo OTT platform had an average completion rate of about 80%, while a two-hour video had an average completion rate of 65%. Vimeo recommends that users tailor the length of video content to the app it streams on; shorter content performs better on mobile, while longer content is best on TV apps.
In addition, Vimeo reports: 
1000+ apps created 100% in-house

1M+ end users

3M live streams annually
How does Vimeo OTT work?
Vimeo OTT is a white-label platform, which means your brand is front-and-center (and Vimeo's isn't). You can customize the entire channel to match your branding and content. 
Once you upload your videos as "Products," you can set a rental price, a purchase price, or both. Vimeo's help center explains: "Rentals allow for unlimited streaming within a 72-hour period. No direct downloads are permitted. Purchases allow a customer to access all videos inside a product forever, either by streaming or downloading. You can also provide free or discounted access to your videos using tools like Screeners or Coupons." 
You can also set up a subscription service that lets customers pay a recurring monthly or yearly fee for unlimited access to your video content through your branded Vimeo OTT website or app. You can also offer free trials to subscribers.
Features of Vimeo OTT include:
Content creation:

Add new videos and metadata in seconds

Customization:

Customize your website, apps, and checkout page

Reporting dashboard:

Own customer data in one central dashboard

Subscriber data:

Track subscriber growth and churn

Revenue:

Accept in-app purchases and subscriptions

Content management system (CMS):

Manage video library

Livestreaming:

Growth- and Enterprise-level plans offer livestreaming through Vimeo
Vimeo OTT reporting
One of the most important features of Vimeo OTT is reporting. You can access subscriber insights to learn how your content is performing and how your subscribers engage with your app or channel. Understanding this data can help you create more of the content your subscribers want to see — and less of what they don't. 
Data available through Vimeo OTT includes:
Real-time sales and revenue data information for all available products to buy and rent, filtered by dates, products, or both

Real-time site traffic information, sorted by traffic sources, countries, and conversion rates 

Transaction and customer data, including customer email addresses and geographic location of purchase. You can export customer data to add to your CRM or use for retargeting audiences.

Subscriber growth, traffic, conversion, and churn metrics

Video playback data, including plays, finishes, viewer location, platforms, and subtitle usage 

Google Analytics integration for additional website tracking
Vimeo OTT pricing
Vimeo currently offers 3 tiers of pricing for their OTT platform:
Starter:

Starts at $1/subscriber/month, plus upload and transaction fees. Includes access to web-only streaming apps and email support.
Growth:

Starts

at $500/app/month, billed annually, plus upload and transaction fees. Includes branded apps on mobile and web, dedicated account management, free migration, live events, and custom analytics. 
Enterprise:

Custom pricing plans, including volume discounts. Includes all of the above, plus advanced features and support, API and SDK support, simultaneous streams, and Digital Rights Management (DRM).
Why OTT Advertising matters [From the experts]
About 60% of young adults say the primary way they watch TV is through streaming services, such as OTT apps — and OTT ad spend is predicted to hit $2 billion this year, a signal that advertising on streaming services is growing at breakneck speeds. To learn more about all things OTT, check out our complete guide to OTT advertising.  
"OTT advertising is a viable component of a brand's performance media mix. Much more than just a branding and awareness play, it is a complete performance channel that offers scale, measurability, and data-driven targeting."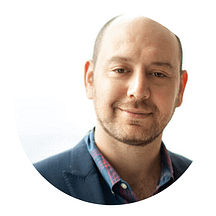 — Jesse Math, VP of Planning and Platforms at Tinuiti
Looking to partner with an agency for OTT Advertising? Check our our OTT Agency Buying Guide or get in touch.