It's one of the few brick and mortars surviving–no, thriving–in a post-Amazon retail world.
Costco's customers are incredibly loyal and accustomed to a higher up-front price for bulk-sized or huge quantities of items. To them, "Costco" is synonymous with "quality", and the warehouse delivers with premium brands and private labeled products at below-market price-per-unit prices.
Today, we'll examine everything you need to know about selling to Costco, whether you're an established brand manufacturer or a fledgling private label.
Jump to a Section
1. Costco's History & Background
Costco Wholesale Corporation got its start in Seattle, Washington, in 1983–11 years before Amazon, and 21 years after Walmart. In 1993, Costco merged with a company that was built on a warehouse model, then went through several name changes before settling on Costco Companies. Inc.
Channels
There are two channels where customers can access Costco:
Costco.com: Online shopping site that is accessible to non-members (in the U.S., Canada, U.K., Mexico, Korea, Taiwan
Brick and mortar stores: 723 warehouses total, accessible to members ONLY (in the U.S., Canada, U.K., Mexico, Japan, Korea, Taiwan, Australia, Spain
Competitors
Costco's main competitors include:
Wal-Mart
Target
Kroger
Amazon.com
Warehouse clubs (Wal-Mart's Sam's Club & BJ's Wholesale Club
Products
Costco's not just limited to big bags of toilet paper and massive quantities of chicken thighs. In addition to their in-store selection of freshly made deli foods and even gas stations, here are their product categories online:
Electronics
Computers
Appliances
Furniture & Mattresses
Tires & Auto
Floral, Gifts, & Tickets
Jewelry & Watches
Patio, Lawn, & Garden
Home Improvement
Home & Kitchen
Office Products
Clothing & Luggage
Health & Beauty
Baby, Kids, & Toys
Grocery, Household, & Pet
Sports & Fitness,
Etc.
Note: Not all of these product categories are offered in-store. For more information on the products that perform well online vs. offline, see the "Costco.com vs. Brick and Mortar" section below.
2. Costco's Perception in the Marketplace
How Other Distributors See Costco
As we said before, Costco has a reputation for offering value and quality.
Unfortunately for some brands, Costco's definitely not synonymous with luxury.
For brands that rely on an "exclusive" reputation, this could be a problem–particularly amongst distributors. David De Nino, the Director of Ecommerce for a luxury hair care brand, felt the negative impact once his company started selling products on Costco.com.
The biggest drawback of working with Costco is that every other [distributor] we have hates it. Anyone can do a simple search and see that it makes way more sense to buy our shampoo in a bigger bottle on Costco.com than at a salon. In fact, we can't even sell to our own customers on our site at the price Costco sells to them. There's also a status associated with it–we're a premium luxury product, and some salons don't like to hear that we're selling there. We've had accounts drop us for being on Costco.
De Nino has found it difficult to maintain the brand's status of "premium" while selling on the site. However, he also knows his company can't afford to drop it.
"We're still a small business, and we could never stop selling on Costco."
How Costco Shoppers See Costco
We've alluded to it several times now, but one of the biggest benefits of working with Costco is their built-in customer base.
Costco's customers tend to be rabid fans–particularly those who are actual members who frequent the brick and mortar stores. Here are a few key points about Costco customers taken from Costco's 2016 financial report [PDF]:
Shoppers are attracted principally by the quality of merchandise and the availability of low prices
In 2016, Costco's member renewal rate was 90% in the U.S. and Canada and 88% worldwide
Executive members (spend more than other members) represented 39% of paid cardholders at the end of 2016, 2015, and 2014
Younger members are increasingly using computers, tablets, mobile phones, and other devices to shop and interact with Costco through social media
While there are several key differences between the typical in-store vs. online shopper, at the end of the day, Costco customers are loyal to the Costco brand–not necessarily product brands.
And for new brands starting out, that's a good thing. De Nino explains:
Costco members and nonmembers really trust what Costco sells. We see a lot of reviews on our products that say things like 'I've never heard of this product or brand, but I figured if Costco was selling it, that it was worth trying'. They look at it like Costco's vouching for the product, and they feel like Costco curates what they sell, whether or not it's true.
Finally, Costco customers expect value, not necessarily "cheap" prices. That means they're willing to shell out more up front for a great deal.
3. Costco Online is Way Different Than Costco In-Store
Unlike Amazon, all brand manufacturers are vendors to Costco. There is no third-party marketplace where you can sell your products, manage your ads, and tweak your listings.
As a vendor, you have two options: Sell on Costco.com or sell on Costco's brick and mortar stores. (Or both, if you're really lucky.)
Costco Online
According to the same 2016 financial report, Costco's net sales for their online business were about 4% of their overall net sales in 2016.
It may not sound like a significant number, but you have to consider the fact that while there are some products on Costco.com that are member-only, there are also products that are open to the public, widening their audience.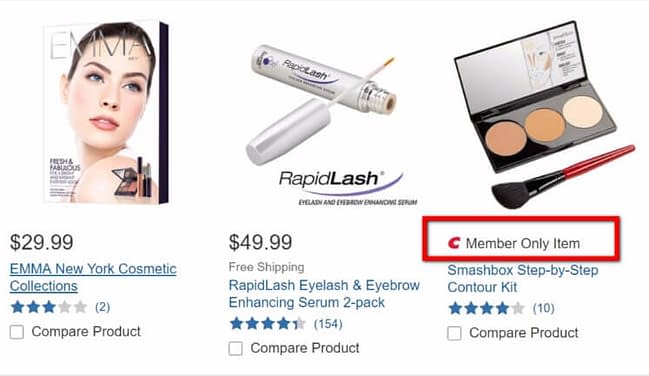 "The online consumer is quite a bit younger and less affluent than the brick and mortar customer," says De Nino. "Partly, it's the younger people can't afford the price threshold or people in urban environments who may not invest in bulk products [due to a lack of space.]"
Costco In-Store
Your ability to get onto the shelves of a Costco warehouse really boils down to two things: Shelf space and category.
De Nino explains:
Digital shelf space is infinite–it doesn't cost [Costco] much more than a few additional server bytes. Whereas with their bricks and mortar, you have to compete in a much more narrow environment and prove that your product will be worth it to them.
At the end of the day, between the .com and the brick and mortars, there's no superior place to sell your products. Either one could be profitable depending on your product.
For instance, De Nino's company is wildly succeeding online–but their high price point and specific category make it virtually impossible to get into Costco's brick and mortars.
Part of this is because the health and beauty category isn't a big mover in their stores. Costco shoppers are typically focused on filling up their carts with bulk packages of meat and paper goods–health and beauty products are afterthoughts or impulse buys.
If you're selling a $60 shampoo like De Nino is, you don't have a great chance of snagging those impulse-buy shoppers before checkout.
Generally, you'll see name brands on Costco's store shelves, while you'll see smaller brands online. Unless you can prove your product has a rabid fan base or that you can provide better value than other brands or products, your best bet is to sell on Costco.com.
4. Manufacturer Profit Margins are Huge (But There's a Catch)
Costco made an average of $159 million per warehouse in 2016, with a net income of about $2,350 million.
But if you thought Costco gets a huge margin on their products, you're wrong. In fact, they sometimes take a loss due to their low prices.
They explain it best:
We do not focus in the short term on maximizing prices charged, but instead seek to maintain…"pricing authority"…Our investments in merchandise pricing can, from time to time, include reducing prices on merchandise to drive sales or meet competition and holding prices steady despite cost increases instead of passing the increases on to our members, all negatively impacting near-term gross margin as a percentage of net sales (gross margin percentage).
In addition, Costco's margins aren't massive because they give a lot back to their manufacturers.
Costco only keeps about 20 points of a sale, according to De Nino, while Amazon keeps about 45 and Target keeps about 50.
This means that for a liter bottle of shampoo that retails at $60, Costco will pay De Nino $48.
"You really can't ignore Costco because the margins are so juicy," says De Nino.
That's unheard of for most brand manufacturers, and it's the reason why brands like De Nino's are willing to give up their "luxury" status and accommodate cuts on MAP pricing when they sell to Costco.
"You can't ignore Costco because the margins are so juicy."
"When you sell to a wholesaler in the beauty business, it's almost always going to be 50 points," says De Nino. "Costco doesn't even fight you with pricing; that's how they lure merchants in. But in return, they expect total exclusivity–unique packaging or gangbuster deals."
So where does Costco get their money? Well, partly from memberships, which not only bring in predictable revenue (again, customer loyalty) and also deter theft.
Here are some of their membership prices and numbers:
Business Membership: $60
Gold Star Membership: $60
Executive Business Membership: $120
Executive Gold Star Membership: $120

5. How Costco's Vendor Buyers Think
Here are a few points to help clarify the way vendor buyers think (again, straight from the 2016 fiscal report):
Costco probably doesn't want your entire product line
"We seek to limit specific items in each product line to fast-selling models, sizes, and colors."
Costco's in-store shelf space is very competitive
"We carry an average of approximately 3,700 active stock keeping units (SKUs) per warehouse in our core warehouse business, significantly less than other broadline retailers."
Costco will opt for private labels…but on specific terms
"We also purchase private label merchandise, as long as quality and member demand are comparable and the value to our members is greater as compared to brand-name items."
The bottom line? Whether you're a brand or private labeler, Costco needs to see your value proposition. This is particularly true if you're attempting to woo an in-store buyer. And there are two things you should keep in mind before pitching a product to sell online or in-store:
You'll need to provide at least a 15% discount compared to other retailers OR
You'll need to uniquely package your products in bulk
Again, this could upset your other distributors, who may demand the same treatment. But if your product is being sold at the same rate as you're selling it on Target AND it's not bulk packaged, Costco probably won't take a second look.
Again, selling online is often easier than selling in store. De Nino and his team sent examples of their product, gave the Costco team an in-person pitch, and talked about their unique value proposition and discounts, and they were accepted. But that's only half the battle:
"It might be easy to get your product on Costco.com," says De Nino, "But it's not easy to keep it on there. The threshold for SKUs is $1500 per week in gross sales. Can you stay on the site under that price point? Sometimes. But generally, that's the point where Costco wants you to stay."
If you'd like to start the process and make a vendor inquiry, you can do that on Costco's site.
6. Costco Ads Aren't Really in Your Control
Although vendors have minimal control over ad creative, and little control over ad copy (don't try to be too edgy), Costco ads can have a huge positive impact on your business. Costco shoppers are heavily influenced by Costco's recommendations, and even something like a banner ad can flood your inbox with orders.
Oh–and there's a cash flow benefit as well. You don't actually have to cut a check to Costco for that banner ad or email shout out. Instead, Costco will provide a chargeback for the cost of that ad–meaning they'll take it out of what they owe you. De Nino explains:
If I wanted to order a massive hero ad for $100,000 per week on the home page of Costco.com, they'd probably give it to me. It may take me two months of sales to make back that money with an actual profit, but there's no actual exchange of cash. And you never had that money in your bank account, so you don't miss it.
The Bottom Line
While there are risks involved with selling on any channel, Costco is one that offers huge margins, a dedicated customer base, and even the ability to run ads without seeing the money slip through your fingers up front.
Are the benefits enough to outweigh the costs? That's up to you. Try starting with the website, and see where it goes.
But don't expect Costco to spend a lot of time wooing you–the truth is, they don't need your brand to survive. They need many brands to stay stable, and they have throngs of players waiting in the wings. And despite the drab interior of their warehouses, Costco's future looks very bright.