No matter what platform or marketing tool you're using, tracking your metrics and Instagram analytics is the key to generating more revenue on Instagram.
Not only does it allow you to hone in on what's working, but it also helps you dial into what's not—and even how to fix it and get back on track.
But in today's digital day and age, Instagram analytics tools run the gamut, and many come with a hefty price tag to boot.
Here are 10 free Instagram analytics tools that you can use in 2020, free of charge.
1. Instagram Insights
Instagram Insights offers built-in insights you get with your Instagram business account and some of the best free Instagram analytics you can get.
Through Insights, you can review all of the following stats:
Impressions, the number of times your post or story was seen
Reach, the total number of unique users who saw it
Engagement, the number of unique users who either liked, commented on or saved the post
Views, the total number of times a video or story was viewed
Saves, the number of users who saved the post
Replies, the number of messages sent via your story
Exits, the number of times a user skipped your story or exited out while viewing it
You can also get data on Instagram Stories, including reach, website clicks and more, as well as deep-dive info about your audience, like their location, gender, the busiest time of day, etc.
We wrote a whole post dedicated to Instagram Analytics – check it out and let us know how it works for you.
Hashtagify is a tool that gives you free Instagram hashtag analytics.

It will tell you who the top influencers are that are using a certain hashtag, what time of day it's being used most, how well it's performing over time and even projections on how well it will do in the future. If you're really active on Twitter, you'll find the "Twitter Suggestions" tab helpful.
While they offer paid plans that will give you plenty of more options, you can use the base search engine for free and get access to info on how your hashtags are being used. 
3. Combin
Combin is an Instagram scheduling and audience management plan that also delivers Instagram stats. 
We debated about including this one because while it does offer a free plan, technically the free plan doesn't include analytics or stats.
The free "Starter" plan allows you to schedule your Instagram stories and posts as well as track user activity and audience growth—but it's pretty limited. You'll get to manage one Instagram account and you'll get access to 50 search results for posts, 25 search results for users, and 100 "daily actions".  
If you find it valuable, you can pay $10/month for their "Personal" plan (basically free, right?), which gives you a much better selection of instant search results and statistics.
4. Union Metrics
The Union Metrics tool might be the most "serious" looking tool on the list, but it offers some serious data to match. The bonus is that it's not just a tool to measure your effectiveness on Instagram, but also on Facebook and Twitter.
Start with the "Free Instagram account checkup" that will give you all of this data from the last 30 days:
What's the best time to post to Instagram?
What hashtags should you use to get the most engagement?
What should you post more (or less) of?
If you find the free report valuable, you might want to consider investing in the next level.
The paid campaign reports are highly digestible and easy to share with your team or your clients. Information can be as micro as the "best time to post" and as macro as "trend research" that can help inform the conversations you start and the content you create. It's also fantastic if you're looking to expand your social presence on a global scale.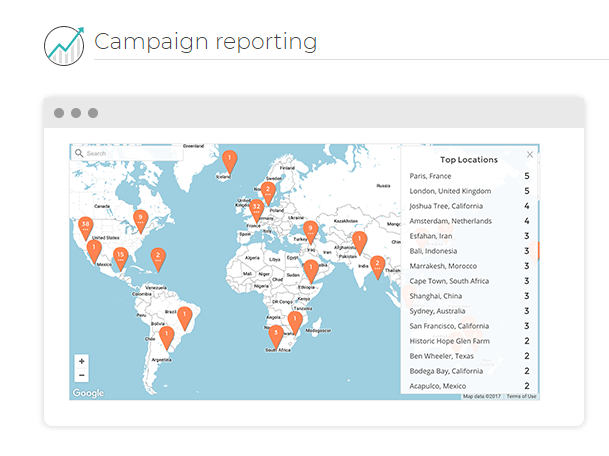 It's $49/month for three social profiles. Not bad.
5. Squarelovin
This is just one of those tools that will reel you in with its beautiful content. Just look at the home page:
The platform offers all of the usual metrics, although perhaps at a more granular scale (think hourly performance) than other tools.
Squarelovin's biggest value add (in our opinion) is the ability to amass user-generated content (UGC, so hot right now). They call it "earning content from your consumers". You can then take that valuable UGC and spin it into shoppable content.
The tool is also great at helping you monitor your account performance over time, and you can even see how using different filters affect your post performance.
One of our fave stats is the "worst time to post". It really is different for everyone.
Socialbakers offers an entire suite of free Instagram analytic tools with options that will help you search for influencers, analyze Instagram hashtags, and just about everything in between.
We're especially intrigued by the "Instagram Performance Quadrant Report" which allows you to see how you stack up against your competitors.
But if we had to choose one Sociabakers tool, we'd say their "Free Instagram Analytics Tool" pretty much fits the bill. You'll need to log in with your Instagram account to get started; there aren't really any previews available.
7. Followers Pro + (APP)
Followers Pro+ is your official Instagram stalker app. 
OK, maybe that's not the proper marketing terminology for them.
You can track new followers and see those who've recently unfollowed you. It even tells you who you follow that doesn't follow you back. Use it to determine what content drives your followers away or who you need to spend more time engaging with.
It's definitely not perfect—we have heard a little about bugs that still need to be squashed—but overall it seems to be a useful tool to take for a spin.
8. Pixlee
Pixlee gives you free weekly reports on your Instagram analytics account performance including day-to-day data, follower growth, hashtag popularity, and more.
You'll probably recognize some of the heavyweights who use their platform: Tarte, COLE HAAN, Kenneth Cole, Rawlings, Carnival, and Morphe. But don't take their word for it. Take the platform for a spin, and let us know how it goes.
This isn't entirely related to this post, but Pixlee gives you the ability to discover new influencers you can use to promote your brand. (We know a little about finding influencers, too.)
9. Crowdfire
Crowdfire is a freemium Instagram analytics service that allows you to schedule and publish posts and also offers a dedicated Chrome extension for sharing articles. It's content curation features are pretty great as well, considering you get unlimited recommended articles and images with the free plan.
Crowdfire also offers analytics, although they are limited to one day. Using their platform, you'll be able to analyze same-day analytics for your audience and engagement.
10. Rival IQ
Competing in a saturated niche? Want to know how you measure up against your competitors? Rival IQ is a neat Instagram Analytics tool that allows you to compare your stats with any Instagram handle you want.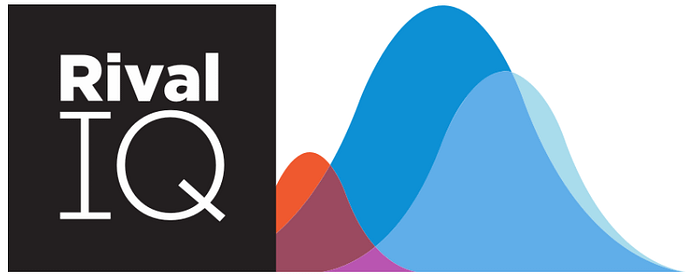 Using the tool, you can gain access to how your Instagram stats compare to theirs in categories such as activity, engagement, and audience metrics.
How to Measure Instagram Metrics | What's Your ROI?
Instagram has made big strides in terms of metrics over the last few years — especially since its takeover by Facebook.
Still, its analytics aren't as robust as most social platforms out there, and this can leave marketers frustrated, floundering on strategy and, worse, unable to report on campaign progress to higher-ups and stakeholders.
"Setting expectations for any marketing campaign, especially influencer marketing, is key to success. Do some industry research to find relatable benchmarks based on your vertical. Set these expectations ahead of time to make sure success is clearly defined."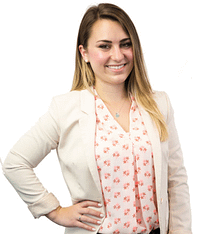 –Sarah Sanchez, Senior Manager of Social Strategy at Tinuiti
As marketers, we know we need to set benchmarks but which Instagram metrics should we measure?
To gauge how effective your Instagram campaigns are (and what tweaks you might want to make to improve them), here are some of the more telling stats you'll want to look at:
1. Comment Totals
The number of comments you receive is one of your most important Instagram analytics and directly correlated to how engaging your content is. Likes can give you an inkling of what posts are best fitting your audience, but comments mean actual interaction — that the user is taking time out of their day to engage with your brand.
Even if those comments are negative, it still means you're creating moving content — content that evokes emotion and stirs passion within people.
If your comment rate is low, it might indicate a change in creative or strategy is needed. 
Try following the movers and shakers your audience follows on the platform. What can you do to emulate those brands and influencers? Better yet, could you use one of those influencers to market your products as well?
You can also try mixing up content types by adding videos, slideshows and creative layouts.
2. Hashtag Engagement
There are several things you can learn by looking at the "most engaged hashtags" metric in your Instagram account.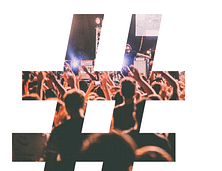 For one, it gives you an idea of which hashtags resonate the best. Is #fbf doing better than #tbt? Is #officelife getting more engagement than #9to5? Hone in on what hashtags are most engaging, and use that to drive future content strategy.
You can also combine some of your more high-engagement hashtags to up your post's discoverability. Remember, that's what hashtags are there for: to help users find you through Instagram's search function. The more high-engagement hashtags you've got on there, the better. Using a free Instagram hashtag analytics tool can help you keep track of trending hashtags to try out.
3. Follower Growth
This isn't a metric you can get much from on day one, but in the long term it can tell you a lot. Make note of your followers week over week, and pay close attention when you see a larger than usual spike.
What did you post that week that caused the spike in new followers?

Did you post at different times? Change up your creative?

Maybe try a new hashtag or throw in a video?
Follower growth can be a good indicator that your creative is solid, your hashtags are discoverable and that you're targeting the right audience.
4. Engagements Per Follower
This is one of the most informative metrics in your arsenal because instead of telling you a total number of engagements (which can be misleading), it tells you how many times, on average, your followers interact with you.
Coca Cola might have 4 million engagements in a week, but they also have 100 million followers. So comparing your 250 engagements to their totals doesn't make much sense.
But if you're getting 250 engagements on 500 followers? That's a pretty high engagement rate. A high number of engagements per follower is a big sign that your content is on the mark.
Low engagements? It might be time to step back and re-strategize.
Maybe try a different style of photography or maybe it's time to get more authentic and introduce people behind the scenes. Try something new, and then examine your engagement rates to see how it resonates.
How To Use Instagram Insights
The photo-sharing app provides some valuable data on your online audience, as well as how they interact with the content you share.
The first step to accessing your Instagram Insights is to convert your account to a business profile (if you haven't already done so).
To do this, tap the settings icon (it looks like a little gear), then hit "Switch to Business Profile."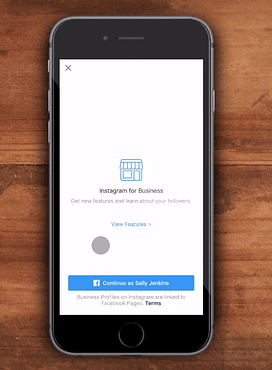 This will take you through a step-by-step set-up process that only takes a couple of minutes. Keep in mind Instagram requires all business profiles be linked to an official Facebook business page, so if you don't have one of those already, go set that up first. It'll save you some time in the end.
Once you've converted your profile, you should be able to access your insights in one of three areas:
From your profile

– Just tap the bar graph icon.

From a post

– Click the arrow in the bottom right corner, then click "View Insights."

From a story

– Tap the bar graph icon on your profile, scroll down to the "Stories" section, then hit "Get Started."
Pro-Tip: If you're big on posting stories: Story insights are only available for two weeks after they were posted, so make sure to access those before they're gone. Set yourself a reminder if you need to.
Instagram Insights: Analytics, Data & More
Instagram Insights offer data on multiple sectors of your account including your followers, your posts and your stories (and how all three of those interact).
Follower insights give you demographic data, including the gender, age-range and geographic location of people who follow you and engage with your posts.
You can even drill down by country, state and city of your followers, so if you're a local business or looking to ramp up your customer base in a particular area, those stats can give you a little insight into how your efforts are paying off.
Pro-Tip: They can also give you important time zone data, so you can time your posts properly to maximize views and engagement for that particular geographic area.
Follower insights can also reveal the number of times each of your followers is active on Instagram daily, as well as how many of them have clicked on the link in your profile.
You can even find out how many new followers you've gained and when – stats that can substantially help you when analyzing the efficacy of your posts and stories.
Of course, you can also look to individual post and story insights for performance-based data.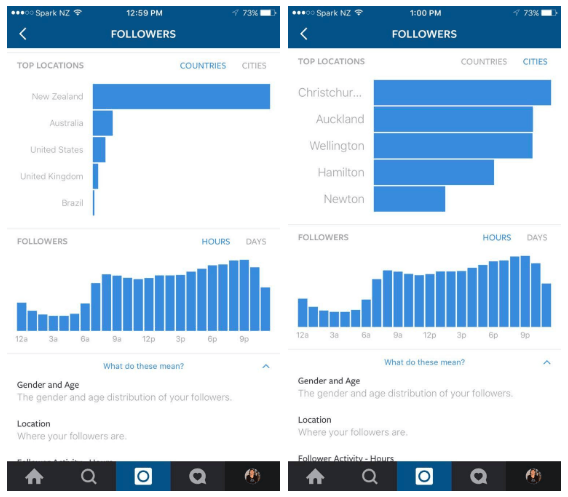 These insights can tell you:
Impressions

, the number of times your post or story was seen

Reach

, the total number of unique users who saw it

Engagement

, the number of unique users who either liked, commented on or saved the post

Views

, the total number of times a video or story was viewed

Saves

, the number of users who saved the post

Replies

, the number of messages sent via your story

Exits

, the number of times a user skipped your story or exited out while viewing it
Instagram Insights are mapped out via graphs and charts, making them easier to view and understand, and there's also a "Follower Activity" area that displays the most popular days and times for your followers.
Be sure to pay close attention here; as you gain and lose followers, these time frames will change.