With the rise in streaming services, a new medium known as OTT (over-the-top) advertising now allows brands to reach their audiences while they stream shows and movies. OTT advertising is advertising delivered directly to viewers over the internet through streaming services or devices, such as smart TVs. One of the most popular streaming services is Hulu. 
If you are new to OTT, check out "What Is OTT Advertising: A Beginner's Guide" for more information.
In the following article, we will cover:
What is Hulu advertising?

How to advertise on Hulu

Ad Types Available on Hulu

How much does it cost to advertise on Hulu?
What is Hulu advertising?
 
Hulu has over 82 million subscribers — 70% of whom are on ad-supported plans. That means that advertisers have access to 58 million viewers via Hulu OTT advertising. Hulu also collected $1.5 billion in advertising revenue in 2018 — more than HGTV and the Food Network!
OTT advertising is here to stay, and Hulu is the second-largest on-demand streaming service.
 


 
Hulu has its very own ad platform that includes a robust set of options for bidding, targeting, measuring, as well as different ad types.
 
How to advertise on Hulu
 
Here's how Hulu advertising works, from ad buying and targeting to measurement and optimization.
 
Ad buying and audience targeting on Hulu
 
Hulu offers 3 advertising reach options for brands:
1. National: Reach viewers across the US
2. Local: Reach a localized target audience
3. Advanced TV: Automated, data-informed ad buys
Within the Advanced TV category, Hulu has 3 different bidding options:
Automated Guaranteed:

Automated, guaranteed buy with advanced targeting.

Unreserved Fixed:

Non-guaranteed buy with increased targeting control.

Invite-Only Biddable Marketplace:

Find your audience, set your price, and optimize from within your DSP
In Hulu's private biddable marketplace, advertisers select their target audience, determine their bid price for that audience, and control and optimize their ad campaigns in real-time based on results and performance.
Once you've chosen your ad reach option, you'll choose your target audience. Hulu offers advanced targeting; you can target viewers based on:
Interests and behaviors:

Target based on interests and real-world actions on and off Hulu

Location:

As broad or as specific as your campaign needs — target from the state to the zip code level

Custom Audiences:

Upload your CRM data or use third-party data segments to create an audience based on real-world behaviors.
*Ad Types Available on Hulu
 
Hulu offers what they call "a viewer-first ad experience" made up of 12 different ad products, including:
Video Commercial: "The Video Commercial includes placement of your advertiser's video creative into any one of Hulu's standard long-form content commercial breaks." Hulu allows 7-, 15- and 30-second video commercials. 
Ad Selector: "The Ad Selector allows the user to control their ad experience by choosing the ad they want to see. The user will be presented with two or three video options. Once a selection is made, the user will be presented with the commercial of their choice." According to Hulu, their ad selector is 150% more effective than regular TV ads at developing recall and 24% better at creating an intent to purchase in viewers. 
Branded Entertainment Selector (BES): "The Branded Entertainment Selector (BES) allows the user to control their ad experience by choosing whether to watch a long-form commercial or to view the show with standard commercial breaks."
Branded Slate: "A branded slate is a custom title card that appears in premium positioning before video creative in the first pod before the beginning of a show. The advertiser's brand logo is shown with "Presented by" intro text and Hulu-provided voiceover audio."
Cover Story Brand Placement: "The Cover Story Brand Placement offers advertising clients the opportunity to integrate their branding with Hulu's homepage."
Pause Ad: "Hulu's Pause Ad is a non-disruptive, non-intrusive user-initiated ad experience that appears when a viewer presses pause when watching content."
Interactive Living Room: "Interactive video formats foster greater affinity with a brand using customizable interactivity that can inform viewers about a brand's latest products, features, and services."
T-Commerce: Hulu's T-commerce interactive video format helps drive consideration through the convenience of an integrated, in-stream purchase flow.
These different ad products allow advertisers to use different creative beyond the traditional 15-30 second video, from simple logo placement to integrated commerce experiences. 
*Note: The ad units mentioned are almost exclusively available via guaranteed IOs (national or local) and not the audience-driven methods.
 
Hulu ad measurement and optimization 
 
Hulu offers advertisers measurement and attribution for their campaigns. Hulu's attribution capabilities let advertisers measure brand lift and direct ROI and business outcomes across QSR, retail, ecommerce, tune-in, automotive, and CPG categories. Hulu also partners with third-party providers to verify audience data and viewership measures.
 
How much does it cost to advertise on Hulu?
 
There isn't a lot of publicly available data about Hulu ad costs, but it seems as though Hulu ads are more affordable now than they used to be. An increase in Hulu subscribers means that ad inventory is rising.
One streaming TV executive, who spoke to AdAge on anonymously, says Hulu is "flush with ad inventory and that has led to a decrease in pricing. Hulu is notorious for high pricing, with ads that cost $30 to $40 for a thousand views, but in recent months advertisers have seen rates closer to $20."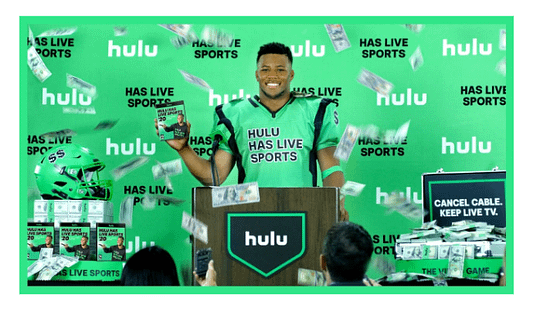 According to Hulu, advertising on Hulu is effective "across the purchase funnel — from awareness to purchasing intent… Not only do ads on Hulu solidify your message in the minds of consumers, but also help drive sales as well." For every dollar invested on Hulu, advertisers see a reported return on ad spend (ROAS) of 45%.
"Hulu is a valued partner for Tinuiti's direct and audience first, programmatic approaches to OTT / Connected TV. Hulu, and the broader OTT landscape, is an advertising channel that has scale, is targetable, and measurable: the three components required for performance marketing. The channel represents the opportunity to truly connect with high-value audiences and grow your business via sight, sound, and motion messaging, with sound on, and with 100% share of the largest screen in the house."
 
– Jesse Math, VP Client Strategy, Planning and Platforms; OTT Lead at Tinuiti
 


 
If you're interested in advertising on Hulu, check out Tinuiti's OTT advertising services.