When people talk about over-the-top (OTT) streaming devices, the first thing that usually comes to mind is Apple TV and Google Chromecast. Advertising on those platforms can be highly competitive and very costly, especially for brands with a limited budget.
But that's not the only place to reach viewers. There are other streaming devices and platforms, with millions of viewers of their own, that can be just as effective an audience for growing your brand awareness. One device stands out in particular, even against Apple and Google: Roku. 
What is Roku?
Roku is one of the earliest pioneers of dedicated TV streaming and has been providing viewers with digital shows since 2012. 
The Roku OTT streaming device is a deceptively simple black box that connects to a TV and allows it to display streaming channels normally only accessible via laptops or mobile devices, such as Netflix, Amazon Prime Video and CrunchyRoll. An easy-to-use interface with a streamlined remote control makes it a breeze to use compared to other digital TV remotes with hundreds of buttons, or direct laptop connections that frequently suffer from configuration issues and technical problems. 
Why should I advertise on Roku?
The difficult truth is that traditional TV advertising is dying out. TV viewership is dropping, and as a result, so are advertising budgets. More people are moving to streaming devices like the Roku, and it's time advertisers made that shift as well. 
There are 52 million Roku devices in use as of the end of 2019, which accounts for 18% of sales for the global market. This places it heads and shoulders above its closest competitor, Amazon Fire TV, which only accounts for 12% of the market. Google-powered operating platforms like Chromecast and Android TV only account for 9% of the market's total sales. 
In terms of actual viewership, Roku reported 36.9 million active users globally as of Dec 31, 2019, which is a lot of eyes watching a lot of content. This equates to tremendous advertising potential for brands. 
How do I advertise on Roku?
Roku offers advertisers a variety of options that take full advantage of the unique media platform. From traditional 15- to 30-second spots to full-screen interactive video and interactive overlays. Every single advertising format is an opportunity to engage with customers in new and immersive ways. 
According to Roku, the OneViewTM Ad Platform (the Ad Platform built for TV streaming) includes:
Cross-device identity – access the largest TV audience dataset powered by deterministic consumer data
Linear TV insights – plan and measure using unique linear TV data from more than 20 million homes
Proprietary audiences – activate more than 100 unique segments based on behavioral insights from the number one streaming platform in the US
Forecast OTT instantly – calculate OTT ad inventory availability in seconds
In-flight attribution – manage reach, frequency and performance across OTT, desktop, mobile and linear TV
Guarantee outcomes – guarantee certain demographic delivery or business outcomes like website visits or mobile app downloads
You can learn more about Roku's advertising solutions here.
Why OTT Advertising matters [From the experts]
"OTT advertising is a viable component of a brand's performance media mix. Much more than just a branding and awareness play, it is a complete performance channel that offers scale, measurability, and data-driven targeting."
"We see OTT video as being ripe for two kinds of brands: TV advertisers that are looking to recapture some of the impressions and reach that are no longer available through traditional channels, and challenger brands that don't have direct broadcast budgets but can play in the TV space for the first time through OTT."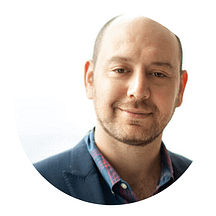 — Jesse Math, VP of Planning and Platforms at Tinuiti