As an ecommerce retailer, your success relies heavily on the online marketplaces you choose to do business in.
Your marketplace determines your audience, your reach, a good chunk of your overhead costs, and the policies and rules you have to abide by as a seller — and all of these can have a big impact on your reputation and your bottom line.
What are Online Marketplaces?

Basically, online marketplaces are sites that aggregate product information from multiple sellers, so users can compare and purchase products online.
Here is a very simplified version of how ecommerce marketplaces work.

1. Shopper Makes a Purchase on an Ecommerce Marketplace

Let's say shoppers get to the Amazon Marketplace (directly or via another site such as Google), browse, and ultimately select an item(s) via a product page, which he or she purchases on the Amazon marketplace.

2. The Ecommerce Marketplace Seller Sends the Shopper the Product

Amazon places that order through the seller who has that item (a third party seller), and the seller then handles fulfillment for that purchase.
Amazon has its own fulfillment warehouses, and there are many additional nuances of how Amazon works, but this is the basic structure of how items are sold on the platform for third parties.
The Top 15 Online Marketplaces in 2019

Naturally, we'd all love to be on every marketplace out there — but that's just not possible (or feasible) for most online sellers. Want to make sure you're focusing your efforts and limited resources on the best, most-profitable marketplaces possible?
Here are the top online marketplaces you'll want to consider:


Cafe Press's income has been cut significantly (from 89.19M to 41.8M), and there's doubt this has to do with Amazon's explosive popularity. A trend we'll likely continue seeing for a lot of alternative marketing channels on this list.
Benefits
CaféPress is a well-designed, well-organized online marketplace that offers the ability to create an online store in order to sell products.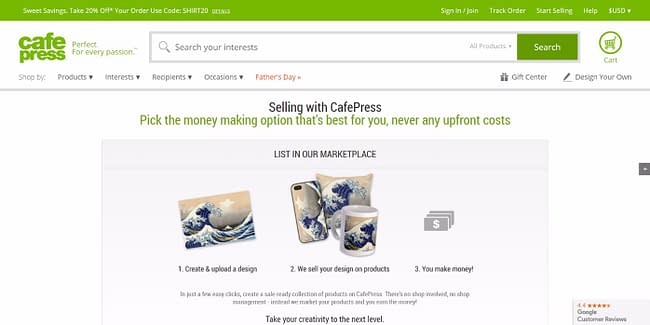 The website is easy to navigate and is pretty clear in terms of functionality and navigation, with a detailed help section designed to assist both individuals and businesses in purchasing stock from the site or establishing a commercial presence online…albeit a limited one.
The limitation affects ecommerce merchants who have specialized stock they've created or manufactured that they're trying to sell; CaféPress allows the sale of specific stock items provided by the marketplace itself.
The advertising is pretty clear on the site, inviting individuals to sell custom designs on over 250 products they can choose from; the site offers the creation of a "CaféPress Shop" which individuals can design to showcase their designed products.
The CaféPress Shops' are customizable and allow the organization of product sections and categories; this is extremely helpful for individuals or small businesses specifically selling designs and logos.
Below is a screenshot of a shop: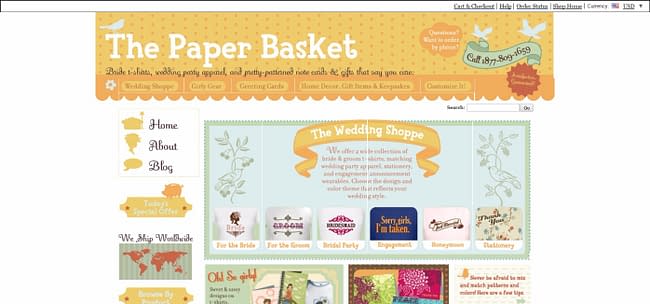 As organized as this marketplace is, we did have some difficulty finding the setup information on designing an online shop; it's not apparent on the home page where one needs to go for this information.
We found a link to the "Design and Sell Merchandise" section buried four layers deep on a Help section search.
Here are some of the products featured on CafePress:
T-Shirts and other clothing
Water bottles
Shot glasses
Posters
Canvas art
In this regard, CaféPress appears geared more toward the consumer, with a plethora of individualized Café Press Shops offering unique and creative designs. Individuals and businesses with logo and design work as their primary business model will do well here, but ecommerce merchants with their own products to sell will have to search elsewhere.
Cost
CaféPress indicates that there are no set-up fees, up-front costs or out-of-pocket expenses associated with the creation of a CaféPress Shop, and there does not appear to be any fee tacked on for listing products. CaféPress makes money on royalties by deducting 10% from monthly royalty checks – not sales volume – and then sends the merchant the remainder of the royalty amount.
Merchants also have the option of pre-paying a set amount for royalties (either monthly or every 3, 6, or 12 months).
CaféPress appears to take care of product shipping, customer support (phone, email, and chat) and provides tools to promote and drive traffic to your online shop.
CafePress  appears to be a good selling tool for individuals and small businesses in the market to sell creative designs (logo's, artwork, etc.)
Consumers have a range of products they can choose from and the site's navigation is fairly easy to use. This would definitely not be the place for larger ecommerce merchants to set up shop due to the limitation on products they can sell.

Zazzle's been called the "anti-Amazon by some," but we don't really see it that way.
Zazzle is comparable to Café Press in that it's a marketplace devoted primarily to writers, graphic artists, and really anyone in the business of image or logo creation.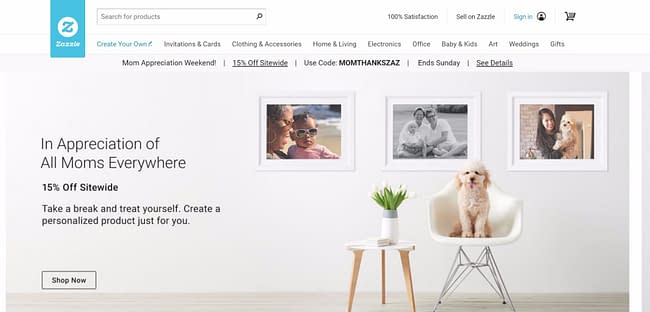 Zazzle's revenue is pretty modest compared to other sites on this list, with some reports indicating they're currently at $11.3M [login required].
Benefits
This marketplace offers over 350 products to sell online; ecommerce merchants would not be able to list their individual products here–just as Café Press merchants have the ability to create 100% completely customizable online shops with an unlimited amount of products to sell.
Zazzle allows merchants to set their own royalty rates from between 10% to 99% and adjusts the final price to include this percentage. The marketplace also offers free promotional tips and strategies.
Zazzle's Affiliate/Associate program pays at least 15% for all referred sales, and will even pay a referral fee for customers you refer to your own site. This marketplace indicates it pays out to merchants by check but that there is an option to have this done via PayPal.
Products that can be sold by merchants on Zazzle include the following:
Custom T-Shirts
iPhone Cases
Laptop Sleeves
Planners
Cost
Like Café Press, Zazzle is free to use, but there are certain limitations that apply to businesses looking to expand their online presence.
Zazzle appears to be a well-designed site geared toward graphic artists and those looking to sell designs online. This site follows on the heels of Café Press in that it appears to be primarily consumer-oriented rather than geared toward ecommerce merchants.
Zazzle's web navigation is a bit easier to use than Café Press; merchants looking to sell online simply click on the "Sell" button at the top of the site and they're taken to a very clean, clear option page.
Clicking on any of the "Learn More" buttons above transfers the merchant to that particular area. Signing up to sell online is a simple 3-step process with clearly marked links.

Bonanza, listed as "…the best eBay alternative we've seen" by Ecommerce-guide, underwent a name change in 2010 and went from 'Bonanzle' to 'Bonanza'.
Like Amazon, Bonanza has roots in Seattle.
Their current revenue is difficult to find, however, we do know Bonanza has had two rounds of funding.
Benefits
This site appears to be well-designed and easy to navigate.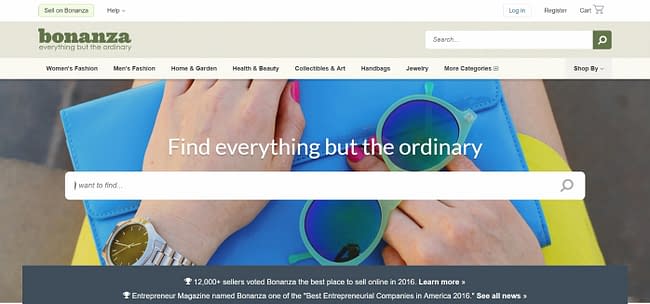 This site is a step up from Café Press and Zazzle in that it allows merchants to sell their own products (the limitation to sell only products offered by the marketplace does not apply here).
Register by clicking the 'Register' link in the upper right-hand corner of the homepage; once your account is set up you'll need to sign and create what Bonanza calls an online "Booth". Just click on the "Sell on Bonanza" link to get started.
Hovering over this link with your mouse produces a quick-link list of options, several of which are, interestingly enough, links to import from other sites such as eBay and Etsy, as well as a link to import from an inventory file.
Cost
Setting up a booth on Bonanza is free, as is posting your items for sale…but there is a percentage that goes to the site when items are purchased.
Consumers will enjoy this site; the navigation is very simple to use. To the left of the image placeholder are four dynamic section links; above the placeholder is a navigation bar with three links and a search bar. The links are listed as "For Her", "For Him", and "For Everyone". Hovering over these links produces a quick-link list with categories.
The marketplace lists its own 7 "great reasons to sell on Bonanza":
Free listings
Low fees
Free distribution
Free sales consultation
Checkout options
Bonanza-only features
Relentless simplicity

Bonanza offers its users the ability to create profiles and upload pictures as well as post comments. There's also a "Faved Seller" and "Faved Item" section toward the top of the profile.
Bonanza appears to offer a little bit of everything: individuals and ecommerce merchants can both sell their own individual items and can create profiles and selling booths.
Not sure if this site really gives that "polished" appearance a larger business might be looking for, but overall this marketplace offers quite a bit.
Benefits
Commission rates range from 8 – 15% and there are a wide range of product categories to sell in. Anyone can sell on NewEgg and over 18 million buyers use NewEgg.
Cost
Looks easy and straight forward to apply & list – check it out here.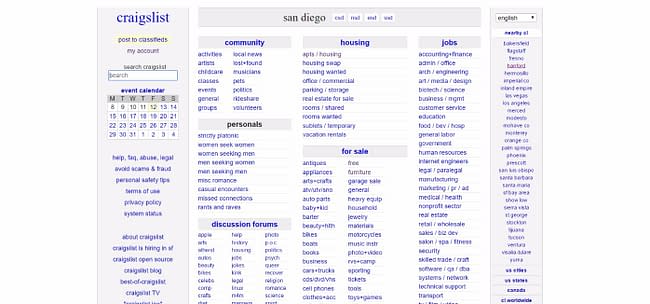 Benefits
Craigslist (http://www.craigslist.org/about/sites) is a no-frills, essentially text-based marketplace for virtually any and all products sold. The site is categorized by Country, State, Territory, with listings from the United States to Africa. Clicking on a specific State or Territory allows merchants to post products to sell based within the "For Sale" and "Services" sections.
Once registered merchants can create a Craigslist post and upload an image and description; the post "masks" the contact email so that the seller remains anonymous to individuals looking to purchase items or services.
Cost
Craigslist has the look and feel of old-school online forums; there are no product amount limits, no buyer or seller programs, and few restrictions. A good place to sell products but not the best place to drive your business marketing strategy.
You might be surprised by the sales volume you get off Craigslist.
Benefits
If you sell home decor, furniture, mattresses or any other household item, Wayfair's the online marketplace to look to. Launched nearly 17 years ago, the site has over 11 million active users and boasts seriously high checkout averages (nearly $230 per transaction!)
Cost
It's a good option for nice, higher-priced niche items that might not fit well on Amazon or other budget-friendly marketplaces.
Benefits
Supposedly the most-downloaded shopping app in the world, Wish is a great way to drum up mobile sales while also gaining serious reach for your products. The ecommerce marketplace reportedly has more than 100 million active users.
Cost
There are no listing fees, and the platform comes with built-in tools for promotional and marketing purposes. It's ideal for products aimed at younger audiences.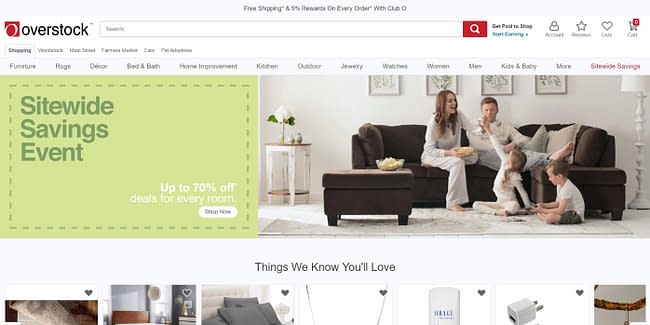 Benefits
Overstock works with businesses and entrepreneurs who join their "Supply Network", which allows Overstock to list these merchant's products in their online stores. This in effect expands the business' online presence and allows an influx of their product into the marketplace.
Cost
I searched the site for any information on fees to sell a product but could not find it; I did locate a toll-free number for businesses interested in joining the "Main Street Revolution", as well as an online request form to sell inventory through Overstock.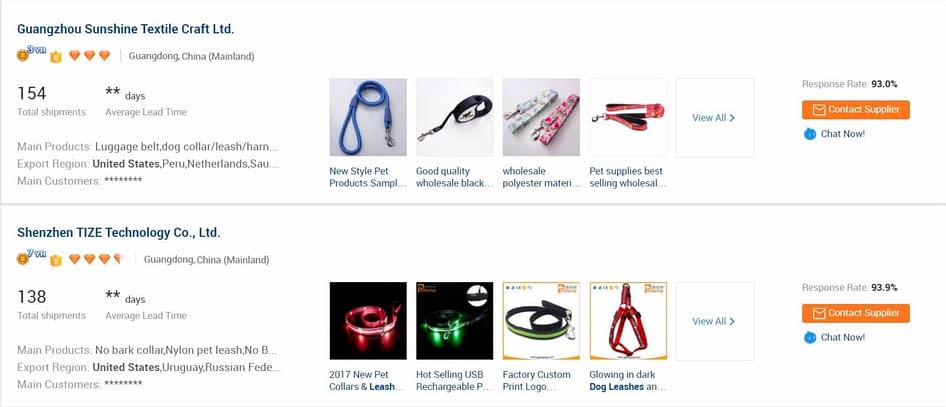 Benefits
Founded in 1999 by Jack Ma—who claims to have no knowledge of coding and very little experience with computers—Alibaba is an unlikely retail juggernaut.
What was once a startup employing only 18 people now has over 22,000 employees. The international company's market cap recently broke $400 billion, and currently claims 80% of online sales in China.
And as for the most profitable day of the year? Move aside Prime Day, it's Alibaba's Singles' Day.
On November 11th, 2016–in just 24 hours–this holiday generated over $18 billion in revenue.
Today, Alibaba offers access to billions of buyers across the world — including businesses, manufacturers, distributors and more.
Cost
Pricing is hard to sum up, as it depends on the type of product you sell and the individual Alibaba portal you sell it on. (there are many — some that are even fee-free). There are also subscription and transaction fees in some cases.
As it stands, selling on Alibaba can be cost-prohibitive to smaller retailers.
Tmall, the division that targets foreign companies, requires that verified Gold members provide a security deposit of up to $25,000, pay annual seller fees totaling up to $10,000, and give Alibaba a 2-5% commission on each sale.
These seller fees are in addition to the 1% charge associated with Alipay, the company's Paypal-like payment processor.
Alibaba is an excellent marketing engine for suppliers, but new vendors should keep in mind that it can take years rise to the top of Alibaba's search results and account for this expense.
Learn more about selling on Alibaba here.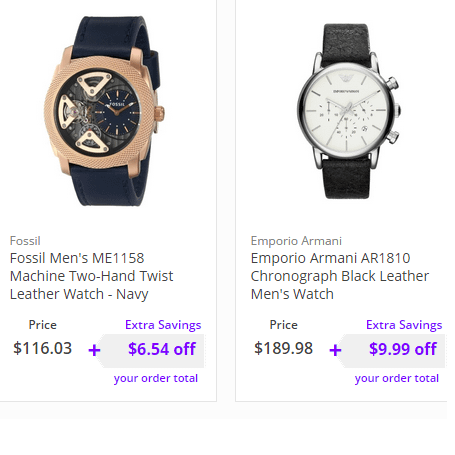 Benefits
Jet is actually owned by Walmart, but its marketplace is completely separate from the company's main one. It's a great site for items typically bought in bulk, as it rewards customers with discounts and freebies the more they add to their cart.
Cost
Like Walmart, the seller standards are pretty high with Jet, so make sure you're ready for a lengthy approval process.
In a recent analysis by Wells Fargo, Jet prices were determined to be approximately 9% lower than Amazon.
While this may pique the interest of online shoppers, Jet offers approximately 10 million products – only a sliver of Amazon's hundreds of millions of products currently available in the U.S.
#4. Etsy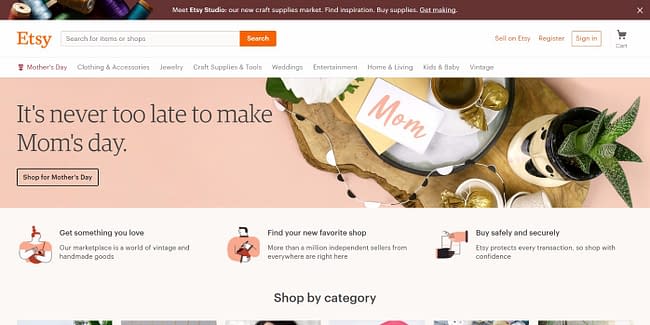 Benefits
Etsy is geared toward "crafters, artists, and collectors", and except for items categorized as "Vintage" or "Supplies", Etsy is designed to sell handmade items created by the person selling the product.
Etsy's Community page expresses it best when it states "Etsy is more than a marketplace: we're a community of artists, creators, collectors, thinkers, and doers."
Based on the above description, it would appear Etsy is not the best place for ecommerce merchants.
Cost
Etsy seller fees include a:
Transaction fee (5%)
Subscription fee (varies based on tier)
Shipping fee (Etsy shipping labels, USPS labels, FedEx labels, or Canada post labels)
In-person selling fee (optional, if selling products in person using Square)
Advertising and promotional fee (optional, if advertising with Promoted Listings, Google Shopping ads, and Targeted Offers)
For businesses that are new to the platform, Etsy offers the first 40 listings for free.
Etsy exact $.20 to list an item for four months and a 5% transaction fee, which was formerly 3.5% before an increase in July 2018. That same month, Etsy also announced the arrival of three separate tiers for sellers.
#3. eBay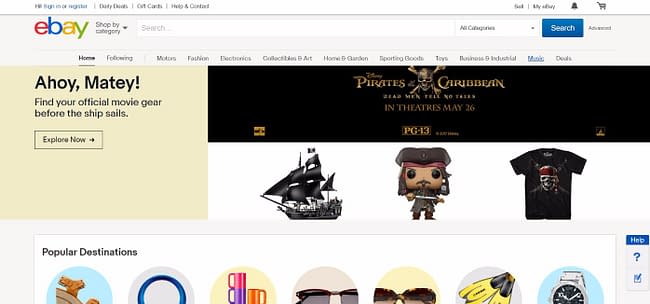 Benefits
eBay is one of the most-recognized online marketplaces in the world. Ebay offers a "Quick Start" guide showing merchants how to start selling in 4 easy steps. This marketplace offers sellers to list the first 50 items per month for free.
Merchants can create a "My eBay" page from which to answer questions and view sales information
Ebay offers information on listing your products with the eBay catalog, the Fashion Categories, and Sports Card Accessories to name a few. Ebay also offers business consultation (for free), a Business Efficiency Guide, and Seller Development Resources, which is a program eBay designed to assist merchants in successfully selling their product.
#2. Walmart
Benefits
The Walmart Marketplace is another top platform if you're looking for serious reach with little investment. The company is picky about who it will let sell on its marketplace though, so make sure you fit the bill before diving too far into the process. Walmart generally prefers sellers that carry recognizable brands, is U.S.-based and has a wide variety of products.
Cost
Seller fees are about on par with Amazon's, and there's also a similar fulfillment program you can take advantage of.
Sellers on the marketplace must pay Walmart a referral fee per sale, which varies by product category. Here's a full list of Walmart's referral fee percentages by category.
#1. Amazon
Benefits
Amazon is the most recognized name in online merchandise sales. It's the premier marketplace for ecommerce merchants and individuals looking to display an imposing online presence.
Amazon provides web-based tools to upload product inventory through the creation of an "Amazon Webstore". The marketing value of the Amazon "name" is something that every ecommerce vendor needs to consider when searching out the best marketplace to sell their products.
Cost
Businesses looking to sell on Amazon will need to sign up and register their business name, contact information, credit card and phone number.
Here's everything you need to know to sell on Amazon including costs, FBA facts and advertising.
One of the things about Amazon and other marketplaces is that integration, product matching, and product updating can be extremely difficult.
As a rule of thumb, marketplaces can be difficult to integrate with, so you'll want to do these one at a time.
For more on top online marketplaces, email tara@cpcstrategy.com