Amazon sellers know that optimizing Amazon listings is an intentional strategy that directly impacts their rank.
What most sellers don't know is how to make a winning Amazon SEO strategy and crack the Amazon A9 algorithm.
There's a lot of misconceptions about the Amazon search engine results page and how it works. We'll share some of our most recent findings from our experience optimizing Amazon content. If you want to dive into detail on any of the topics below, we highly recommend our free complete guide to Amazon SEO. 
Let's get started.
Jump to a Section:
What is the Amazon A9 Algorithm, and How Does it Work?
The Amazon A9 algorithm is a ranking process that influences where products appear for a particular keyword on the Amazon search engine results page. While the algorithmic factors are not explicitly defined, the A9 algorithm seems to rank products based on sales performance history, text match relevancy, price, and product availability.
In addition to the above factors, there are indirect factors that impact your product's rank on Amazon.
These include: fulfillment method, reviews, images, premium content (A+, EBC), advertising, and promotions.

---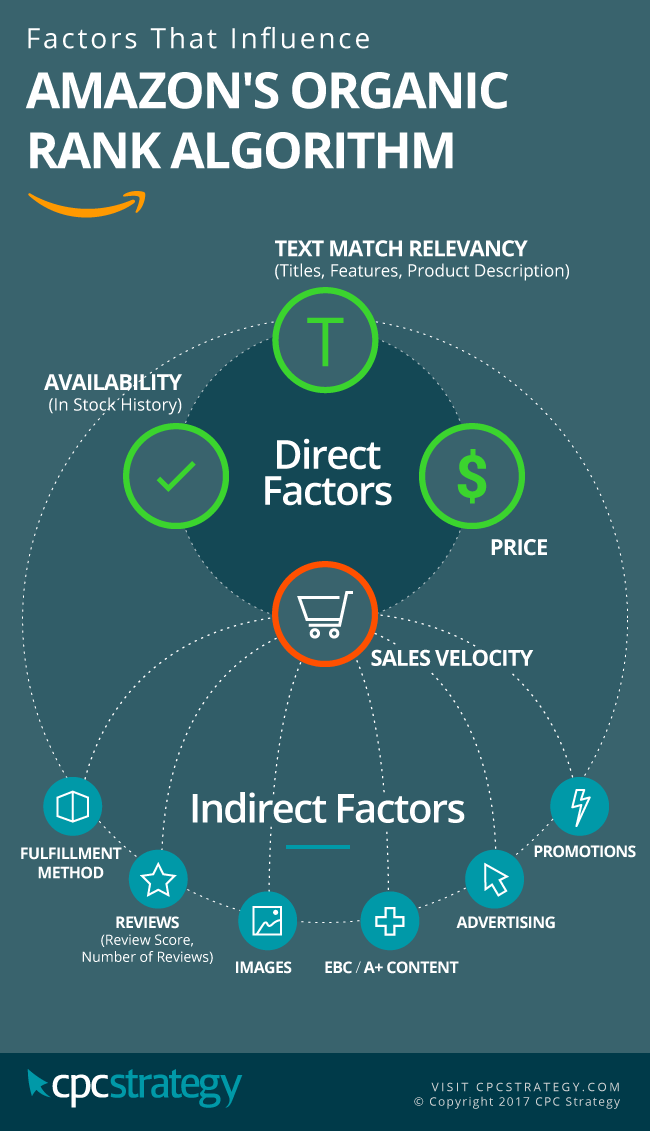 ---
How to Control Amazon Keyword Rankings for Products
The first thing you should know is that Amazon content ownership is shared and there is no guarantee your data will be surfaced on an Amazon detail page.
Amazon's A9 algorithm pulls what it deems to be the best content to display in order for that product to sell.
One slight exception to this is for brands that are part of the Amazon Brand Registry. This program allows sellers who manufacture or sell their own branded products to have higher authority over your products' listing content.
Amazon Brand Registry enables brands to:
1) Influence the product detail information for branded products
As the registered brand owner, the information they submit to the product detail pages for registered branded products is displayed automatically, which then helps brands to specify the correct titles, details, images, and other attributes for their products.
2) List products without UPCs or EANs
Registering a brand enables manufacturers to specify an alternative key attribute that they can use to list branded products instead of a standard product ID.
"If your products are not being found it doesn't matter how compelling your offer is, it doesn't matter how good your images are and it doesn't matter if you're using FBA," Pat Petriello, Head of Marketplace Strategy at CPC Strategy.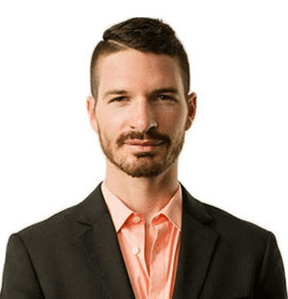 How to Optimize Product Titles for the Amazon Search Engine
Similar to Google's search algorithm, Amazon has its search engine that determines where your product will rank.
The best way to think about Amazon's search engine ranking system is to envision yourself as the shopper. (As you likely are.)
When shoppers are searching for a pair of "red sunglasses", it's likely they will type their query in the Amazon search bar rather than filter through the categories section. Keywords are then matched against the search terms marketer's have entered for their product.
Most shoppers search for products, so it is important to develop optimized product titles and descriptions to stand out on Amazon's search engine results page and rank against competitors.
According to Amazon, "The number of views for a product detail page can increase significantly by adding just one additional search term – if it's a relevant and compelling term."
Other factors such as price, availability, selection and sales history will also help determine where a product will appear in the search results. Typically, products with higher sales will be placed higher up on the Amazon ranking search list. The more sales, the better chances of higher ranking.
How to Create a Product Listing That Will Convert
A great detail page, as seen below – accurately presents all the product information a customer would want and need in order to make a buying decision. In creating these detail page elements, it is critical to be as accurate as possible with the product information. Customers want to know exactly what they are buying.
Important components of a detail page include:
A concise and unique title, in Amazon.com title style

5 bullet points conveying the most important information about the product

An accurate description of the product, discussing all its major features in detail

A clear product image of exactly what the customer is purchasing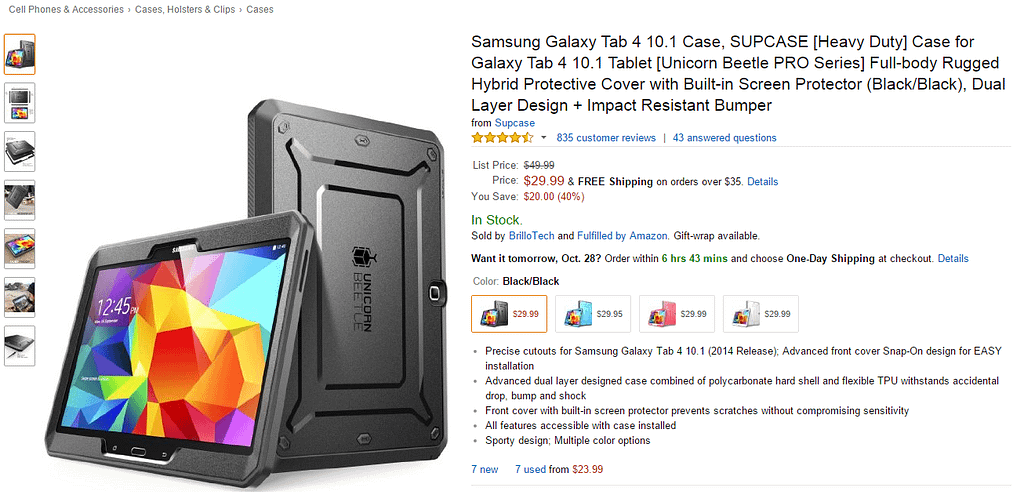 What To Include In Product Titles
Amazon product titles must meet the following qualifications for character length (check your category-specific upload template for confirmation):
General characters: 80-250
Right rail ads: 30-33
Mobile: 55-63
Pro tips for creating killer Amazon product titles:
Capitalize the first letter of each word

Spell out measure words such as Ounce, Inch, and Pound

All numbers should be numerals

Ampersands should not be used in titles unless part of a brand name; spell out and lowercase "and"

If the size is not a relevant detail, do not list it in the title

If the product does not come in multiple colors, the color should not be noted in the title
What Not to Include in Product Titles
Within the character limitations retailers should not include:
Price and quantity

All caps

Seller information

Promotional messages such as "Sale"

Suggestive commentary such as "Best Seller"

Symbols ($, !, ?)
Optimize Titles with Keywords
Keywords are a vital component of any product title but retailers should be wary of keyword stuffing – a practice that can be detrimental to your ranking.
Products with clear and detailed information are more likely to earn a higher click-through-rate and convert. The increase in sales will ultimately lead to better ranking.
Below is an example of an optimized bubble sleeve case. As you can see, when a shopper is looking for a case cover, they know the product's important detail information because it is listed in the title including the brand, the color, and the type of devices it is compatible with.
Title Formulas for Categories
Depending on the category, there may be additional formulas for each item. Each product category has a specific product title formula.
All categories start with the brand and list the product name but other attributes of the title may include:
Pattern

Model number

Power output

Size, color, quantity (if there is more than one)
Since the title is the first source of information for the customers during a search, it's important that all titles follow Amazon's style guidelines and have correct capitalization and spelling.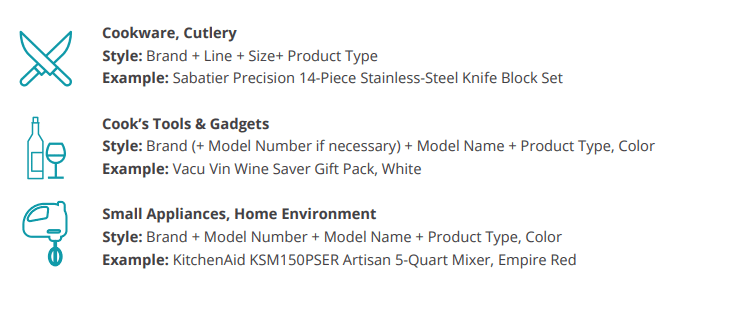 Below is a list of Amazon's title formulas and examples for major product categories (please note this does not include ALL categories with specific formulas but rather an idea of what sellers are expected to build out for their products):
Cookware, Cutlery
Style: Brand + Line + Size+ Product Type
Example:Calphalon Professional Hard-Anodized 8-1/2-Quart Saucier with Lid
Example: Sabatier Precision 14-Piece Stainless-Steel Knife Block Set
Cook's Tools & Gadgets
Style: Brand (+ Model Number if necessary) + Model Name + Product Type, Color
Example: Vacu Vin Wine Saver Gift Pack, White
Small Appliances, Home Environment
Style: Brand + Model Number + Model Name + Product Type, Color
Example: KitchenAid KSM150PSER Artisan 5-Quart Mixer, Empire Red
Tableware
Style for Sets: Brand + Pattern + Product Type, Amount
Example: Pfaltzgraff Charlotte 16-Piece Dinnerware Set, Service for 4
Bedding
Style for Sheets, Mattress Pads, Blankets: Brand + Line/Pattern + Thread Count + Material + Size + Product Type, Color
Example: Wamsutta Luxury 400-Thread-Count Sateen Queen Sheet Set, Halo
Bath Towels
Style: Brand + Line/Pattern + Material + Product Type + Quantity, Color
Example: Royal Velvet Classic Hand Towel, Peridot
DVD Players
Style: Brand + Model Number + Size + Product Type + Screen Style (if needed) + (Color/Pack Size)
Example: Panasonic PV-D4743S Progressive Scan DVD/VCR Combo (Silver)
Video Games
Style: Brand + (Model Number if unclear what product is) + Product Type + (Platform)
Example: Thrustmaster Freestyler Bike (PC)
How to Optimize Amazon Product Features & Descriptions
The Amazon product detail page bullet points aka "Key Product Features" section is located under the "Descriptions" tab (as seen below).
Product features are the second most important factor in surfacing your products. Amazon shoppers rely pretty heavily on bullet points to gather product information. The more descriptive the bullet points for your product pages, the more you will sell on Amazon.
Pro-Tip: Remember, Amazon chooses bullet point information based on aggregate seller data unless you use the Brand Registry.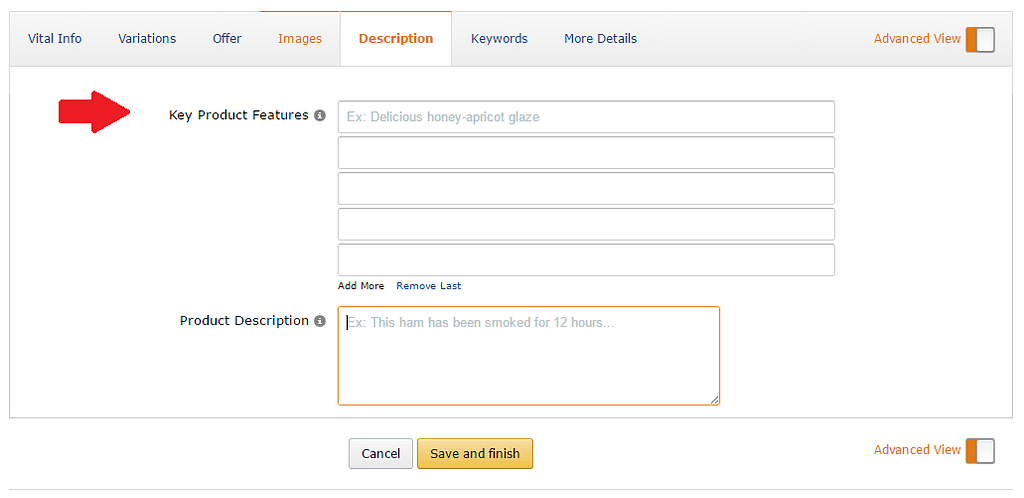 Best Practices for Key Product Features
Highlight the top five features that you want your customers to consider, such as dimensions, warranty information or age appropriateness.

Begin each bullet point with a capital letter

Write in fragments and do not include ending punctuation

Write all numbers as numerals

Separate phrases in one bullet with semicolons

Spell out measurements, such as quart, inch, or feet

Do not write vague statements; be as specific as possible with product features and attributes

Do not enter company-specific information; this section is for product features only

Do not include promotional and pricing information

Do not include shipping or company information. Amazon policy prohibits including seller, company, or shipping information
Below is an example of a well-built out key product feature section for an Amazon Product Detail page: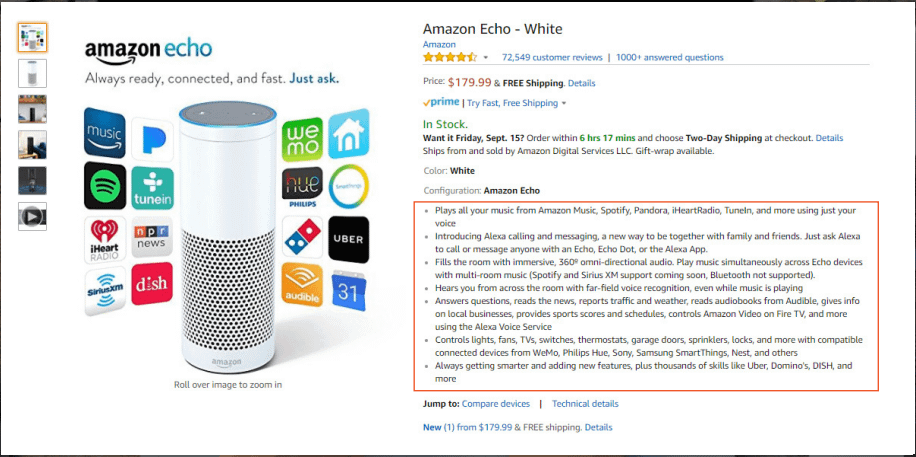 Product Descriptions
Product descriptions are typically a few paragraphs long, and they may require some light HTML. If you're selling products in a category that Amazon regulates, make sure you read all requirements before your listing gets taken down for using the wrong terms.
Every product detail page should also describe the major product features, such as size, style, and what the product can be used for. Amazon encourages sellers to include accurate dimensions, care instructions, and warranty information and use correct grammar, punctuation, and complete sentences.
Do not include any of the following types of information:
Seller name

E-mail address

Website URL

Company-specific information

Details about another product that you sell

Promotional language such as "SALE" or "free shipping"
Try using light HTML to better split up paragraphs and bold certain important words or phrases.
How to Optimize Backend Keywords to Rank on Amazon
Amazon allows sellers to provide a list of keywords on the backend to influence product discoverability.
These are 250 characters maximum length and invisible on the main listing, so it's a great opportunity to ensure you're covering all of your bases for keywords.
One key thing to remember is that these keywords must be "phrase match" – the order of the keywords matters. For example, "black leather shoes" and "shoes black leather" make a difference in visibility.
You can upload keywords in three different ways:
Seller Central
.xml file
.csv file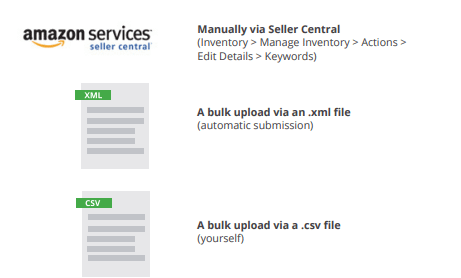 Take advantage of these backend terms, and include alternate spellings of your products, add in related search terms, and create queries that your shoppers may use.
How A+ and EBC Content Can Influence Your Product's Rank on Amazon
While EBC and A+ content may not be direct ranking factors, we've been creating them long enough to know that they can have positive effects on your sales.
Because sales velocity is a direct ranking factor, premium content will influence your product's rank on the SERP.
You can learn more about Amazon A+ content and EBC content in the posts below:
Tips for Creating the Best Amazon Product Listings
1) Avoid Double Dipping Keywords
A question we get from a lot of sellers is: Should I double dip keywords in my content and in the back-end?
"Technically, you shouldn't have to. If you have a keyword in the title – you are not going to rank any better if it's in the product description, the title, and the back-end. If the content is customer facing – you run the risk it could look like spam and from the back-end perspective –  you are essentially just wasting character count," David Cooley, Manager, Marketplace Channels at CPC Strategy said.
2) Answer Seller Questions
If a seller receives questions from their potential customers about products (especially if they are the same questions over and over again) – that's probably an indication to include an answer to those questions in the content.
For example: If you advertise cell phone cases and your shoppers keep asking if it will fit the new iPhone, then you should probably add that information into your content section.
3) Focus on the 4 Content Components
There are 4 main content components to focus on when it comes to selling products via Amazon including: titles, bullet points, product description, and back-end search terms.
Of the weighing factors for discoverability, we rank them: 1. reviews, 2. fulfillment method, 3. price, and finally – 4.content. Sellers should focus on how to optimize and build out each piece of content thoroughly.
4) Avoid Claims & Offers
When sellers build out their content (bullet points or descriptions) they should not include any "offer" specific content.
Sellers can't put offer info in their bullet or product description such as "buy 1, get one free" or (for example) make a specific "health claim" for supplements. If you do include claims or special offers in your description – its technically considered an Amazon policy violation and could lead you to a suspension.
5) Remember Content is Aggregated
Amazon content is not always based on just one seller that submits content. Amazon aggregates relevant product information across sellers who are selling the same Amazon item  (as identified by ASIN or UPC).
Amazon compiles all the submissions into consideration and creates the best title or bullet points – but there is no guarantee the title you type in the back-end is going to be exactly the same public facing.
6) Maximize Your Character Count
Advertisers should maximize the character count for their product's title, bullet points, product descriptions, back-end search terms.
By filling out the product description & bullet points completely it helps the product rank higher. Additionally, it also helps with conversions because customers are going to better understand what your product is.
Note: There are different bullet point / character maximum counts for vendors vs. 3P sellers.
"Because your product description is indexed for search, the more information in your back-end search terms, title, the more content you will get indexed for search. This will also help you rank better and for more keywords," Cooley said.
How to Optimize Amazon Product Images
Every product on Amazon needs one or more product image. The primary image of your item is called the "MAIN".
The MAIN image represents an item in search results and browse pages, and this is the first image customers see on an item's detail page (see below).
According to Amazon, advertisers should choose images that are clear, easy to understand, information-rich, and attractively presented. Images must accurately represent the product and show only the product that's for sale, with minimal or no propping. 
"Amazon has the right to remove images that do not meet their image standards. It is the seller's responsibility to ensure that they have all necessary rights for the images submitted," David Cooley, Manager, Marketplace Channels at CPC Strategy said.
How to Add Amazon Product Images
You can provide one main product image and up to eight alternate image views (depending on your category) for your product listings on Amazon. You can add an image either when you create a product page or after the page is already created.
Pro-Tip: It can take up to 24 hours after adding an image for it to appear on the website.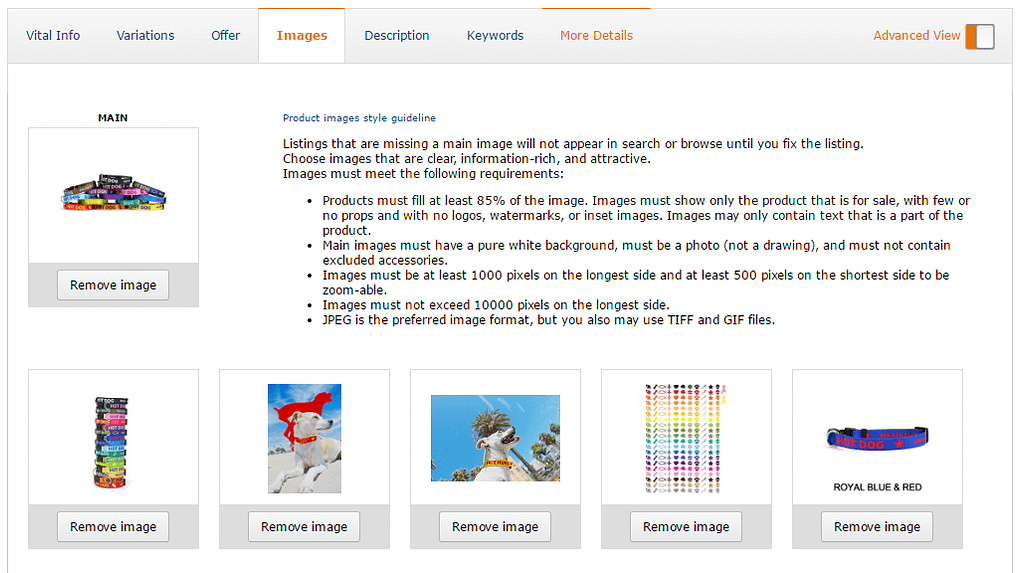 To add an image to an existing listing:
On the Inventory tab, select Manage Inventory.
Click the Edit button on the far right of the listing you want to edit.
Select Manage Images from the drop-down menu.
In the next window, click Browse File for the first empty image area.
Select an image from your computer and click Open.
Click Upload images to add your image to the listing.
To add an image to a new listing:
In Manage Inventory, click Add a product, located near the Search box.
For images, click Add Images.
In the pop-up window, click Browse File for the first empty image area.
The Main image is labeled in the top left corner.
Select an image from your computer and click Open.
The image path appears below the Browse File button for that image space.
Click Upload images to add your image to the listing.
Amazon Product Image Standards
Accurately Represent the Product: Images must accurately represent the product and show only the product that is for sale, with minimal or no propping.
White Background: Main images must have a pure white background (pure white blends in with the Amazon search and item detail pages. For additional images – white background is recommended but not required.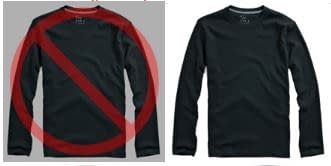 No Illustrations: Main images must show the actual product (not a graphic or illustration).
No Accessories: Images must NOT show excluded accessories, props that may confuse the customer.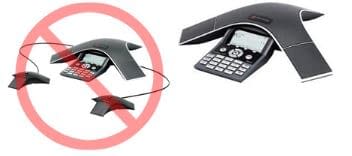 Exclude Text: Text that is not part of the product, including but not limited to or logos/watermarks/inset images are not permitted.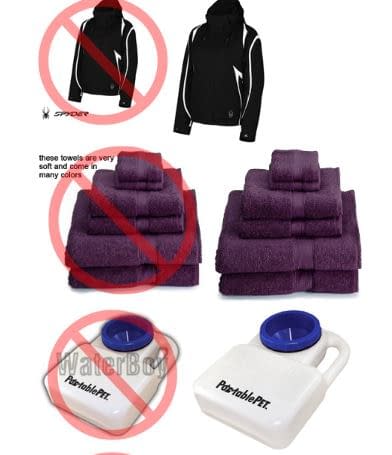 The product must fill 85% or more of the image & images should be 1,000 pixels or larger in either height or width. This minimum size requirement enables zoom function on the website. Zoom has proven to enhance sales. The smallest your file can be is 500 pixels on the longest side. Consistently sized images are strongly recommended.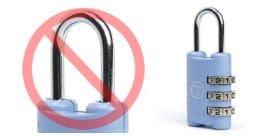 Amazon accepts JPEG (.jpg), TIFF (.tif), or GIF (.gif) file formats (JPEG is preferred).
Product must not be on a mannequin or pictured in packaging.

Product must have good depth of field meaning the image is completely in focus.
Product must be clearly visible in the image (e.g., if on a model, s/he should not be sitting).
Image must not contain nudity.
Aggregate Amazon Product Images
Amazon content is not always based on just one seller that submits content. Amazon aggregates relevant product information across sellers who are selling the same Amazon item (as identified by ASIN or UPC).
Amazon compiles all the submissions into consideration and creates the best title or bullet points – but there is no guarantee the title you type in the back-end is going to be exactly the same public facing.
"Images, much like product titles are also aggregated. In our experience, if a vendor and a third party are both selling the same item, Amazon will typically pull images from the vendor side," Jordan Gisch, Senior Marketplace Channel Analyst at CPC Strategy said.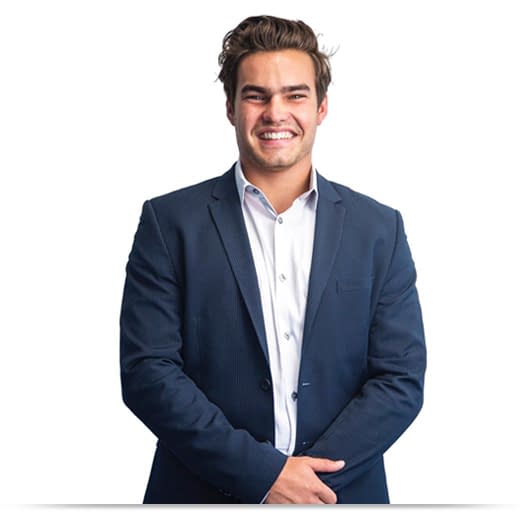 "If there is no vendor present, then the images from the third party that is brand registered will outweigh the other sellers. Of course, like many components within Amazon's algorithm, there is room for some variation but this what we've historically seen among our clients."
The Amazon Brand Registry is a critical component for manufacturers on Amazon.com who want to gain better control over their product listings. To learn more about how to Amazon Brand Registry can help you – visit our recent blog post here.
Amazon Listing Optimization: The Bottom Line
While you can spend hours optimizing each and every listing, we highly recommend you focus in on your top sellers.
Not only will you see better results faster, you'll also find that you'll learn more about the way your searchers seek out your products, and you can apply that knowledge to your other listings.
Need help understanding how to upload your product detail page content to your Amazon account? We cover that (and more) in detail in our Ultimate Guide to Amazon SEO. Get it here.