Amazon generates over $150 billion in sales every year. Of those conversions, over 90% occur using Amazon's buy box.
If you sell on Amazon and want to increase sales online, winning the buy box is pivotal. Retailers featured on Amazon's buy box for product pages sell more products. We all know this.
Whether you're here to get your products in the buy box for the first time or to get your 100th product in the buy box regularly—you've come to the right place.
We're here with the experts to answer just that. First, you need a solid understanding of what the buy box is and how it functions on Amazon.
What is the Buy Box on Amazon?
The "buy box" is a section on the right side of an Amazon product detail page where customers can add a product to their cart or make an instant purchase.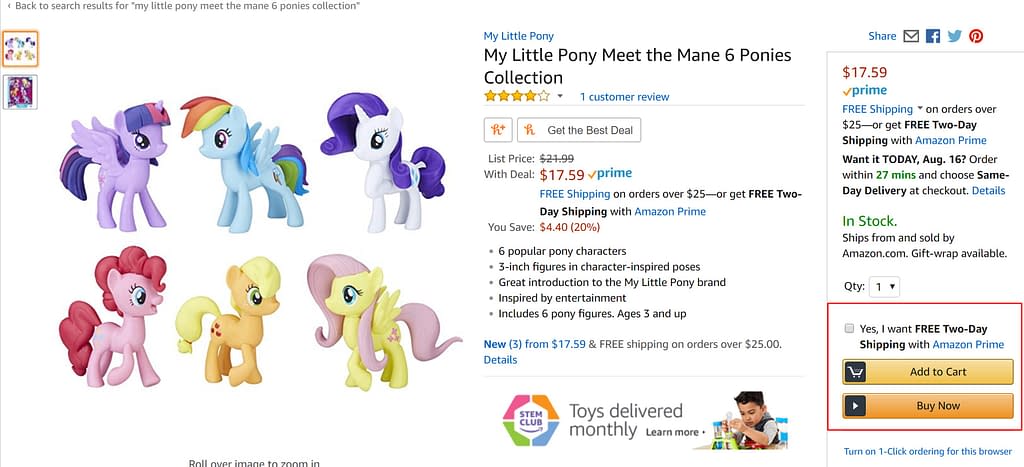 Example of FBA product in the buy box
Each product on Amazon has its own product detail page, which can include the same products from different sellers. For Amazon sellers, this means getting visibility on Amazon's product pages is a significant challenge, and differs from optimizing other online sales channels.
You have to play by Amazon's rules, and Amazon.com isn't just a marketplace, it's also a seller. Have you seen the number of private label brands Amazon has? It's expanding by the year, and if you're a reseller, you know it's impossible to compete with Amazon on their own listing.
Why is the Amazon Buy Box Important?
The buy box can make or break a sale.
When a user clicks the "Add to Cart" button, they're buying from one merchant and one merchant only – the buy box winner.
This is especially crucial now that there's a "Buy Now" button in addition to the add to cart button—the "Buy Now" button always leads to a purchase from the buy box owner.
Example of "buy now" button on an Amazon listing
In addition to being prime real estate for increasing sales, getting placement in the buy box means customers will associate you with Amazon's policies. They believe they can trust you to provide high-quality customer service and top-notch products.
When a product loses the buy box, all Sponsored Products ads stop running.
And if you run ads on Amazon, there's another even more compelling reason to care about whether you own the buy box. If you don't own the buy box, all of your Sponsored Products ads for that product will stop running. In addition, according to Selzer, if you have Headline Search Ads (HSAs) running, you risk paying for traffic to a page where another seller is going to get the sale—HSAs aren't Buy Box dependent.
"When a product loses the buy box, all Sponsored Products ads stop running, which can negatively impact overall sales, sales velocity, and organic ranking of a given product," says Karen Hopkins, Marketplace Channel Analyst at CPC Strategy.
Who is Eligible to Get the Buy Box on Amazon?
To be eligible for display in the buy box, you must be a subscription-based Professional Seller who meets Amazon's criteria and have products that are buy box eligible.
These factors include:
Order Defect Rate
Performance metrics
Customer service quality
Length of time on Amazon
Usually, Amazon determines the winner by weighing price, fulfillment, seller rating and more. However, it's not a perfect science.
Because factors that determine buy box statuses are always in flux, the winner of the buy box may change from time to time.
A Note About New Seller Central Accounts Using FBM
If you are just starting out with a new seller central account, and you're not shipping with Amazon Fulfillment (FBA), then you're going to notice a lag time before your products hit the buy box.
This is because Amazon doesn't have proof that you actually have the products or ability to fill product orders once you're in the buy box. If you use FBA, however, you will be approved for the buy box much faster.
"Brand new seller central accounts that are FBM are not eligible for the buy box unless they make sufficient sales volume, determined by Amazon and varying by category," says Joe Selzer, Lead Marketplace Channel Analyst at CPC Strategy.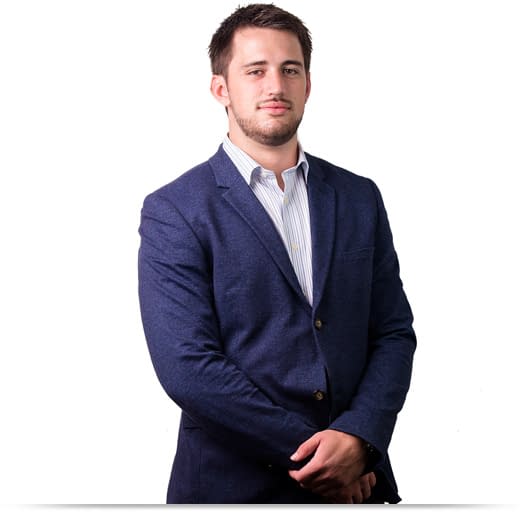 How to Get Featured in the Buy Box
First, make sure your products are Buy Box eligible by going to the "Manage Inventory" section in your Seller Central account.
In the right hand corner, click "Preferences" then "Buy Box Eligible" in the drop down. This will add another column that simply states yes or no for Buy Box Eligibility on your products.
If you want a birds-eye view of your products and their current buy box percentages, you can view this under Reports in Seller Central "Reports > By ASIN > Detail Page Sales and Traffic by Child Item".
Now, let's talk about the seven things you can do to improve your eligibility for the buy box:
Know the Factors That Influence Your Buy Box Eligibility
Select the Right Fulfillment Method
Ensure Your Landed Price is Affordable
Build Account Health
Speed Up Your Shipping Time (FBM Only)
Improve Your Customer Feedback Score
Keep Products in Stock
1. Know the Top Two Factors That Influence Your Buy Box Eligibility
It seems like common sense that you should ship items correctly and on time, respond to questions quickly, and keep your inventory up-to-date and well-stocked. (Hint: FBA Inventory Replenishment can help with that.) They're all important.
However, there are two factors that will mainly determine whether you're in the buy box or not: price and fulfillment.
That being said, when a product is extremely popular and sellers are on par with each other in terms of pricing and fulfillment, other factors become more important.
2. Select the Right Fulfillment Method
Amazon allows merchants to use their own fulfillment, or fulfillment providers to sell on Amazon. Fulfillment by Amazon (FBA), however, is becoming the most popular choice due to its benefits in the Buy Box and elsewhere.
FBA simply means Amazon house, packs and ships some or all of your products. Because Amazon has physical control over your inventory, they can better guarantee quality and quantity.
We've alluded to this a couple times already, but if you want a leg up in the buy box game, you should really go with Fulfillment by Amazon (FBA).
"There are some situations where you have to be FBM, but not many reasons for most sellers," says Selzer. "It seems there are very few FBM-only sellers left on Amazon."
There are some products that wouldn't do well sitting in a warehouse for months on end. For instance—if you sell perishable good such as cookies, and you don't want to ship all of those at once to a warehouse only to let them get stale, then FBA might not work for you.
The same goes for an established brand manufacturer with a strong built-in infrastructure for shipping. There may also be instances where some of your products are FBA, and others are FBM.
But keep in mind if you're FBM, you need to be shipping products and dealing with customers at Amazon's high standards.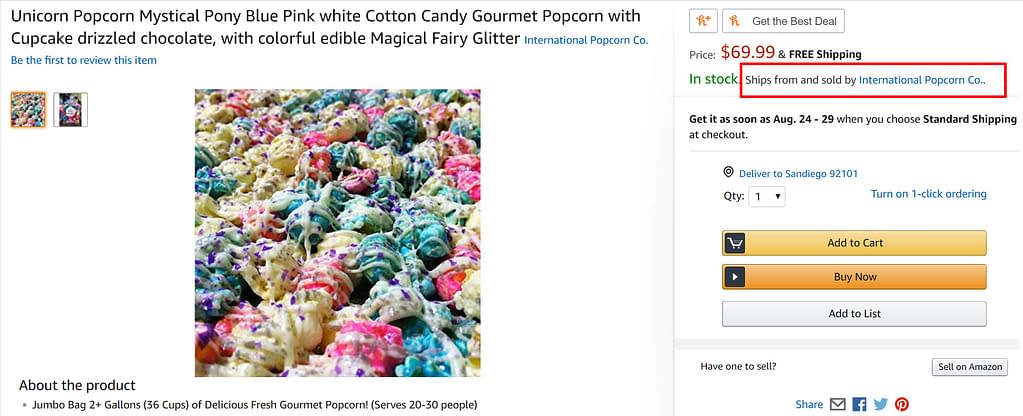 Example of a Seller Fulfilled Product (FBM)
3. Ensure Your Product's Landed Price is Affordable
The second biggest factor in winning the buy box is affordable prices and reliable shipping.
Landed price doesn't just take into account the price of the product itself, but it considers the entire price, shipping and handling included.
Ensure your prices are low and consistent with other merchants on the site. Of course, many Amazon sellers are constantly changing prices to edge one another out on the buy box.
This shouldn't be a blind race to the top of the buy box. Determine whether you can afford to own the buy box current price by considering your:
Remember other Amazon sellers, and Amazon will continue to change product pricing to win the buy box.
Pricing manipulation is a constant battle to the bottom—one Amazon can afford more than most third party sellers. Products that are shipped from and sold by Amazon.com will usually have the lowest price.
4. Build Account Health
The Customer Experience Score is based on seller feedback, shipping performance, and customer response rate.
NOTE: This section is the most crucial if you're fulfilling orders yourself. The "FBA" Performance Metrics look much different, simply because Amazon handles most of these issues around shipping and customer service.
Amazon favors the reliable sellers out there. They are more likely to get products on time, of high quality, and administer superior customer service. Just like Amazon.
Amazon calculates your Seller-Fulfilled seller rating based on a few key metrics:
Order Defect Rate (Target = < 1%)

Negative Feedback Rate
Filed A to Z Claim Rate
Service Chargeback Rate
Return Dissatisfaction Rate (Target = < 10%)

Negative Return Feedback Rate
Late Response Rate
Invalid Rejection Rate
Buyer-Seller Contact Metrics (Target = < 25%)

Response Times Under 24 Hours (Target = > 90%)
Late Responses (Target = < 10%)
Average Response Time
Recent Customer Metrics Data

Pre-Fulfillment Cancel Rate (Target = < 2.5%)
Late Shipment Rate (Target = < 4%)
Refund Rate
Valid Tracking Rate

By Category (Targets = > 90%)
Delivered on Time (Target = > 97%)
Amazon Advertisers seller Performance Targets or where Amazon encourages sellers to be with customer service (on threat of Amazon seller removal) are aggressive. You can get an overall picture under "Account Health".
Amazon's strict fulfillment standards also impact price competitiveness as quicker shipping often costs more, and can increase the total cost of items sold on Amazon.
5. Speed Up Your Shipping Time (FBM Only)
Seller shipping impacts buy box ownership and overlaps with pricing and availability. Amazon calculates this based on projected shipping time and actual shipping time
For time-sensitive and perishable items, shipping varies, but Amazon generally weighs shipping based on the following time frames:
Shipping Time Frames for Amazon Sellers
0-2 Days
3-7 Days
8-13 Days
14+ days
Remember, Amazon customers don't just expect cheap or free shipping—they also expect it to arrive faster than you thought was humanly possible.
6. Improve Your Customer Feedback Score
Amazon's Customer Feedback Score is constantly updating based on aggregate reviews from Amazon orders and constitutes an average of overall order ratings.
NOTE: The Feedback Rating is comprised of orders from the preceding 365 days but is weighted heavier for orders from the last 90 days.
Something many sellers don't realize is that Seller Feedback is far different than Product Feedback. Customers will often mistakenly leave product reviews on Seller Feedback pages, which can be especially damaging if you're seeing a lot of negative reviews.
"Shoppers may sometimes leave a product review on your seller feedback, which is a problem for your seller score."
– Joe Selzer, Lead Marketplace Channel Analyst at CPC Strategy
Fortunately, you can reach out to Amazon about the issue, and they'll typically rectify it quickly.
"Shoppers may sometimes leave a product review on your seller feedback, which is a problem for your seller score," says Selzer. "You can go to Amazon through a case and say, This is incorrect, this feedback is product related' and Amazon will remove it.
Additionally, if it's an FBA product and someone leaves a seller rating that's negative about packaging— which is Amazon's responsibility, in that case—you can start a case and Amazon will remove it.

Example of product ratings being placed incorrectly on the Seller's Profile
7. Maintain Your Product Order Stock
If you have one unit left and another seller has 30 units left, that other seller will get an edge in the buy box.
– Joe Selzer, Lead Marketplace Channel Analyst at CPC Strategy
Amazon wants shoppers to find what they're looking for. If your item is out of stock, Amazon will get it from another seller.
"If you have one unit left and another seller has 30 units left, that other seller will get an edge in the buy box because Amazon's more confident they can fulfill orders," says Selzer.
The more you can maintain product stock the more likely you can influence winning the buy box. If you are selling on the Marketplace using your own fulfillment, be sure to have inventory management and fulfillment aligned so that your products are always in stock. Ideally, you'd want to do this for the majority of your inventory.
At bare minimum, you should ensure you're on top of stock for best-selling products.
Remember, for sellers using FBA, availability is determined as products which are in Amazon's warehouse, not those which are in your warehouse or in the process of getting shipped to Amazon. Keep delivery time and fulfillment processing in mind when sending products to Amazon.
Keeping your inventory information up to date is just as important as actually having inventory available. If you tell Amazon a product is available, and you can't fulfill an order you run the risk of incurring negative reviews—a major factor for seller ratings.
At bare minimum, you should ensure you're on top of stock for best-selling products.
How to Fix Low Buy Box Percentages on Your Products
We're not offering a "magic bullet" that will enable you to always ensure you get the buy box. That would be like promising Amazon will never make a change to their seller experience ever again. (It won't happen.)
If you notice one of your top sellers is being edged out of the buy box and you know it's not because of the above factors, there are some adjustments you can make to compete.
1. Make Sure the Price is Right
You can do this manually, by watching competitors products and adjusting skus accordingly, but most of us don't have the time—or just too many skus—to accomplish this.
That's where Amazon repricer tools come in. There are two different kinds of repricers out there:
Rule-based repricers: based on simple rules setup
Algorithmic pricers: focused around overall profitability
Rule based repricers are pretty basic. If you simply want your dog leash to be $1 less than anyone else on that listing, and you aren't overly concerned about potential margin loss, then that type of repricer might be right for you.
If you're looking for a tool with machine-learning algorithms that will kick in based on your overall product profitability, something like Feedvisor is a great option.
2. Confront Unauthorized Resellers
If you're a brand with a very specific set of authorized resellers, you may discover some of your most profitable skus are being plagued by unauthorized sellers that are basically giving your product away for free.
In that case, you will want to reach out and let those resellers know that you're aware of their presence, and will be forced to take action if they don't cease selling your product. As much as you want to avoid taking these cases to court, having a lawyer to back you up really helps.
3. Consider Using FBA
As we said before, FBA gives you an edge when it comes to the buy box. If it makes sense for one of your products to be shipped by Amazon, it could be the best call.
What if I Still Don't Get the Buy Box?
You've optimized your performance metrics and you're exceeding expectations. You've booted your unauthorized sellers. You're doing everything right, but you're still not getting the buy box. Instead, you're seeing something like the image below:
In this example, nobody gets the buy box. This is something we've noticed here at CPC, and you may have noticed it as well.
There are several theories floating around about why this happens, according to Pat Petriello, Head of Marketplace Strategy at CPC Strategy. Here are three:
Dramatic Price Increases or Decreases
The most common reason is a sudden and "substantial" price change for the offer winning the buy box, regardless of Seller. The reason behind this is Amazon taking extra precautions to protect consumers from potential counterfeit goods which are listed at substantially reduced prices.
Violation of Price Parity Across Channels
If you're selling your product for a lower price on your website or other channel, than you could be penalized by Amazon. Make sure this isn't the case.
Uptick in Customer Complaints About Defective Products
If Amazon notices an uptick in customer complaints about a product, they may protect customers by temporarily removing the buy box while they investigate why there's been a run of complaints about defective or misrepresented products.
Conclusion
With standout placement and easy purchasing functions, scoring a spot in an Amazon buy box can mean huge things for your product performance. It can mean the difference between making a sale and sitting on the sidelines while another merchant does.
But don't think of it as a permanent thing. Winning the buy box is an ongoing process where sellers earn a share of the buy box or rent the buy box for a period of time.
The elements which influence how long and how often you rent the buy box are the variables you can change and optimize to increase your buy box sessions and sales.
Editor's Note: This post was originally published in October 2012 and has been updated for freshness, accuracy, and comprehensiveness.