Honing in on a good Facebook / Instagram strategy is hard—and it can take time.
But like any new skill, we can learn from those who have come before us, and Facebook advertising is no different.
We've rounded up some of the year's best and worst Facebook advertising examples, as well as the lessons you can learn from each.
Consider them your personal guide on what to do (and what NOT to do) next time you fire up that Power Editor for your brand.
Lesson 1: Use Images Carefully
Images have the power to make someone stop scrolling, read your ad and, ideally, click through to your site or landing page.
Though copy certainly helps move them along, in most cases, it's going to be the image that's the user's first impression—so it needs to be chosen carefully, thoughtfully and with your target market in mind.
Take a look at these two Facebook ad examples to see just how powerful images can be:
I mean who wouldn't want to click this? It's the perfect combination of colorful, mouth-watering and a little bit ridiculous to get you interested.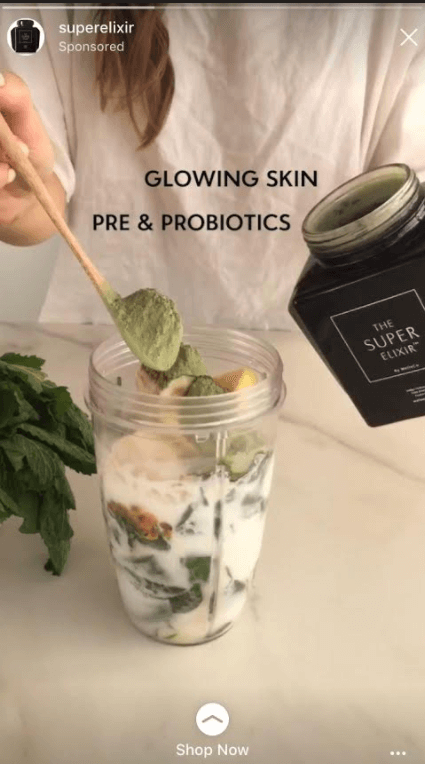 In the Instagram Story ad from "The Super Elixier" by Welleco above, the content fit the placement really well and felt organic.
Lesson 2: Grab Their Attention
This isn't like other good Facebook ad examples in that it doesn't have a professional, perfectly edited image on display. What it does do, however, is draw attention.
With its simple, meme-like layout, the ad's photo is intriguing and, in my case, it definitely makes me curious to click through and learn more.
We've all used that drawer for storage, right? What have we been doing wrong all these years? You have to click through to find out.
Lesson 3: Copy is King
Ironically enough, one of the worst Facebook ad copy examples we found was, get this: a copywriting service.
Take a look and ask yourself, is this ad really resonating with the people it's targeting? Are there lots of copywriters out there are just so sick and tired of NOT writing in their native language?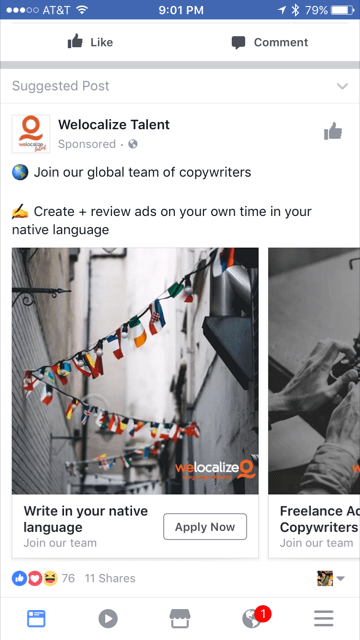 Do copywriters even take jobs that aren't in a language they speak?
As a longtime writer and reporter myself, I can answer a wholehearted no to these questions. We know how to find gigs in our own language and, more importantly, we wouldn't consider taking on jobs in one we're not well versed in. So the gist of it?
This copy's ineffective, not well targeted and, worst of all, a waste of ad spend.
It's also not one of your typical Facebook carousel ad examples. Carousel ads are best reserved for retailers and advertisers with very image-driven products.
Copywriting doesn't exactly lend itself to great imagery—yet another way this advertiser is wasting its ad dollars.
Lesson 4: Test it on Mobile
Just scrolling through Facebook mobile ad examples, it's clear most people don't preview their ads before going live. Take a look at this one that, while accompanied by a stunning and eye-catching photo, has its copy cut off when viewed on a mobile screen.
Are they trying to tell me this property can be my home away from home? Like a vacation home? Or is it a rental?
It's hard to discern what the intent behind the ad is because of the error.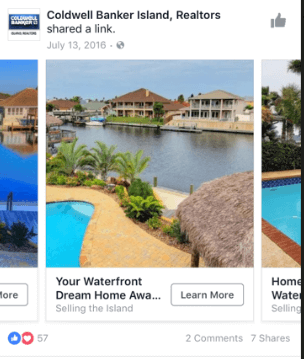 Lesson 5: Keep Up with Trends
If one thing is clear from Facebook ad examples, 2017 was a year of new and exciting possibilities in social advertising. Every month, there's been a new way to connect with your target audience, resonate them and, ultimately, convert them to a real, buying customer.
Just check out this recent ad, which utilizes the latest Facebook ad updates to sell a product: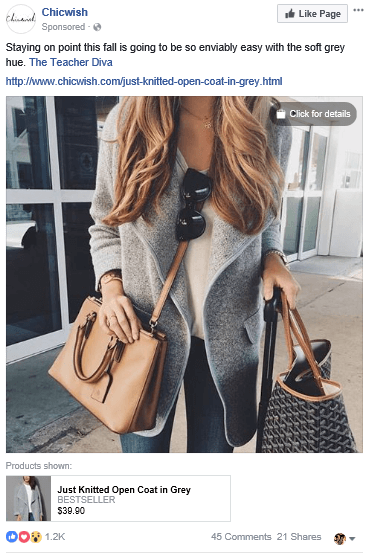 Users can easily and clearly see how much the product costs, examine it close up and in great detail, and click on to go straight to the product page and purchase the item.
The post even tags an influencer—The Teacher Diva—to get more traction for the product.
How to Know if your Facebook Creative is Working?
A vital component of your Facebook marketing strategy is choosing creative for your ads.
From product photos to video, retail brands should test and analyze creative – leveraging tangible metrics to support and help them decide where and how to invest in creative efforts for their Facebook ads.
Unfortunately, all too often we hear that retail brands have a "hunch" on what type of creative performs best.
For example, a retail brand might say: "We know our product images perform better than lifestyle images" – but when we ask them why or how they came to this conclusion, they can't materialize the data to back it up.
This is just one of the many reasons why proprietary creative reports are absolutely essential, because ultimately your creative marketing decisions will dramatically impact your ad performance.
What is CPC Strategy's Facebook Creative Report?
Essentially the Facebook Creative Report we run at CPC Strategy for our clients is a deep dive into your advertising data based on a specific time period.
"We analyze how creative is helping the entire account perform so that we can make better recommendations to clients on upcoming creative," Sarah Sanchez Manager, Performance Social said.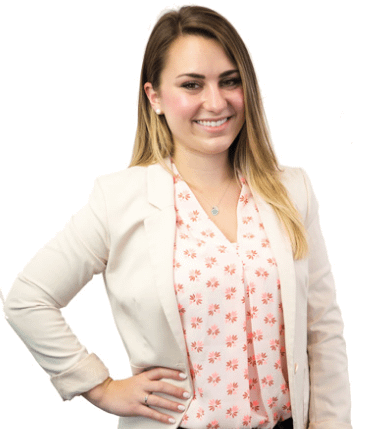 "For example, if they have product photoshoots the following month, we can provide data on whether your lifestyle images perform better on Facebook in comparison to your product images. Maybe it turns out your lifestyle images work well organically but don't translate as well on the ecommerce side."
"Or if you're running a campaign focused on driving brand awareness, this report allows us to see everything that we've done to impact your brand awareness, analyzing data (ROI or CPM) month over month or year over year," she said.
"We can make it as granular or as broad as the report needs to be. We can also analyze the results of specific campaign test."
You can learn more about the Facebook Creative Report in our full interview with Sanchez here.
Want more Facebook creative advertising examples? Email tara@cpcstrategy.com.