Amazon generates over $100 billion in sales every year. Of those conversions, over 90% occur using Amazon's buy box. If you sell on Amazon and want to increase sales online, understanding and optimizing the Buy Box is pivotal.
What is the Amazon Buy Box?
The Buy Box on Amazon is the number one factor for increasing conversions for Amazon sellers.
Amazon.com is an online marketplace, which aggregates products from itself and 3rd party sellers (selling on Amazon). To break it down really simply, think about shopping at Target- you can purchase detergent from Tide, Downy or Target itself, all within Target.
Each product on Amazon has its own product page, which compiles the same products from different sellers. For Amazon sellers, this means getting visibility on Amazon's product pages is a significant challenge, and differs from optimizing other online sales channels.
Amazon sellers appear three places on Amazon detail pages:
3) Amazon Buy Box- Call to action for purchase which features one merchant from which shoppers automatically add a product to the cart
2) 'Other Sellers on Amazon'- Alternate place to compare additional Amazon sellers
1) 'New From' – Shoppers can click out for product comparison below product details
"The Buy Box is the box on a product detail page where customers can begin the purchasing process by adding items to their shopping carts.- Amazon"
This is the CTA which leads shoppers to purchase the item on the product page. The seller Amazon determines is the best fit for the product page is noted as the seller and items added with the main 'add to cart' button are purchased through this seller.

Here is the Buy Box up close: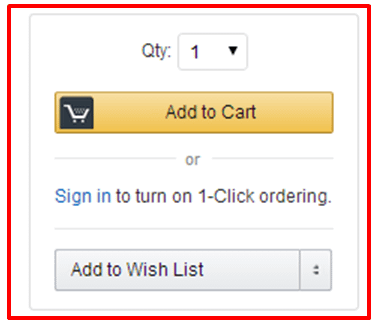 Amazon defines the Buy Box as the place Amazon shoppers 'Add items to their cart' to begin a purchase. With product pages featuring multiple sellers, where your store appears on Amazon's product page greatly impacts performance.
Every Amazon product page features at least one seller- and more popular commodity products are likely to have many more sellers on the product page. Winning the buy box or being the merchant Amazon features for the product page is a major advantage for sellers on Amazon.
You can find an iPhone case in Wal-Mart, Costco, Best Buy, Staples, CVS, 7-11, or the airport- but you couldn't find a bolt for a specific car model frame in those places.Best Buy and Staples likely price their chargers competitively,b but car part sellers have more latitude to charge higher prices for items which are sold by a limited number of sellers. So too, Amazon sellers which carry popular products are likely to face competition from other sellers to control detail page content and win a share of the buy box.
---
Next steps: How to Win the Buy Box- Coming soon!